A lot of things are happening in Japan.
Last month, I was telling you about the city of Kyoto, which now recognizes same-sex partnerships, and last week we also saw that Japan Airlines uses gender-neutral greetings.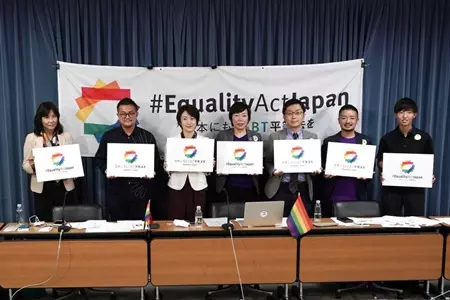 Photo credit: AP
Now, LGBTQ groups have launched a petition and would like to see Parliament pass an equality law. This would be first and foremost a way to be recognized and also a way to fight against discrimination targeting LGBTQ people.
"In this country, equal rights for LGBT people are not guaranteed by law or in their social lives," said Yuri Igarashi, co-representative of the Japan Alliance for LGBT Legislation, one of several organizers of the petition. "We call for the passage of an LGBT equality law in time for the Tokyo Games, and as an Olympic legacy."
LGBTQ activists who launched this petition calling for an equality law for LGBTQ people then plan to table it in Parliament hoping legislators will enact it next year.
Will this attempt be the right one? It's too early to say.
In any case, the petition has been launched, and we hope it will gain maximum support across Japan.