Japan: Court Said Lack Of Equal Marriage Is Unconstitutional
Last year, I told you about the situation in Japan, which is slowly evolving in favor of LGBTQ rights. Well, a historic victory has taken place there.
The battle for equal marriage is intensifying in this country where there is no official marriage equality ban for same-sex couples, but where the constitution defines a union as a "mutual consent between both sexes".
Inspired by the strategies of activists around the world, Japanese LGBTQ couples have banded together to bring discrimination charges to district courts in several parts of Japan.
They argued they are not entitled to the same rights as straight couples, who can marry, and that this violates Article 14 of the constitution, which states that everyone is equal before the law.
It worked! They won their case for the first time in the Sapporo court, which recognized that the lack of a law allowing equal marriage is unconstitutional.
The court said that sexuality is not a matter of individual preference, so there is no valid reason to prohibit LGBTQ couples from receiving the benefits available to straight couples.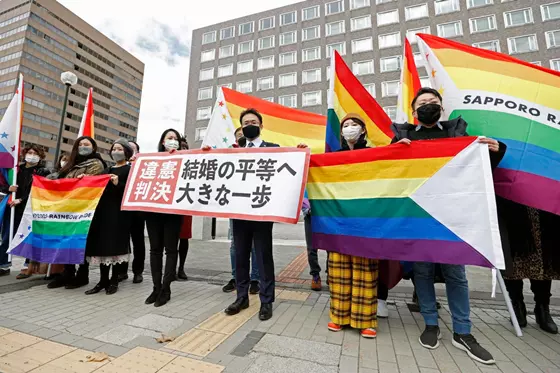 LGBTQ organizations holding the "unconstitutional decision" flag in front of the Sapporo District Court (photo by kyodo news)
"I'm really happy. Until the ruling was announced, we didn't know this was what we'd get and I'm just overjoyed," said Gon Matsunaka, the director of activist group Marriage for All Japan and a representative at Pride House Tokyo, adding that the decision has an "absolutely immeasurable" value.
"This is one huge step forward in Japan... We are moving closer to making our dream come true," Ai Nakajima, one of the original plaintiffs, also told the BBC.
This is indeed a great victory and an important step in the battle for the right to marry.
It sends a strong message to the government, which has been reluctant to legalize marriage equality until now, even if recent polls show that the majority of young Japanese now support a marriage equality law.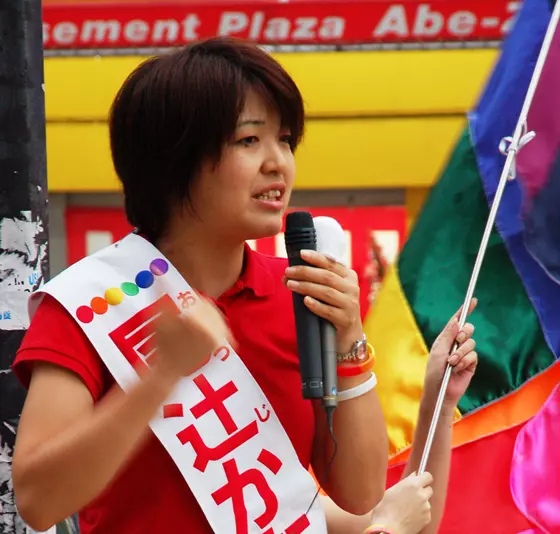 MP Kanako Otsuji (photo by M Louis)
In a tweet, opposition MP Kanako Otsuji, who is lesbian, welcomed the Sapporo court's decision and called on the government to act.
"With this ruling, I urge the Diet, as the legislative branch of the government, to deliberate a proposed amendment to the civil code to make same-sex marriage possible," she said.
Stay Informed
When you subscribe to the blog, we will send you an e-mail when there are new updates on the site so you wouldn't miss them.
Comments
No comments made yet. Be the first to submit a comment