The Philippines Supreme Court Rejects Marriage Equality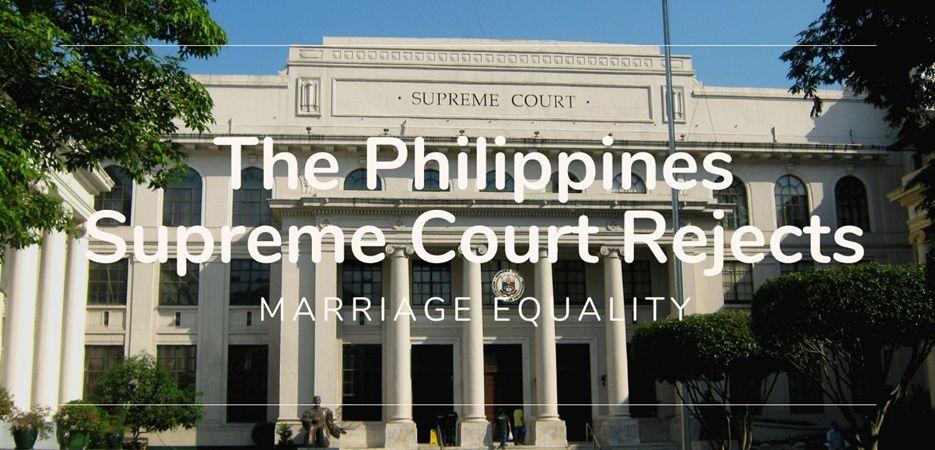 Bad news... The LGBTQ+ community in the Philippines has suffered a bitter defeat in its attempt to legalize equal marriage.
Gay lawyer Jesus Falcis had launched a new challenge to gain the right to marry, four years after his first petition. A way to finally bring recognition to same-sex couples living in the Philippines.
Falcis had therefore launched a first challenge to the country's Supreme Court in 2015 arguing that the Family Code is discriminatory.
His petition was then heard in June 2018 and already, the judges were annoyed because the filing did not follow a specific incident.
Then, at the time of delivering their verdict last September, the judges had added that the complainant's arguments suffered from "lack of legal standing, failure to raise an actual justiciable issue and violation of the doctrine of hierarchy of courts."
Nonetheless, we could remain hopeful as the court also recognized in its ruling the "protracted history of discrimination and marginalization" of the LGBT+ community, even suggesting that same-sex civil unions could instead be legalized by Congress.
Hope soon proved to be a disappointment. Associate Justice Marvic Leonen, the author of the decision, noted that "the Constitution does not define or restrict marriage on the basis of sex, gender, sexual orientation, or gender identity or expression."
The Constitution does not, but the Family Code "define[s] and limit[s] marriage as between man and woman."
Also, it "mentions homosexuality or lesbianism as grounds for annulment and legal separation," according to ABS-CBN News.
This still represents quite a hurdle for LGBTQ couples wanting to get married!
After that setback in September, Falcis and other LGBTQ rights advocates asked the court to reconsider the matter, but most outrageously, the court just stipulated last week that it would no longer accept "new pleadings or petitions" regarding equal marriage.
The court has "resolved to deny with finality" the initiative, which means that Falcis can no longer ask for further decisions or changes to their ruling.
"No substantial arguments were presented to warrant the reversal of the questioned decision. No further pleadings or motions will be entertained," Court clerk Edgar O. Aricheta wrote.
On the legislative side, Home Deputy Speaker and founder of the Christian group Jesus is Lord Church Worldwide Eddie Villanueva welcomed the court's decision.
"The Family Code was crafted to mirror the historical, traditional and religious values of Filipinos on marriage….The Supreme Court decision is a welcome development to us. It reaffirms our belief that we are on the right path when we stand to defend that marriage is just and must be confined between man and woman. It is not only the divine will of God, but it is also the standing spirit and will of the laws of our land," he said.

"Marriage, as an inviolable social institution in Filipino life, has always been conceived between a man and a woman. Hence, to nullify such law which bears our values on marriage is tantamount to denying our identity as a people and betraying our deep-held morals. It is not only against God, but it is also against ourselves as a people," he added.
Once again, we might have thought legalizing equal marriage in Taiwan might have helped, but this is yet another defeat for the LGBTQ+ community, as in Hong Kong two month ago. There is still a long way to go in advancing LGBT rights in Asia.
Stay Informed
When you subscribe to the blog, we will send you an e-mail when there are new updates on the site so you wouldn't miss them.
Comments
No comments made yet. Be the first to submit a comment