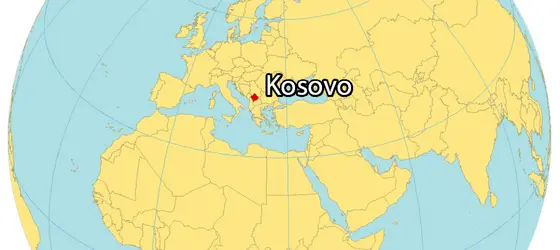 Source: Kosovo Map
The legal situation in Kosovo is really weird. The country doesn't allow same-sex marriage even if its constitution recognizes that "on the basis of free consent, everyone enjoys the right to marry and the right to create a family in accordance with the law," but marriage is defined as legally registered union of two spouses of different sexes."
Fortunately, there's a new draft civil code in circulation that might officially recognize same-sex civil partnerships. The Kosovo government proposed that "registered civil unions between people of the same sex be allowed."
The change would be a huge progress for LGBTQ rights in Kosovo, which currently lags behind much of Europe on this issue. If the draft code is enacted, it would bring Kosovo into compliance with a number of international human rights treaties. It would also send a strong message that discrimination against LGBTQ+ people is not tolerated.
The change is not yet guaranteed, however. Conservative groups are already mobilizing against it, and it remains to be seen whether the members of parliament will have the courage to stand up to them.
Religious Leaders Are Furious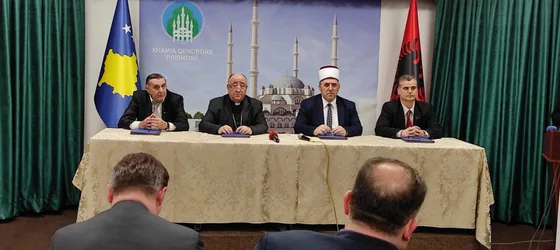 Photo: BIRN/Denis Sllovinja
Indeed, last week, representatives from four major religions came together to sign a joint statement against the proposed code. The statement, which was signed by the Grand Muftiof the Muslim community, Naim Ternava; the Catholic Bishop, Dode Gjergji; the head of the Evangelical Church, Femi Cakolli; and the Jewish Community leader, Votim Demiri; makes it clear that these religious leaders are united in their belief that the proposed code goes against traditional values. In particular, they object to the code's stance on abortion, marriage, and gender identity.
They state that "the religious communities remain united when it comes to the protection and daily promotion of family values, pro-life values, the traditional values of marriage, the right of the fetus from conception to birth, and the natural right of gender as a predetermination for each citizen."
Note that the Serbian Orthodox Church did not sign this petition.
MPs Seem To Approve Of The Pro-LGBTQ+ Amendment For Same-Sex Couples
Kosovo's parliament is currently considering the new amendment to the Civil Code that would extend the legal benefits of marriage to same-sex couples. The proposal has generated a great deal of controversy, with faith groups arguing that it goes against traditional values. However, most MPs seem to be in favour of the amendment. If enacted, Kosovo would become the first country in the Balkans to allow same-sex couples to enter into civil partnerships. This would be a major progress for LGBTQ+ rights in the region.
The head of Vetevendosje, the ruling party's parliamentary group, Mimoza Kusari Lila, said that she believes this issue will be regulated by law.
"I believe that in the civil code this issue will be regulated by law," she said.
Besnik Tahiri, leader of the parliamentary group of the opposition, Alliance for the Future of Kosovo, said that they also support the change.
"As a parliamentary group, we support them," he said.