Get ready for a heartwarming and inspiring adventure with "80 For Brady"! This film is finally hitting screens worldwide, bringing to life the incredible true story of four courageous women over 80 years old who embark on a journey to meet their idol, American football legend Tom Brady, at the Super Bowl. With its powerful message that age should never hold you back from pursuing your dreams and living life to the fullest, this movie is sure to strike a chord with audiences of all ages. Featuring a fantastic cast including acclaimed lesbian actress Lily Tomlin and several LGBTQ+ guests, "80 For Brady" promises to be a must-see experience for everyone.
"80 For Brady": A Story Of Friendship And Football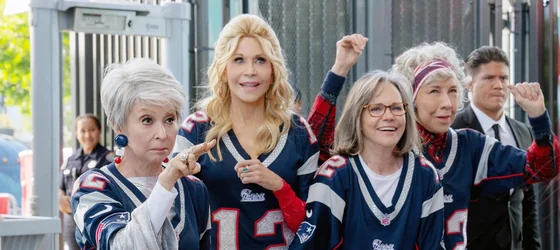 "80 for Brady," a film directed by Kyle Marvin, tells the inspiring true story of four octogenarian women who share an unwavering passion for NFL quarterback Tom Brady.
The fan club Over 80 for Brady was founded by Betty Pensavalle and Elaine St. Martin after losing their husbands. Then Anita Riccio, Pat Marx, and Claire Boardman joined in to share their love for the football icon.
"We started watching together, Elaine and me," Pensavalle told Time. "Then we added Anita; then we added Claire and Pat. We were good friends. We had known each other for years; and we were all widows."
In 2017, four die-hard fans embarked on a journey to attend Super Bowl LI and see their hero, Tom Brady, play. Although they were unable to attend the match, they received an unexpected surprise: a personalized video message from Brady himself encouraging them to turn their story into a Hollywood film. And that's what they did!
The resulting film, "80 for Brady", tells the story of Trish, Lou, Betty, and Maura - four women fighting to win four tickets to the Super Bowl. Each woman has a touching personal story: Trish is a passionate fan fiction writer, Lou awaits her cancer diagnosis results with apprehension, Betty feels invisible in her marriage despite loving her husband deeply, and Maura continues to mourn the loss of her beloved spouse.
These women first bonded 16 years ago while watching a Patriots game together with Tom Brady entering the field. Since then, it has become an annual tradition that they never miss. The film depicts their inspiring journey with moving dance numbers, poignant romantic scenes, and thrilling highlights from football moments.
Watch The Trailer For "80 For Brady" Below
An Impressive Cast Of Stars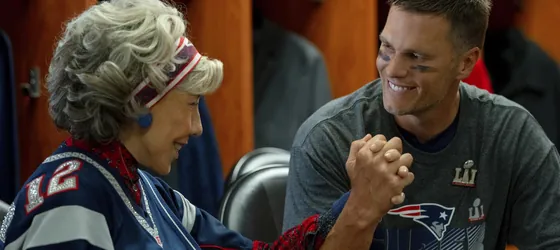 The movie boasts an impressive cast, including Hollywood legends Jane Fonda (Grace and Frankie), lesbian actress Lily Tomlin (Grandma), Sally Field (Forrest Gump), and Rita Moreno (West Side Story, Oz). Added to this already impressive lineup is American football superstar Tom Brady, who also produced the film.
But that's not all - the cast also includes many other notable celebrities such as Guy Fieri (Diners, Drive-Ins and Dives), Billy Porter (Pose), Harry Hamlin (L.A. Law, Mayfair Witches), lesbian actress Sara Gilbert (The Conners), gay former freestyle skier Gus Kenworthy, and Rob Gronkowski (Boss Level), who all add a special touch to the movie.
"80 For Brady": A Heartwarming Journey With Beloved Actresses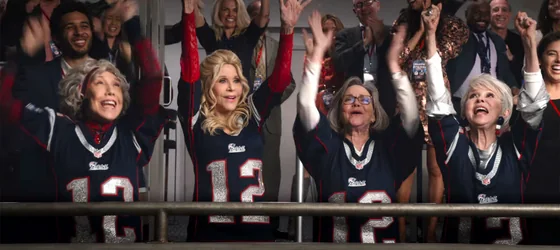 "80 for Brady" is a delightful comedy that showcases the outstanding talents of Jane Fonda, Lily Tomlin, Rita Moreno, and Sally Field as they embark on a memorable journey. The chemistry between Fonda and Tomlin is palpable and will surely be appreciated by fans of "Grace and Frankie." The clever screenplay by Emily Halpern and Sarah Haskins ensures that each character has their moment to shine, exploring themes of friendship, taking risks, and support. Overall, "80 for Brady" is a fun ride that will undoubtedly bring you positive vibes.
Where And When To Watch "80 For Brady"
"80 For Brady" premiered exclusively in cinemas across the United States and Canada on February 3, 2023, with its international release set to begin on February 22, 2023, through online streaming in France. The film will also be screened in cinemas across the United Kingdom on February 23, 2023, followed by a release in Ireland on March 24, 2023. Additionally, "80 For Brady" is available in VOD on the popular streaming service Vudu: vudu.com/content/movies/details/80-for-Brady.