In a time of homophobia ruled by Margaret Thatcher, "Blue Jean" explores the devastating consequences of Thatcher's anti-gay 'Section 28' policy. Featuring captivating storytelling and outstanding performances from Rosy McEwen and writer-director Georgia Oakley, this movie employs a televisual style to share its narrative with power and poignancy. The film's bold portrayal of a lesbian story will leave a lasting impression long after its release.
A Story Of Oppression And Challenge
The story of the movie "Blue Jean" takes place in the late 80s in England. At that time, Margaret Thatcher, then British Prime Minister, had made a series of anti-gay statements deeming homosexuality as unnecessary and risky. She argues that teaching children about LGBT issues is wrong and advocates for traditional moral values instead. In 1988, her government passed 'Section 28,' which barred British public schools from talking about homosexuality in class. This is the backdrop against which Georgia Oakley's narrative unfolds.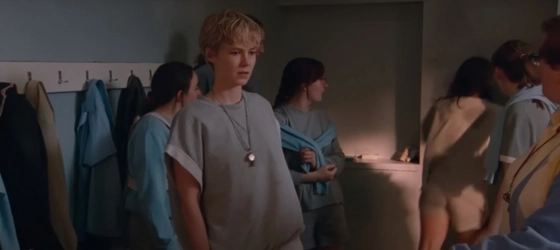 We meet the protagonist, Jean (Rosy McEwen), a young, divorced lesbian who works as a gym teacher at a public school in Tyneside, North East England. Jean is constantly torn between two very different lives - the one she proudly displays with her girlfriend Viv (Kerrie Hayes) and the one in which she hides her sexuality and love affair. In the face of such an oppressive and homophobic society, she would probably never be able to teach again if her relationship with Viv came to light. So, she keeps her sexuality a secret at school to avoid losing her job. This difficult situation causes Jean considerable amounts of frustration and bitterness. This is damaging her relationship with Viv, who cannot understand why Jean keeps hiding herself to conform to oppressive and homophobic social norms.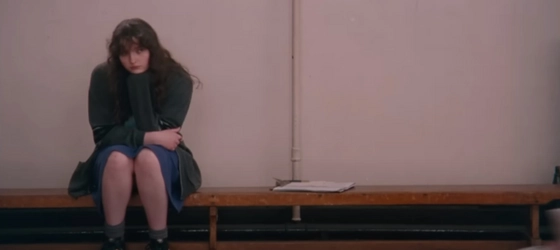 Jean's life is turned upside down when 15-year-old Lois (Lucy Halliday) enters her classroom. Immediately, the popular girls recognize this new girl as an easy target for their teasing and bullying, while their leader, Siobhan (Lydia Page), senses that Lois might be a lesbian. As the story progresses, Jean attempts to protect Lois from her harassers. However, it proves to be a difficult task due to Section 28 banning teachers from talking about homosexuality in school. To make matters worse, Siobhan has secretly developed a crush on Jean and is jealous of the budding relationship between her beloved teacher and this newcomer.
The looming threat that hangs over Jean and Lois turns their relationship into a tightrope dance, masterfully crafted by the social pressures of this time. But Jean is forced to confront her hidden political convictions when Lois unexpectedly enters the lesbian bar where Jean and Viv regularly go, throwing this balance off.
A Cinematic Masterpiece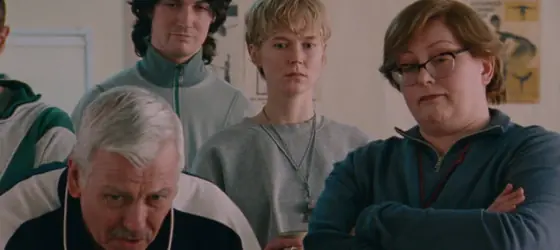 "Blue Jean" is an impressive movie that can delicately handle complex topics while still providing viewers with striking visuals. Not only does the film explore difficult themes, but it avoids getting too bogged down in the technical details needed to come up with a full solution to Lois' struggles. Although it ultimately fails to fully resolve her problem, which may be a disappointment, "Blue Jean" finds an excellent equilibrium between exploring these meaningful subjects and delivering an entertaining watch.
Beyond that, "Blue Jean" stands as a remarkable reminder of the strides made by members of the British LGBTQ+ community. Even though the film does not aim for universal relevance but instead focuses on the story of a single character, it nevertheless speaks to the shared experiences of many other LGBTQ+ members. The film accurately captures the struggles endured by those who were oppressed - depicting their unwavering commitment to remaining true to themselves despite any oppressive laws they were up against.
"Blue Jean" also masterfully portrays a warm and community-oriented lesbian scene in the working class, a concept rarely seen in British cinema.
Finally, the film perfectly captures the nostalgic essence of the 80s. The stunning final shot and use of soft pastels create an ideal backdrop for the movie. The magic of the visuals is further enhanced by Victor Seguin's expert cinematography, creating exquisite harmony. The washed-out blue accents also reinforce the title of the movie while giving a subtle nod to the period in which it is set.
Every Cast Member Elevates The Story To Another Level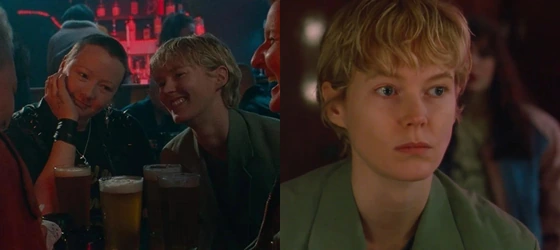 Rosy McEwen delivers an outstanding performance as Jean, while the honest and questioning gaze of Lois, brought to life by Lucy Halliday, serves as a challenge. Further, Kerrie Hayes' character Viv gifts Jean with a queer consciousness that she can't openly express herself. Additionally, Halliday and Hayes' characters provide tremendous support for Jean by acting as her foils. Displaying respect and awareness of Jean's struggles, the cast brings life to the plot and theme with their outstanding performances.
Take A Look At The Trailer
Don't miss the opportunity to see one of the most exciting LGBTQ+ films of this year. "Blue Jean" is an incredibly beautiful movie that you won't want to miss! Get a glimpse of the official trailer for yourself below.
"Blue Jean" To Be Released Around The World During The Year
The highly anticipated feature film "Blue Jean" is creating a buzz of anticipation and curiosity around the globe.
Irish Cinemas Will Screen "Blue Jean" From February 10, 2023
After its world premiere at the prestigious Venice Film Festival in September 2022, "Blue Jean" will be released in limited cinemas across Ireland from February 10, 2023.
British Audiences Can Also Watch The Movie From February 10, 2023
British viewers will also have a limited opportunity to view this movie from February 10.
In French Cinemas April 19, 2023, Online August 18, 2023
Later, "Blue Jean" will be released in French theaters on April 19, 2023, before a France-only online release set for August 18, 2023.
In The Netherlands On May 25, 2023
Great news for movie lovers in the Netherlands! "Blue Jean" is set to release in theaters on May 25, 2023!
International Releases In Cinemas And On Streaming Platforms Planned Throughout 2023
Notice that more cinema and online releases are being planned worldwide during 2023, but no other official dates have been announced so far. This article will be updated as the latest information concerning these releases becomes available so you can stay up to date!