"Vampire Academy": A New Fantasy Series
Immerse Yourself In A New World Of Vampires
The series takes place in a world with three different types of beings: Moroi vampires, Strigoi vampires, and Dhampirs.
Moroi vampires are the good guys; they don't feed on humans and only drink animal blood.
Strigoi vampires are the bad guys; they feed on humans and can only be killed by someone with a special stake dipped in Jerusalem's holy water.
Dhampirs are half-vampires/half-humans with abilities that allow them to protect the Moroi vampires from the Strigoi vampires. They usually become guardians when they come of age at 18.
The Plot Of The New Series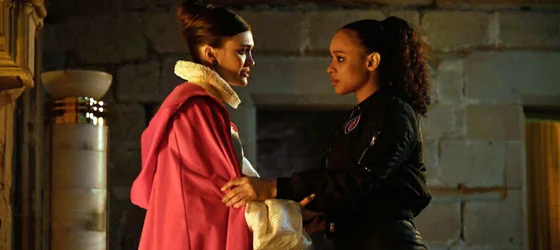 "Vampire Academy" is a fantasy comedy-drama that tells the story of Rosemarie "Rose" Hathaway, a 17-year-old half-human half-vampire, and her best friend, Princess Vasilissa "Lissa" Dragomir.
After being on the run for two years, Rose and Lissa are brought back to St. Vladmir's Academy, which is not just any boarding school - it's a hidden place where vampire royals are educated and where the half-human teens train to protect them from the savage 'Strigoi' vampires who would like to see them destroyed.
There, Rose and Lissa find themselves caught up in forbidden love affairs and must protect Lissa from the Strigoi, who seek to turn her into one of them.
The story follows the two girls as they are put to the test when they enter a vampire secret society, one a royal blood and the other a sworn protector. But in a world of privilege and glamour, the two girls' friendship transcends their strikingly different classes.
Meet The Characters Of "Vampire Academy"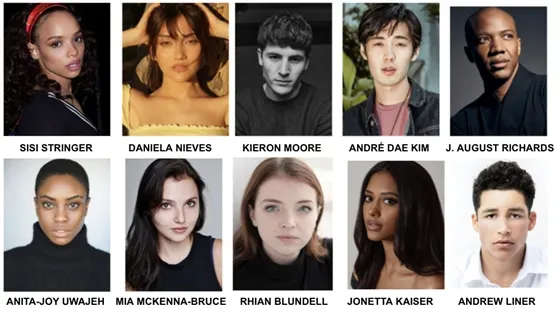 Among the main characters in the story are:
Rose Hathaway
Rose (Sisi Stringer, Mortal Combat) is a strong, determined young woman who is not afraid to speak her mind or stand up for what she believes in. She is also an incredibly talented fighter, which often gets her into trouble. However, her fighting skills will be put to the test when she must protect her best friend, Lissa, a Moroi princess, from those who wish her harm. During the season, while discovering that she has a psychic bond with her best friend as a result of being brought back to life by Lissa's magic, Rose falls in love with her older mentor, a Dhampir Guardian named Dimitri Belikov.
Lissa Dragomir
Lissa (Daniela Nieves, Five Pints, Save Me) is a royal Moroi vampire and the younger sister of the heir apparent. Princess Vasilisa Dragomir is a carefree, big-hearted royal princess who pursues her studies and has a joyful time. Lissa has no interest in the political machinations of the royal court, or the hypocrisy of Moroi royal society. Instead, she finds herself caught in a forbidden romance with her instructor, Dimitri Belikov. But with the sudden death of a family member, Lissa finds herself in a role for which she is neither trained nor emotionally equipped.
Dimitri Belikov
Dimitri (Kieron Moore, Sex Education, The Sandman) is the perfect vampire guard in many ways. He is incredibly strong and fast, making him a formidable opponent in battle. His discipline is legendary, and he always follows orders to the letter. He is also extremely discreet, always working in the shadows to ensure the safety of the Moroi royal family. But despite all these qualities, Dimitri is not without flaws. His strong sense of morality often conflicts with his duty to the Moroi, and his expansive spirit makes him more likely to ignore orders.
Cristhian Ozera
Cristhian (André Dae Kim, Degrassi: Next Class) is an intelligent and thoughtful Moroi Royal vampire. He is the outcast of the school and the royal court due to the unforgivable social sins of his parents. However, he is highly educated and eager for knowledge. He seeks answers based on faith and discovers a kindred spirit who also seeks the truth. Christian is a complex character who is misunderstood by many. However, those who take the time to get to know him will discover a loyal friend, always eager to learn more about the world around him.
Tatiana Vogel
Tatiana (Anita-Joy Uwajeh, Lucky Man) is the kind of person who is easy to underestimate. She is a Moroi vampire. Those who take the time to get to know her quickly realize that she is a powerful force to be reckoned with. Tatiana is driven by her deep sense of love and justice, and she has a unique ability to make herself irrelevant until it's too late.
Sonya Karp
Sonya (Jonetta Kaiser, Breakwater) is an odd bird, but that's part of what makes her so special. She prefers to spend her time in the library or her gardens, and she doesn't care much for Moroi society. However, she has a quiet but profound power of her own. When Mikhail (Max Parker, Love Sarah), a dhampir guardian, takes a sudden interest in her, Sonya is caught off guard. But this relationship will actually expose the brightest and darkest parts of her heart.
Mason Ashford
Mason (Andrew Liner, Grown-ish) is one of the most popular students at the Academy, and it's easy to see why. He's charming, funny, and always has a kind word for everyone. When Rose arrives at the Academy, she quickly becomes his main competitor in his quest to become the best guard in training. Although their relationship is often contentious, he hopes Rose will eventually look at him and see him as something more.
Meet The LGBTQ+ Characters Of The Show
Victor Dashkov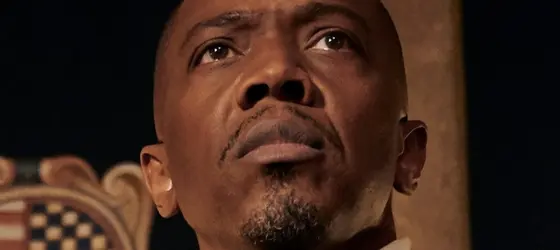 Victor (J. August Richards, Buffy, The Vampire Slayer, Angel, Genera+ion) is a noble Moroi vampire who is highly regarded for his role as an advisor and political strategist to Moroi dignitaries. He is a staunch loyalist who uses his intelligence and influence to protect what matters most to him, which is the well-being of his husband and two adopted daughters, as well as the betterment of his Moroi community.
Mia Karp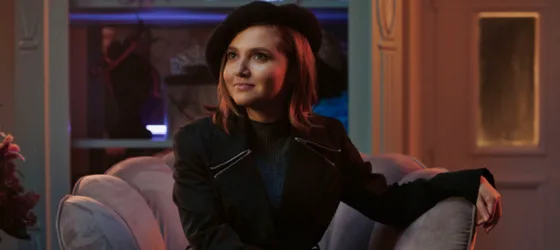 Mia (Mia McKenna-Bruce, The Witcher) is a student at St. Vladimir's Academy, and she's aiming for the top. A gifted and quick-witted student, Mia is determined to make her way into the ranks of royalty, no matter what it takes. Along the way, she makes an immediate connection with Meredith, a classmate who is training to be a guardian. Mia finds herself drawn to Meredith, even though she knows their relationship could complicate her plans.
Meredith Beckham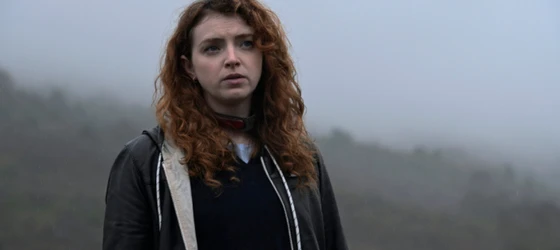 Meredith (Rhian Blundell) is a Dhampir with keen observational skills, making her an excellent strategist and a valuable asset. Meredith is also intelligent and strong-willed, making her a force to be reckoned with. However, she is not without flaws. She has little patience for Rose's volatility or Mia's elitism and regularly rebuffs them.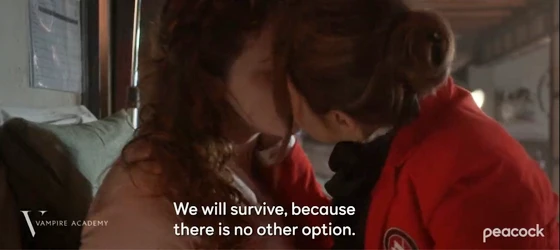 The Rest Of The Cast
The cast also includes:
Jason Diaz as Andre Dragomir
Joseph Ollman as Jesse Zeklos
Max Parker as Mikhail Tanner
Jennifer Kirby as Alberta Casey
Dominic Sherwood as Christian Ozera
Watch The Trailer For "Vampire Academy"
Here's the trailer for "Vampire Academy." The video opens with a scene of friendship between the two young women, followed by a brutal attack in the woods. We see them face many obstacles as they work together to stop the Strigoi that threaten to tear their society apart and the infighting of royalty, all as Lissa prepares to ascend the throne. Throughout the trailer, we hear Rose say, "I want to do my sworn duty. I want to protect my best friend from danger, and I want a life of my own," as she trains for battle.
Release Date & Where To Watch "Vampire Academy"
It's official: Peacock will launch its new series "Vampire Academy" on September 15. The series will have 10 episodes, each about 60 minutes long.
You can stream the show on Peacock TV. Here's the link: peacocktv.com/stream-tv/vampire-academy.
Julie Plec, the show's co-creator, has teased that the series will contain elements of both the "Bridgerton" and "Hunger Games" franchises, like the outfits. There also seem to be some similarities between this show and "Buffy," or "Twilight," or even "Harry Potter," don't you think?
Anyway, after the "First Kill" fiasco, I won't get too excited. This time, I'll wait and see (lol). But if you're a fan of young adult fiction or the vampire genre, perhaps you'll be willing to give it a chance. Who knows? Maybe "Vampire Academy" will be a pleasant surprise.