"Joyland" tells the story of a transgender woman who falls in love with a cis man and must manage their relationship while living in Pakistan.
With its realistic portrayal of the challenges faced by transgender people in Pakistan, "Joyland" is both an important work of social commentary and a touching love story, and it's easy to see why the film has resonated so strongly with audiences across the globe.
Presentation Of The Characters And The Plot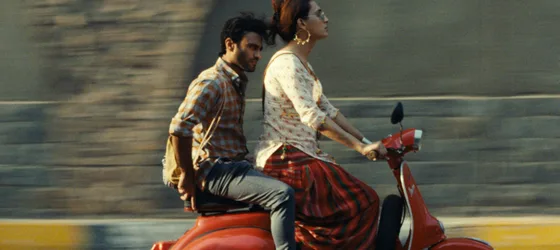 "Joyland" is a Pakistani melodrama written and directed by Saim Sadiq that follows the lives of several characters struggling with their own identity crises.
In particular, the story centers on two main characters: Biba (Alina Khan) and Haider (Ali Junejo).
A Celebration Of Women And Trans Women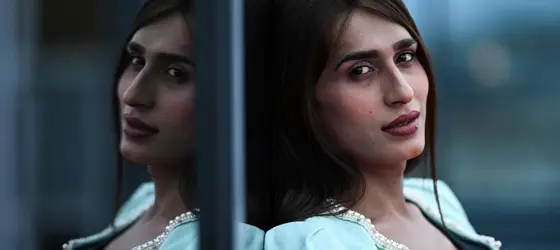 Credit: AFP
"Joyland" is a beautiful and complex exploration of womanhood, told through the stories of three women: Biba, Mumtaz, and Nucchi.
This film is a rare gem that shines a light on an often marginalized population and does so with empathy, humor, and grace.
It's a refreshing change from the typical male narratives that dominate Pakistani cinema and is one of the many reasons why "Joyland" is such an important film.
Each of the women has her own incredibly unique personality, and the film does a great job of showing how their lives intersect and how they find strength in their sisterhood. The bond between these women is truly special, and it's impossible not to be moved by their stories.
Biba, in particular, is a force to be reckoned with. She is a trans woman, and she is wonderfully played by transgender actress Alina Khan and brings levity when needed, but also reveals the defense mechanisms necessary for transgender women to survive in Pakistan.
Haider's Journey To Find His Place In The World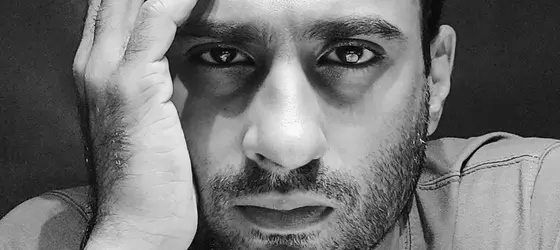 Haider (Ali Junejo) is the youngest son of the Rana family, a close-knit but fractious clan that shares the same house in central Lahore, Pakistan's second-largest city in the northeast.
Haider is a handsome, imaginative dreamer who has yet to find his way in life.
He has married an intelligent and self-reliant woman but has failed to live up to his conservative father's expectations.
Haider's life is radically different from his older brother Kaleem's (Sohail Sameer).
While Kaleem is married with three kids and eagerly awaiting the birth of his fourth child, Haider and his wife, Mumtaz (Rasti Farooq), remain childless.
In addition, while Kaleem has a traditional job, Haider's employment is somewhat less conventional. He works as a backing dancer for transgender dancer Biba at a local nightclub.
However, Haider's story takes a turn when he and Biba fall in love.
Though their relationship is not without its challenges, the two ultimately find happiness together.
A Transgender Storyline That's Breaking Boundaries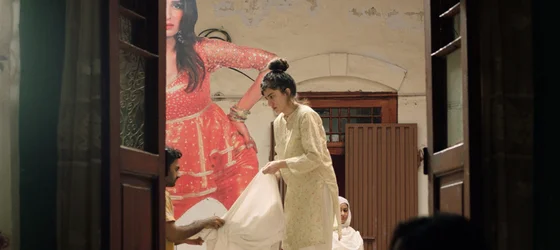 Sadiq's screenplay is intelligent and handles the relationship between Haider and Biba realistically. It is treated as something nuanced, instead of just a simple crush.
The film explores the complex feelings that they have for each other, as well as the judgment that they face from other people and society at large.
On the one hand, "Joyland" is a tender and intimate story about love and desire. On the other hand, it also sheds light on the difficulties faced by LGBTQ+ people in Pakistan.
In doing so, "Joyland" is a groundbreaking film that crosses borders and celebrates the strength and resilience of its protagonists.
Interview With "Joyland" Director
There is no trailer for now, but in the video below, Saim Sadiq, the director of "Joyland," talks about the importance of the film in Pakistan and his difficulty in finding actors to tell the story.
Historic Victory At Cannes
On May 23, "Joyland" made history by becoming the first ever Pakistani film to be included in the official selection at the Cannes Film Festival.
The film won the Queer Palme award and was also awarded the second Grand Prix in the "Un Certain Regard" category, which recognizes films with unusual styles and non-traditional stories seeking international recognition.
This is a huge achievement for Pakistani LGBTQ+ cinema, and it is sure to open up new opportunities for Pakistani filmmakers to gain international recognition.
The Official Release Date Of "Joyland"
"Joyland"'s theatrical release date hasn't been announced yet.
The movie is scheduled to be released in Pakistan on November 18, 2022, and in France on December 28, 2022.
It will also be released in theaters in the UK and Ireland on February 23, 2023.
Don't Miss "Joyland" At Your Nearest Festival
In the meantime, "Joyland" is continuing its tour of festivals around the world. It will be screened at the Ghent Film Festival in Belgium on October 12, 2022, and the International Independent Film Festival in Bordeaux, France.
The movie will also be shown in Australia on October 20, 2022, during the Adelaide Film Festival.
"Joyland" will be screened in the United States at the AFI Film Festival, which will take place from November 2 to 6, 2022 in Los Angeles.
"Joyland": A Bold And Revolutionary Movie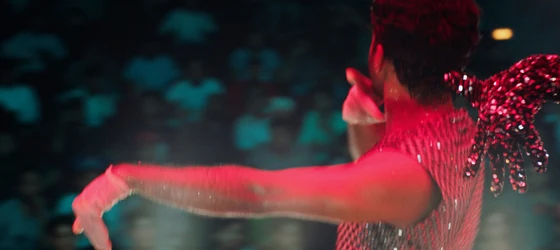 "Joyland" is a beautiful debut feature film. The disordered but sustained generosity of the writing and the refinement of the characters quickly make us forget the flatness of the mise en scène.
"Joyland" is also a social-revolutionary movie in the role it gives to women in the heart of a very patriarchal and misogynistic Pakistani society where most women are confined to housework and childbirth.
"Joyland" is a bold film that challenges social norms and offers a much-needed representation of women and transgender people in Pakistan.
All in all, "Joyland" is a great movie that offers a new perspective on Pakistani society while also being entertaining and well-made.