This should allow many of us to see this Argentinean feature film directed and written by Clarisa Navas (Today Match At 3).
The Release Of Lesbian Drama "One In A Thousand" Starts Well
Lesbian drama "One In A Thousand" has had very good visibility on festivals since its premiere at the Berlin's Panorama in February 2020.
And "One In A Thousand" has already won quite a few awards such as:
the Best Picture Prize at the Jeonju International Film Festival in South Korea
the Jury Award to the Best Direction at LESGAICINEMAD 2020 in Spain
the Special Jury Award at Listapad, the international film festival in Minsk, Belarus
All of this convinced Pluto Film to invest in the distribution of the movie.
"We were moved by the portrayal of the young leading character, Iris, and want to support emerging female directors such as Clarisa Navas. We also look forward to a fruitful collaboration with the film's producer [Diego Dubcovsky], who has an impressive track record of high-quality art-house titles," said Manola Novelli, in charge of sales at Pluto Film.
Now it remains to be seen how they plan to make it available in Englsih outside of festivals. I'll probably talk about it later this year.
In the meantime, let me introduce you to this new lesbian feature film.
Lesbian Romance "One In A Thousand"
We meet a lesbian teenager named Iris (Sofia Cabrera) in a community of project houses called Las Mil Casas in Corrientes in the north of Argentina.
Since she dropped out of school, Iris shares her free time between her gay cousins, Dario and Ale, the streets of her neighborhood, and basketball.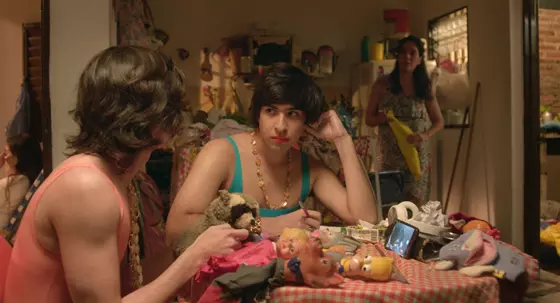 We quickly understand that Iris is attracted to girls when she rejects a boy's advances and sets her sights on Renata (Ana Carolina Garcia), a mysterious girl who has returned to the neighborhood after spending some time in Paraguay with her 40-year-old lover, and about whom the locals keep spreading rumors. It is even said that she is HIV positive.
In "One In A Thousand," both girls fall in love under the watchful eye of director Clarisa Navas, who follows them in their daily lives, bringing a very natural feel to the scenes and dialogue.
Besides the passage to adulthood, "One in a Thousand" explores deep friendship and sexual awakening.
Iris will have to overcome her fears and struggle with her insecurities to experience first love.
This is a story full of tenderness in a very hostile environment where desire adapts many forms in the darkness, and gossip can turn into a hostile weapon.
Here is the trailer (for english subtitles, turn on subtitles. Then in 'settings', select 'Subtitles', then 'Automatically translate', and choose your language):