"See" is a science fiction series created by Steven Knight, whose story takes place in an apocalyptic universe 600 years after our era. A deadly virus has decimated the population, and the few humans who survived are now blind. Only a few exceptions can see.
The series, which has a part of its cast and crew blind or visually impaired, has been praised for its authentic representation of the visually impaired community. It won the Ruderman Family Foundation Seal of Authentic Representation in 2020 for its contribution to breaking down barriers and stereotypes.
"Building a world without sight was a particularly unique and continuous challenge that was met through the passionate and thoughtful collaboration of a phenomenally talented and diverse team both in front of and behind the camera. The show has been a monumental labor of love for all involved, and we are eternally grateful for the way 'See' has been embraced by viewers around the world."
Besides being an important step forward for inclusion and representation, the series is also entertaining and well-made. The acting is strong, and the stories are compelling.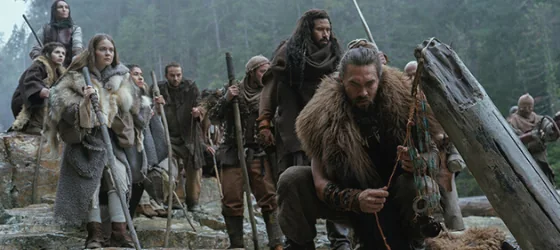 In "See," society as we know it no longer exists. The characters have grown up with new ways of living and interacting and have gathered into tribes.
The story focuses mainly on the Alkenny tribe, whose leader is Baba Voss (played by Jason Momoa). One day, the Alkennies welcome into their ranks a woman pregnant with twins. No one knows it yet, but the father is one of the few people to have kept his sight in this world where this is perceived as a curse. Thereafter, the sighted children will attract rumors and fears, making the Alkenny tribe the target of the Payan kingdom led by Queen Kane, who sees them as a threat.
"See" season 1 was met with some criticism, but the second season made up for those shortcomings and was overall very satisfying. The showrunner seemed to have taken the feedback to heart and made some much-needed improvements. The battles were handled masterfully, with more detail, and the exchanges were much more realistic, which made the experience very immersive.
But even though I enjoy the show for its originality, the love story between Haniwa (Nesta Cooper) and Wren (Eden Epstein) will have more than contributed to increasing my interest in the show during this second season. I mean, who doesn't love a good lesbian romantic plotline?
We Have A New Obsession: Haniwa And Wren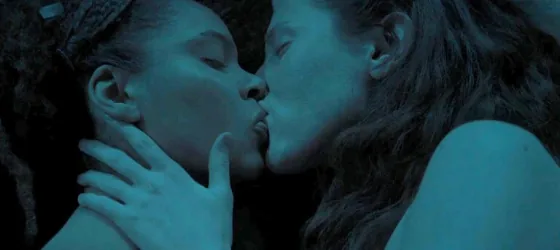 When season 2 of "See" begins, Haniwa is held prisoner in the kingdom of Trivantes by Baba Voss' evil dark brother, Edo (Dave Bautista). Fortunately, Haniwa has found a friend in Lieutenant Wren (Eden Epstein). Their ability to see and their common past hiding this bring the two women together, and they fall in love.
Afterward, Wren helps Haniwa and her father to escape but decides at the last moment to stay with Edo. Trivantes is her kingdom, and she is not yet ready to leave it, even for love. Wren, however, gives Haniwa a ring, mentioning that love can last "forever."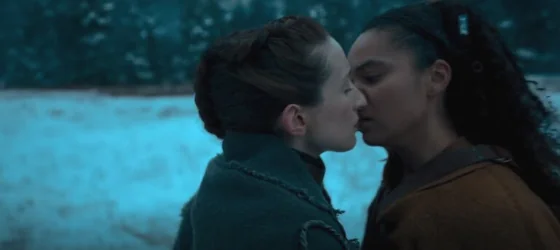 Later, just before the battle of the Greenhill Gap between Baba Voss and his people and Edo and his army begins, Wren and Haniwa meet for a brief moment to try to stop the war. But it is already too late, and the two women find themselves on opposite sides of the battle. Fortunately, each one manages to survive in its own way.
It remains to be seen how their relationship will grow in season 3. Let's hope we will have a nice ending because "See" season 3 will be the last chapter of the show.
What Can We Expect From "See" Season 3?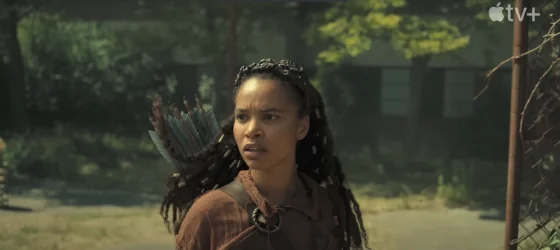 It's been almost a year since the second season of "See" aired. While the plot of the new season is still largely undisclosed, we do know that it will pick up almost a year after the events of the final episode of season 2.
Because of the events of season 2, I assume that Queen Kane (Sylvia Hoeks) will have given birth to the baby she conceived with Kofun (Archie Madekwe). And there will certainly have been some upheaval in Kofun's family with the arrival of this baby, even if family dynamics have always been an important part of the series, and season 3 will be no exception to that.
On his side, Baba Voss has spent the last few years living in peace in the forest, far away from his family. But when a Trivantian scientist develops a new psychic weapon that could destroy humanity, Baba Voss is forced to return to Paya and save his tribe.
Watch A Preview Of The New Season To Come
"See" is about to return for its epic final chapter with an all-new set of challenges and adventures for the characters we've come to know and love. The trailer for the upcoming season offers a glimpse of what's in store, and it looks like it's going to be another wild ride. Until then, enjoy the trailer!
"We are thrilled to share this epic final chapter of 'See', which delivers all the intense drama, riveting action, and heartfelt emotion fans have come to expect, as well as what we think is a deeply satisfying conclusion to our story," said showrunner and executive producer Jonathan Tropper.
Follow Your Favorite Characters Again!
You will be happy to see that all the main cast members will return for this new season. That includes:
Jason Momoa as Baba Voss
Hera Hilmar as Maghra
Sylvia Hoeks as Queen Kane
Christian Camargo as Tamacti Jun
Archie Madekwe as Kofun
Nesta Cooper as Haniwa
Eden Epstein as Wren
The rest of the cast includes Tom Mison, Olivia Cheng, Michael Raymond-James, David Hewlett, and Trieste Kelly Dunn.
I don't know if Alfre Woodard, who played Paris, will appear this season. Her character died at the end of season 2, and I'm not sure they planned flashbacks.
"See" Season 3 Starts In August
Apple TV+'s series "See" is set to return for its third and final season on August 26, 2022.
The first episode will be available to stream on Apple TV+ on that date, followed by a new episode airing every Friday. Season 3 will include eight episodes in total.