After a first season that made "The Owl House" one of the top 5 cable animated series with kids, especially girls aged 6-11, and after over 58 million views on Disney's YouTube channel in just over a year, the series is back with a second season that picks up right where season 1 left off.
Quick Overview of the Story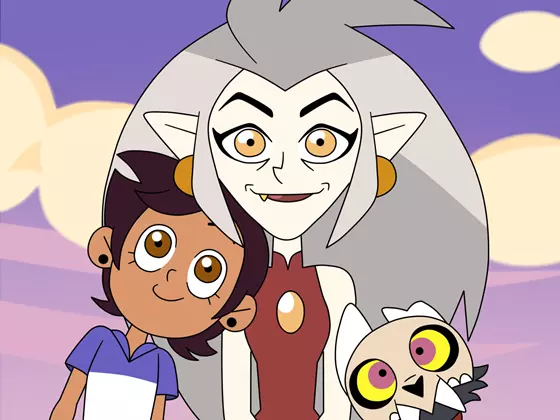 Luz, Eda, and King
"The Owl House" tells the story of Luz Noceda, a 14-year-old human teenager who discovers a secret portal to a magical realm where she meets and befriends a warrior demon named King and a rebellious witch named Eda, who serves as her mentor, as Luz aspires to become a witch too.
Why We Love "The Owl House"
In episode 3 of season 1 titled "I Was a Teenage Abomination", a queer female character named Amity makes an appearance.
Amity is a young witch of the Hexside School of Magic and Demonic who has a crush on Luz.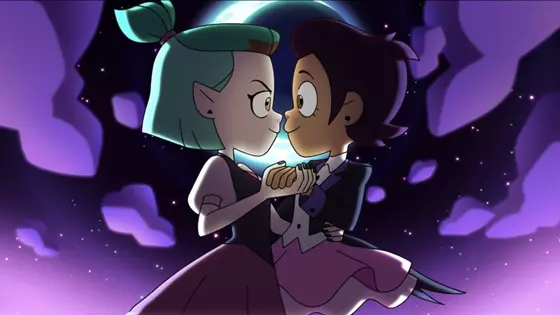 Lumity
In episodes 16 and 18 of the same season entitled "Enchanting Grom Fright" and "Wing It Like Witches", the love relationship of the two teenagers is finally revealed since we learn Amity was planning to invite Luz to the Grom, the prom, and the two share a dance together.
"I'm Bi! I Wanna Write A Bi Character, Dammit!"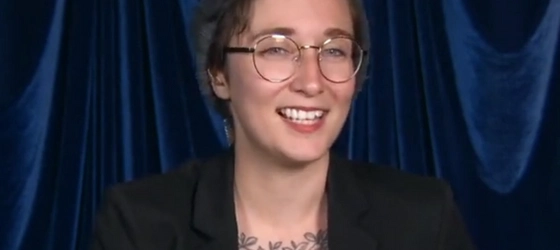 Dana Terrace
But it's only because of the tenacity of Dana Terrace, the openly bisexual creator and producer of "The Owl House", that this bi character came to be.
When she presented her animated series project to Disney leadership, she was very clear about her desire to include a queer character in the story.
Her initial plan to create this series was approved, but some Disney leadership made it clear that they did not want to see any LGBTQ characters.
"In [development] I was very open about my intention to put queer kids in the main cast. I'm a horrible liar so sneaking it in would've been hard," Terrace explained. "When we were greenlit [for the series] I was told by certain Disney leadership that I could not represent any form of bi or gay relationship on the channel."
But Terrace didn't give up and was able to convince the recalcitrant leadership to go along with her idea.
"I'm bi! I want to write a bi character, dammit!" tweeted Terrace in August 2020, when the two episodes where Amity and Luz's relationship is revealed aired. "Luckily my stubbornness paid off and now I am VERY supported by current Disney leadership."
The success of Season 1 of "The Owl House" was such that Disney renewed the series for a season 2. Then a few days before the premiere of this new season, Disney announced they had ordered a season 3.
"The Owl House" Season 3
"Dana and her team have created a series that continues to push the envelope with epic and diverse storylines, an astounding world, and multifaceted characters that have captivated our audience, said Meredith Roberts, SVP/general manager, Television Animation, Disney Channel. "We're eager to showcase more adventures in seasons two and three."
Note that season 3 will be the final season of the show and will have a different format than seasons 1 and 2 as it will consist of three 44-minute specials.
Where to watch "The Owl House" Season 2?
The second season of "The Owl House" premiered on Saturday, June 12, 2021, at 10 a.m. EDT/PDT on Disney Channel and the DisneyNow streaming platform and app.
You'll be able to watch new episodes every week until August 14 before the show takes a break.
"The Owl House" will resume again on March 19, 2022, with the last episodes of season 2.
The Trailer of "The Owl House" Season 2
Here is the trailer of "The Owl House" season 2: