"The World To Come" is based on a short story of the same name by Jim Shepard, which he recently adapted into a screenplay with novelist Ron Hansen and Mona Fastvold, who brings a more than welcome feminine perspective to this romance between two women.
"The World To Come" officially premiered at the Venice International Film Festival on September 6, 2020, where it has already received good reviews.
What Does "The World To Come" Tell?
Here the synopsis. You can watch the official trailer below.
"In this powerful 19th-century romance set in the American Northeast, Abigail (Katherine Waterston, The Boardwalk Empire), a farmer's wife, and her new neighbor Tally (Vanessa Kirby, Mission Impossible - Fallout) find themselves irrevocably drawn to each other.
A grieving Abigail tends to her withdrawn husband Dyer (Casey Affleck) as free-spirit Tally bristles at the jealous control of her husband Finney (Christopher Abbott), when together their intimacy begins to fill a void in each other's lives they never knew existed.
"The World To Come" explores how isolation is overcome by the intensity of human connection."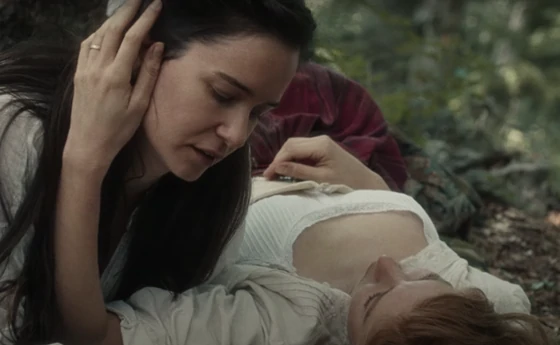 "I ignorantly didn't know that life was like that in some parts of America in the 1800s," Vanessa Kirby (Tally) told Deadline. "It isn't that long ago when things were just so tied in. You were literally owned by your household, by the man that you happened to be married to. I just found it so moving, and it touched me so deeply, and the thought that you can't choose who you love and you can't even choose to do what you like, to love who you want. I also love the title The World To Come, because it was from those foundations that we're still coming out of, really. And I found it beautifully poetic."

"I liked Tally because she's such a life force," she added. "She's pushing against… it's just in her nature. There are so many women like that, who are this dynamic life force that didn't want to be confined. They were told they had to have no expectations and to quell or crush their desires, and diminish who they really are. I just loved her because she was such a bright light, really, that then gets sort of extinguished. I just thought it was a really important story to be told."
When's "The World To Come" Due Out?
The international release of the movie "The World To Come" is scheduled for February 12, 2021, but please note that the date is not confirmed because of the current situation with the coronavirus pandemic and the impossibility in some countries to open theaters.
Nevertheless, "The World To Come" will be released in video-on-demand from March 2, 2021, on Bleecker Street Films.
Watch the trailer for this new lesbian rom-com below: