Welcome To "Monster High"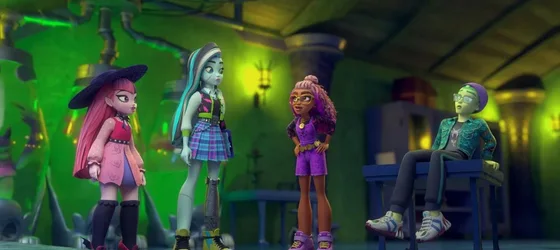 Nickelodeon and Mattel have partnered to create a 26-episode animated series called "Monster High" based on the popular toy franchise of the same name and echoing the movie of the same name released earlier this month.
The series follows four iconic characters from the franchise, namely:
Clawdeen Wolf is a half-human and half-werewolf thrilled to join Monster High despite the challenge of being a half-monster in a school of full-monster students.
Draculaura is the daughter of Dracula. She seems like the perfect dictionary definition of a monster, but she actually hides a deep desire to become a witch, which is strictly forbidden in the monster world.
Frankie Stein, who is non-binary and uses they/them pronouns, was brought to life a few days ago by their scientist parents, and is figuring out who they are and who they want to be.
and Deuce Gorgon
They will be joined by other characters like:
Lagoona Blue

grew up with an ocean nymph mother and a sea monster father in an ancient underwater Mayan Castillo, so sweet yet ferocious Lagoona

doesn't know much about life on land.
Cleo de Nile, a mummy monster who knows she's destined for greatness if only others would admit it.
Spectra Vondergeist, a ghostly girl who makes up for her translucent appearance with her chatty personality. All she wants is to be seen!
Toralei Stripe. Originally from an elite monster family, Toralei is the "bad girl" of the school. Old fashioned and brave, Toralei is committed to her cause of preserving monster society.
The series will focus on the school and personal lives of the characters at the eponymous Monster High, a school for monsters.
While the series will undoubtedly be full of excitement and adventure, it will also offer viewers the opportunity to watch the characters discover who they are. They will learn to accept their differences as monsters and grow up to be the fierce and fearless beasts they are meant to be.
The characters are all richly developed and lovable in their own ways, and it will be a joy to watch them navigate their way through life at Monster High.
Meet The LGBTQ+ Voices Behind "Monster High"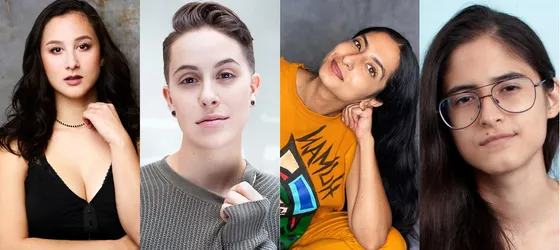 Lin's photo by Stephanie Girard and Mohammed's photo by herself
The series co-written by Shea Fontana and Lila Scott will feature a wide range of LGBTQ+ actors in the lead roles. Thus:
out actress Courtney Lin (Rainbow High) will voice Draculaura
non-binary trans-masculine performer Iris Menas (Way Down) will voice Frankie Stein
queer actress Kausar Mohammed (4400) will voice Cleo De Nile
and non-binary performer Valeria Rodriguez (Phantasy Star Online 2) will voice Lagoona Blue.
Other Voice Actors
The upcoming animated series will also feature:
Gabrielle Nevaeh Green (That Girl Lay Lay) as Clawdeen Wolf
Tony Revolori (Dope) as Deuce Gorgon
Alexander Polinsky (Teen Titans Go!) as Heath Burns
Alexa Kahn (Ad Astra) as Toralei Stripe
and Debra Wilson (The Owl House) as Headmistress Bloodgood
The rest of the cast consists of:
Kayla Cromer (Everything's Gonna Be Okay) will play Twyla
Ken Marino (Veronica Mars) will play Dracula
Scott Menville (Teen Titans Go!) will play Romulus
Audrey Wasilewski (Doctor Strange in the Multiverse of Madness) will play Tater Tyke
Watch A Sneak Peek Now!
The trailer for "Monster High" introduces viewers to a cast of colorful teenage children of famous monsters. It also introduces viewers to their school. And as it shows, the characters have a lot of fun along the way.
"Monster High" Brand Embraces Diversity
Since Mattel first introduced Monster High in 2010, the iconic Monster High franchise has been wildly successful. It has been praised for its positive representation of diversity, and its message of inclusion has helped make it one of the most beloved franchises for kids and adults alike.
The "Monster High" cartoon is sure to be a hit with viewers of all ages as well.
The cartoon provides valuable lessons on how to celebrate differences. Its unique and engaging characters encourage children to be proud of their authentic identity, which is sure to resonate with young viewers, teaching them the importance of embracing difference.
"Monster High" is a refreshing reminder we are all special and deserve to be loved and accepted for who we are.
Watch "Monster High" On Nickelodeon And Paramount+
"Monster High" will debut on October 28 at 7:00 p.m. ET/PT on Nickelodeon and Paramount+.