Clearly, Bailey was the victim of an injustice. She did nothing wrong but was suspended after over 10 years at the school. Named 'Teacher of the Year' twice, she won't be reinstated. The school even asked her to resign, which she refused.
Victim of discrimination, she filed a complaint against the Mansfield Independent School District and two school administrators, including Superintendent Jim Vaszauskas, seeking redress and asking that her suspension be removed from her employment record.
The judge who ruled on her case recognized the suspension as unconstitutional. She also got a $100,000 settlement.
Bailey's lawyer, Jason C.N. Smith, said in an interview with NBC Dallas-Fort Worth that "the judge's decision, in this case, sends a message to school districts all across this country: The Constitution protects gay teachers from discrimination."
Bailey said that "the agreements the district and I made in this settlement are a positive first step in making things better for gay employees, gay students and gay families in Mansfield."
Stacy Bailey also received her $10,000 financial settlement, which she has pledged to give back to an organization that works with LGBTQ students. She also donated $10,000 of her reduced fees to the Human Rights Campaign.
"The Human Rights Campaign was proud to stand with Ms. Bailey as she faced and then challenged discrimination head-on," Alphonso David, president of the Human Rights Campaign, said in a statement. "Justice has been served in this case, and a talented teacher has won the right to be herself in the classroom and her workplace. No one should face retribution simply for being themselves."
Finally, know that her suspension has been officially rescinded.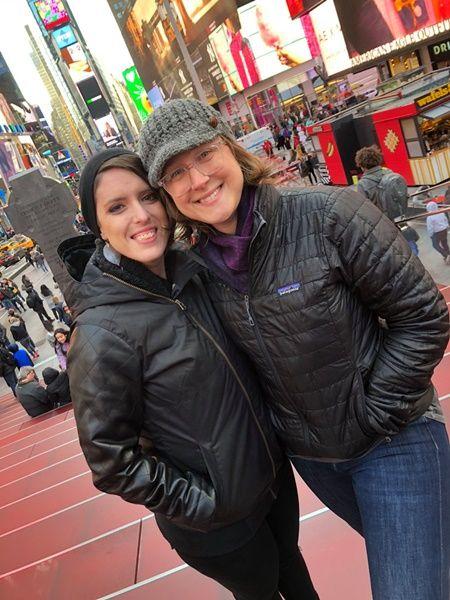 Stacy Bailey and her wife, Julie Vasquez
Stacy Bailey has since found a new and more prestigious position at nearby Lake Ridge High School. Her lawyer said she was "disappointed that she doesn't get to return to Charlotte Anderson."
As a result of this case, the Mansfield Independent School District has committed to providing training on LGBTQ issues.
The district stated that it will "provide mandatory training to Human Resource and Counseling staff regarding LGBTQ issues in schools, and offer optional training to be attended by administrators, educators, staff, or parents who may wish to attend such training."
Finally, CBS DFW reports that the district's board of trustees will vote on whether to add a prohibition of discrimination based on sexual orientation to its policies within 60 days of the end of the Supreme Court's term.