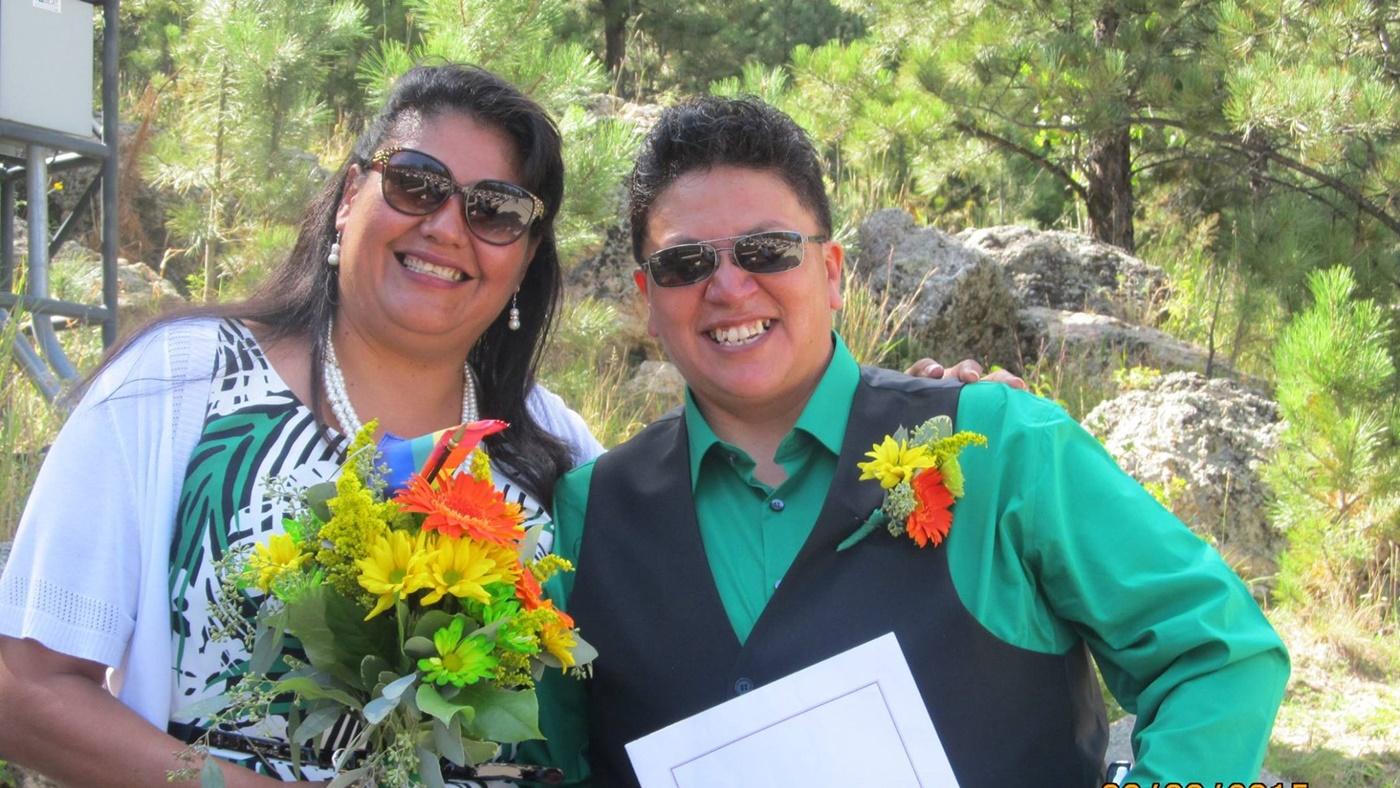 After several years of love and living together, two lesbians from the Oglala Sioux Tribe in South Dakota wanted to evolve their relationship by marrying on the Pine Ridge Reserve.
In 2015, the U.S. Supreme Court allowed marriage equality across the United States, but Native American tribes do not depend on it for marriage. They have their own rules, and unfortunately, most of them have not yet approved same-sex marriage.
Since Native American traditions require couples to marry on sacred lands, many LGBTQ Native Americans cannot wed within their tribe.
In the Pine Ridge Reserve, Monique "Muffie" Mousseau and Felipa De Leon found it impossible for them to marry.
Both women felt very sad that they couldn't marry within their tribe. Nevertheless, they received a marriage license in Pennington County and married in Mount Rushmore, considered sacred land.
The story might have ended there, but Muffie and Felipa are among those women who fight for generations to come.
They set themselves the goal of legalizing marriage equality within their tribe.
"We are looking out for future generations, for protections, and for equality," Mousseau told the Rapid City Journal. "These foundations of laws have to be in place because we have grandkids. And that next generation coming up, we don't want them experiencing the same (LGBTQ) bashing, we don't want them to get to a point where somebody says a bad word to them because they like somebody of the same-sex and they hang themselves. We don't want that."
The result is hardly believable! By a 12-3 vote, the tribal council adopted a resolution amending the marriage Act and allowing same-sex people to marry.
Two days later, the same council recommended that the tribe pass a hate crime ordinance to provide protection based on sexual orientation and gender identity, inspired by the Matthew Shepard Act.
As a result, the Oglala Sioux Tribe became South Dakota's first tribe to legalize marriage equality. Muffie and Felipa hope other tribes will follow their lead in allowing LGBTQ couples to marry.
"These are historic days for our tribe and for the rights of all people who seek equality, justice, and recognition under the law," said Julian Bear Runner, president of the Oglala Sioux Tribe, through his Chase Iron Eyes.
The Oglala Sioux Tribe has legalized marriage equality!
The Oglala Sioux Tribe became South Dakota's first tribe to legalize same-sex marriage.