Iowa House and Senate approved the trans sports ban
In Iowa, the controversial bill prohibiting transgender girls from participating in sports on teams that conform to their gender identity has sparked fierce debate across the state. The bill passed the House by a narrow margin of 55-39, and it was then approved by the Senate by a vote of 31-17.
While many people have voiced their opposition to this discriminatory measure, others have been quick to defend it. Critics of the bill argue that it unfairly limits the opportunities of transgender girls who simply want to take part in athletics just like everyone else. However, supporters of the bill claim that allowing these girls to compete would give them an unfair advantage over other players.
The new law, known as House File 2416, states "only female students, based on their sex, may participate in any team, sport, or athletic event designated as being for females, women, or girls," "sex" being as written on a student's birth certificate or adoption certificate "issued at or near the time of the student's birth".
For the Human Rights Campaign, an LGBTQ rights group in the United States, the recent passage of this discriminatory law in Iowa marks "a shameful moment in Iowa's history."
"With the stroke of her pen, and without even bothering to meet with transgender kids or their parents, Governor Reynolds has reversed years of progress and moved our state backward," said JoDee Winterhof, the Human Rights Campaign's senior vice president for policy and political affairs, in a statement.
Governor Kim Reynolds signed the bill
The bill signed into law by Governor Kim Reynolds took immediate effect in Iowa's public elementary and secondary schools and universities.
Her decision was widely criticized by transgender people in the state, LGBTQ advocacy groups, and businesses.
When Becky Smith first heard that Iowa's new governor, Kim Reynolds, was planning to sign the bill restricting trans rights into law, she knew she needed to take action. As the executive director of Iowa Safe Schools, Becky is dedicated to supporting transgender students across the state and ensuring their safety and well-being. So when she heard about the signing ceremony, she immediately decided that the best way to show her support would be by holding up the transgender flag at the event.
And indeed, when Governor Reynolds gave her speech surrounded by cheering supporters, there stood Becky, proudly holding up a trans flag. At that moment, she was sending an important message not only to Governor Reynolds and her supporters but also to all members of Iowa's trans community: that they are valued and loved; and that they are not going anywhere.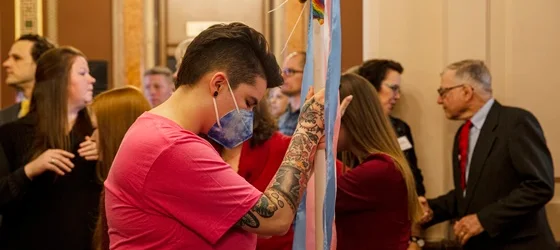 Becky Smith holding a transgender flag as Iowa Governor Kim Reynolds signs House File 2416 (Nick Rohlman/The Gazette via AP)
"It's really just a reminder that transgender students matter, that they're here, that they are not going anywhere," Smith said. "And despite the fact that their rights are being infringed upon by the passage of this bill, we stand with them. We have not forgotten them, and the fight continues for LGBTQ youth across the state."
It is heartbreaking to think that in this day and age, people are still being discriminated against solely because of who they are. Sadly, the recent passage of a bill by the Iowa state legislature is just one example of such discrimination.