Harry And Luna's Love Story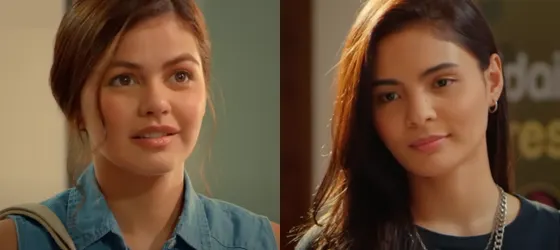 "Sleep with Me" is a six-episode lesbian romantic series from out writer/director Samantha Lee after she released queer films "Baka Bukas," "Billie and Emma," and "Until It's Safe."
The series follows the romance between Harry and Luna. The series revolves around their budding romance as they deal with their respective disorders and past relationships.
Harry (Janine Gutierrez) is a wheelchair-bound host and DJ at a radio station who is offering relationship advice on a late-night show "because all broken hearts deserve to be heard."
Luna (Lovi Poe) is a young girl who suffers from a sleep disorder. Luna and Harry meet under unlikely circumstances. Wendy, the convenience store clerk where Luna spends her evenings, wins a prize on Harry's show. Unable to leave her job, she begs Luna to go claim her prize in her place. As soon as she arrives, Luna is captivated by Harry. A connection quickly develops between them when they meet, and despite their differences, they soon discover that they have more in common than they thought. As they navigate their way through the ups and downs of their relationship, they learn to lean on each other for support.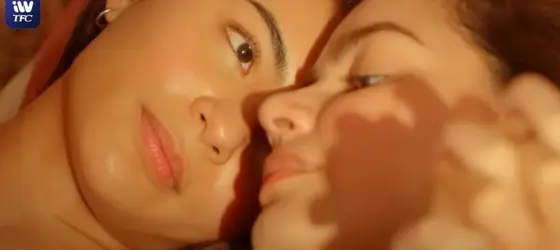 The show stars Filipino actresses Janine Gutierrez (Babae at Baril, Marry Me Marry You) and Lovi Poe (Mayohan, Temptation Island), who are paired together for the first time on the small screen and who show undeniable chemistry.
The rest of the cast is also excellent, including Nour Hooshmand as Wendy, Kerwin Kin as Harry's best friend Kai, and Katte Sabate as Luna's bartender and friend Joy.
On July 19, 2022, "Sleep With Me" had its world premiere at the 40th Outfest LGBTQ+ Film Festival in Los Angeles, where it won the Audience Award for Best Episode. It began streaming online on August 15 and has been a big hit ever since.
Watch The Trailer Of "Sleep With Me"
Check out the trailer below!
Watch "Sleep With Me" On IWantTFC
You can watch all six episodes of "Sleep With Me" on iWantTFC app for free or from the website iwanttfc.com. The show is co-produced by Dreamscape Entertainment and Project 8 Projects.
Watch The First Episode Now
If you don't mind, here is the first episode of "Sleep With Me," which has already gained almost 2 million people on YouTube in a few weeks:
"Sleep with Me" is a tender and realistic look at the social injustices suffered by those who are not able-bodied or hetero-normative. It also highlights the importance of fighting for what you want, even when the odds seem insurmountable.
The series is both charming and funny. It's a great addition to the list of lesbian romantic dramas. The characters are powerful and determined, and the story is inspiring. If you're looking for a feel-good show that will make you laugh and cry, "Sleep with Me" is a must-see.