Introducing "GAP, The Series"
The Main Plot
Based on the hugely popular novel "GAP Yuri" written by author Chao Planoy that was published on Dek-D, this 12-episode web series has been a sensation! "GAP The Series" has literally catapulted lesbian relationships into the spotlight in Thailand.
The series centers on the relationship between two young women, Mon, a newly graduated student, and Sam, who has been running a big company for many years.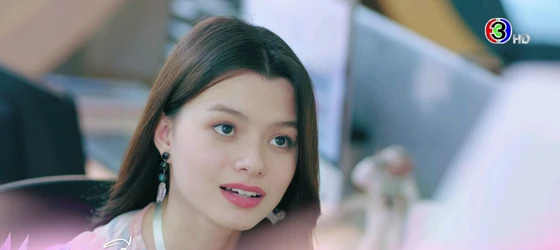 From the very moment Mon and Sam met in their youth, there was an instant spark between them that ignited a flame within Mon. Even though they only spoke briefly when Sam came to Mon's rescue, Sam became unambiguously Mon's idol. But her feelings for her evolved from that early admiration into a deep and passionate love. The memory of their passing encounter resonated with her, and even after all this time, Sam still holds a special place in her heart since young age. Though their paths diverged for many years, fate had a way of bringing them back together. Mon had just graduated, and luck was on her side as she landed a job in Sam's company.
When Mon met Sam in person, she was nothing like the media shows her and how Mon pictured her. Sam's image is completely crashed. At least, at first…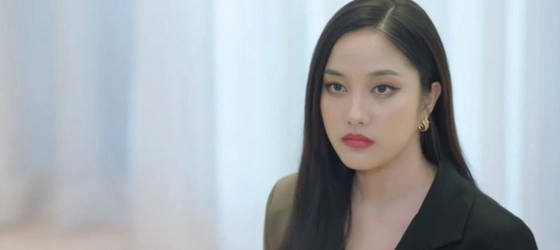 On her side, Sam comes from a wealthy royal family. However, her grandmother is pushing for the traditional path—get married, have children, and take care of the home. Unsurprisingly, this isn't what Sam wants; she has far more ambitious dreams. She's found a career at her own company that she loves, much to the bafflement of her family.
Even though she kept up a defensive wall against people around her - her brusque and uncompromising attitude at work had earned her the dubious title of 'bully' amongst her employees - Mon's presence filled her with light and joy, changing her life in the most positive of ways. As the connection between the two women grew, piece by piece, Sam began letting go of countless years of armor. She melted into Mon's freshness and boldness, allowing her true nature to shine through. With every smile and every moment, the wall between Sam and Mon crumbled even further until all that remained was love.
The Lesbian Secondary Plot
In one of the secondary plotlines, we see Mon's best friend Yuki and one of Sam's best friends Tee slowly getting closer throughout the episodes. It's clear to everyone that there has been an attraction between them since their first meeting. The feelings of both are confirmed in episode 8, where Mon and Sam call each of their best friends separately to get advice on how to make love. This story echoes the wonderful beauty that lies in the fact that our human relationships can grow through friendship and romance.
Who Plays In The Show?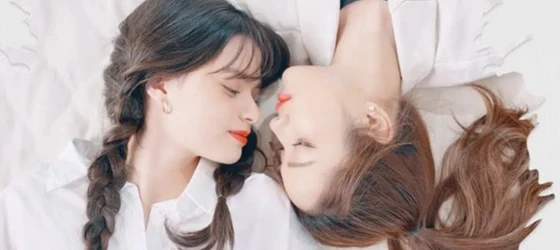 "GAP" introduces two talented actresses - Freen Sarocha Chankimha as Samanan "Sam" Anantrakul and Becky Armstrong as Mon Kornkamon.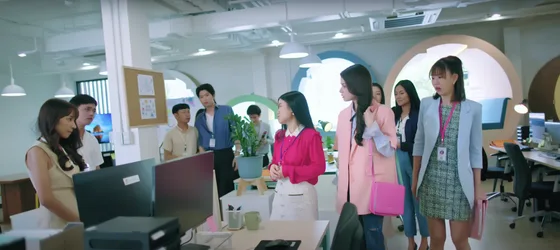 The two main actresses join a talented lineup of actors, including:
Heng Asavarid Pinitkanjanapun as Kirk, Sam's business partner
Ampere Suttatip Wutchaipradit as Noi, Mom's colleague
Min Natsinee Charoensitthisap as Ya, Mom's colleague
Thongthong Mokjok as Mee, Mom's colleague
Noey Natnicha Vorrakittikun as Tee, Sam's friend
Looknam Orntara Poolsak as Jim, Sam's friend
Baitoey Punnisa Sirisang as Kade, Sam's friend
Irin Urassaya Malaiwong as Yuki, Mom's best friend
Wo Jirawat Wachirasarunpat as On, Mom's step-dad
Jum Amata Piyavanich as Phon, Mom's mom
Tassawan Seneewongse as Sam's grandmother
Non Ratchanon Kanpiang as Nop, Mom's friend
Saint Suppapong Udomkaekanjana as Phum
The First Thai Lesbian Series Ever
"GAP" is a revolutionary series that has made history in Thailand - it's the first lesbian series to ever be released in the country, and, against all odds, it's been met with an extraordinary amount of enthusiasm! Despite its potentially taboo subject matter in many parts of Thai society, the show has quickly become hugely popular and widely praised across the nation.
The New Addiction You Won't Be Able To Resist To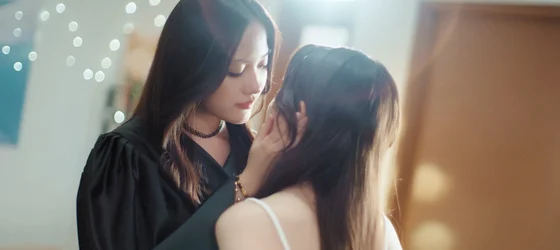 The series is a real treat to watch- it's light and funny and features incredible chemistry between two of its main characters. Sam and Mon are played by two exceptionally talented actresses who have a uniquely special connection with one another that translates seamlessly on-screen.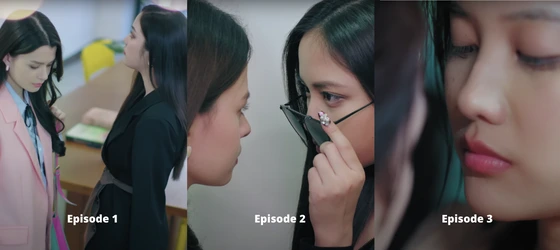 Episode 1 may not be the most fast-paced or thrilling, but we must understand the story and meet all the characters. Fortunately, subsequent episodes bring out the finest qualities of this series; better humor, sharper production, deeper character development, and hot scenes. Each episode builds upon the previous one, making it difficult not to want to binge-watch until all has been revealed. In other words, get ready to become totally and utterly hooked on the show like I am!
Here's The Trailer
The official trailer for the series is captivating and pairs a romantic tone with suspenseful elements that build an exciting atmosphere. It introduces two young women who fall in love and emphasizes their budding relationship despite the challenging world around them. It also gives you a glimpse of their lives and the hope that lies not too far ahead for them both.
Where To Watch Or Stream Season 1?
You have to options to watch "Gap":
You Live In Thailand
For Thailand residents, "GAP" airs every Saturday at 11 pm on Channel 3 (or 33) and is also available for streaming at any time through Channel 3 Plus.
You Don't Live In Thailand
If you don't live in Thailand, no worries! The web series is also available on IdolFactory's YouTube channel, which produced the show, for you to enjoy with English subtitles. Every Saturday, a new episode is released - and each episode is an hour long, divided into four parts.
You can watch the full series by clicking this link: youtube.com/c/IDOLFACTORY/featured.
Remember to give the show a chance if you are unsure after watching the very first episode; other episodes will certainly live up to your expectations, and I don't think you'll be disappointed by the show. The chemistry between both protagonists is amazing as you'll see in episode 8 that offers a beautiful kissing scene and sex scene that were actually improvised by both actresses.