The latest Valentine's Day episode of HBO Max's critically acclaimed series "Harley Quinn: A Very Problematic Valentine's Day Special" excels above and beyond expectations in exploring the relationship between Harley and Ivy. It takes this special bond to new heights as viewers are taken on a laugh-out-loud comedic journey through Gotham, full of love, lust, and plenty of laughter. No matter whether you're a fan of Harley Quinn or not, it's guaranteed that you will be delighted by this outrageous excursion into chaos! This must-watch episode promises an exciting ride for both die-hard fans of the show and those who are unfamiliar with the series. So if you're looking for something special to watch this Valentine's Day, don't miss out on "Harley Quinn: A Very Problematic Valentine's Day Special." You won't be disappointed!
Harley And Ivy's Very Problematic Valentine's Night Out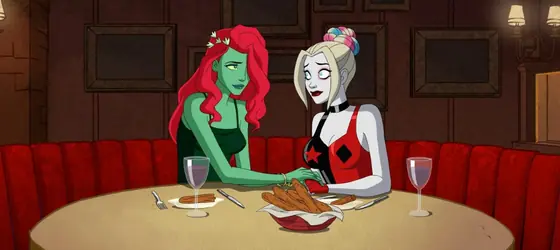 In "Harley Quinn: A Very Problematic Valentine's Day Special," Harley is determined to shower her beloved Ivy with the romantic Valentine's Day that she deserves. Despite Ivy's objections - wanting to stay home and remain safe from the chaos outside - Harley presses on, seemingly hell-bent on having a night of grandeur and surprise that she thinks will make Ivy happy. But things take an unexpected turn when a character suddenly takes on superhuman proportions, causing mayhem in the middle of Gotham City's streets. It becomes certain that their planned Valentine's evening won't proceed smoothly. She is still unfazed by this unexpected setback. She uses her passionate determination and loyalty along with a touch of genuine love for Ivy to salvage the romantic plans she has in mind. Will it be enough to turn things around for the better? Nothing is certain except one thing: anything can happen when Harley Quinn is involved!
Amidst the chaos and orgies that had become commonplace in Gotham City, Clayface was tricked by an incredibly convincing fake Jason Momoa profile. Meanwhile, Bane sights to crash a party of the Riddler and King of Clocks but finds himself embroiled in a strange romantic arc with a dominatrix instead.
The Voice Cast For This Special Episode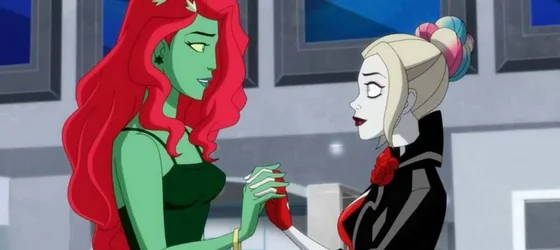 No surprise as Kaley Cuoco returns to her iconic role as Harley Quinn, joined by Lake Bell as Poison Ivy. The rest of the voice cast will include, among others:
Alan Tudyk as Clayface
James Adomian as Bane
Jim Rash as The Riddler
Tyler James Williams as Hawkman
Natalie Morales as Lois Lane
Quinta Brunson as Hawkgirl
Vanessa Marshall as Wonder Woman
Say Happy Valentine's Day With This Special Magic Episode!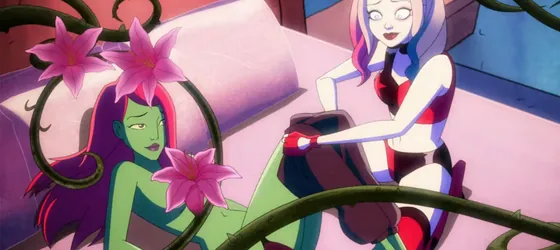 In this special Valentine's Day episode, which is full of references to classic romantic comedies and various DC couples, Harley and Ivy are explored in a way that celebrates their fan-favorite status. When they expose themselves, literally and figuratively, all their usual defenses come down. Harley and Ivy engage in honest and intimate dialogue - all while still bringing plenty of laughs. With this special episode, you will be left remembering why you fell for the series and its two main characters in the first place.
The tone of this episode is light, positive, and uplifting. The jokes are crafted to keep viewers engaged while still keeping them in a lighthearted and optimistic mood. They neither make fun of anyone nor do they leave the audience feeling exasperated or bored. Visual gags have been used to censor certain scenes, such as sex scenes between Harley and Ivy, but never at the expense of the audience's entertainment. This special episode delves into the wonders of positive sexuality with a gentle dose of irony and creative meta-references that bring out Harley and Ivy's intimate story arcs, as well as Bane's narrative.
Trailer: Watch What You Can Expect!
Are you ready for something truly extraordinary? Something that's sexy, adventurous, and hot? The trailer below is here to take you away on the most romantic day of the year that will leave you asking for more!
Release Date: Dive Into Harley Quinn And Poison Ivy's Love Story
Say goodbye to a traditional Valentine's Day and get ready for the wildest one yet when HBO Max premieres "Harley Quinn: A Very Problematic Valentine's Day Special" on February 9th, 2023! This 44-minute holiday special is far longer than your typical 23-minute episode, so you can look forward to a deeper look at the hilarious and thrilling adventures of Harley Quinn and Poison Ivy as they navigate their tumultuous love affair. Click this link to watch "Harley Quinn: A Very Problematic Valentine's Day Special" exclusively on HBO Max this February for an unforgettable experience: hbomax.com/feature/harley-quinn-valentines-special.
"Harley Quinn" Season 4 Is Almost Here!
Season 4 of "Harley Quinn" is set to air in 2023, although an exact release date has yet to be announced. Soon we'll get to see our favorite characters again and discover the exciting surprises they have in store for us. Stay tuned for any updates!