"Warrior Nun": The Story Of A Badass, Modern Day Superheroine Fighting Evil Forces
Remember, Netflix's "Warrior Nun" is based on the comic book 'Warrior Nun Areala' created by artist Ben Dunn. The story revolves around a 19-year-old girl, Ava Silva (Alba Baptista), who wakes up in the morgue with an ancient magical artifact embedded in her back. She is soon drawn into an ancient order of warrior nuns that has existed for hundreds of years and is charged with protecting the world from demons.
Get A Sneak Peak Of "Warrior Nun" Season 2
Even though the series has been renewed for a second season shortly after its initial release, the filming could not be done as planned because of Covid. So, before diving back into the universe of the series and discovering season 2, Netflix released a kind of recap of season 1 illustrated with excerpts from season 2.
So if you need a refresher on what happened in "Warrior Nun" season 1, Ava is here to remind you of the major events that have taken place so far. She references the massive cliffhanger that the first season left us with, which saw Ava and the other sister warriors about to enter the battle against Adriel's army. Adriel, who has manipulated the Catholic Church for centuries, tried to trick Ava into thinking he was an angel, but she ultimately saw through his deception. Now, the stage is set for an epic battle between good and evil.
The teaser starts with Ava telling us about the events of season 1 but quickly shifts to showing us clips from the upcoming season. And it looks like Ava and her team have lost the fight against Adriel. However, we also find out that Ava has taken full possession of her halo powers. There are several particularly cool shots in the teaser, such as Ava running on water and fight sequences that are sure to remind you of the show's greatest strength. This is really going to make season 2 super interesting. I even have a feeling that this season 2 will be more exciting than the first one, which was just an introduction to the story.
Who's Returning For "Warrior Nun" Season 2?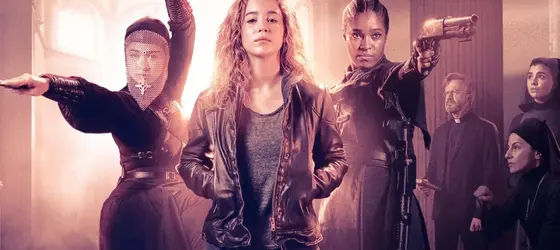 We will see the entire cast discovered in season 1 back in season 2, including Sister Lilith (Lorena Andrea), Father Vincent (Tristan Ulloa), and Adriel (William Miller).
This also includes the show's LGBTQ characters, namely Shotgun Mary (Toya Turner), Sister Beatrice (Kristina Tonteri-Young) whose story should be explored more in season 2, and of course, Ava (Alba Baptista), who for me is bi or pan given her potential crush on Sister Beatrice.
When Will "Warrior Nun" Season 2 Air?
The release date has not yet been announced, but it is sure to be soon. The teaser reveals that the show will return this winter.
Watch The First Teaser For "Warrior Nun" Season 2