"Star Trek: Picard" is a spin-off series of "Star Trek: The Next Generation" that focus on Jean-Luc Picard (Patrick Stewart).
In "Star Trek: Picard" season 2...
The second season of "Star Trek: Picard" will be more exciting than ever with a time travel plot and an old enemy coming back.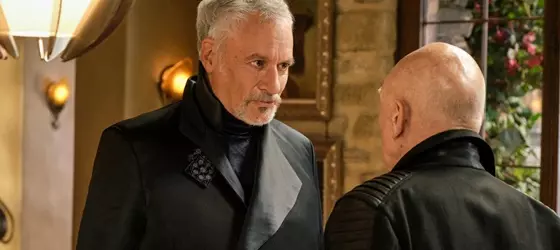 The new season will indeed see the return of John de Lancie, known as Picard's former nemesis Q, and the trailer below shows characters in an alternate reality after returning to our 21st century, changing its course by doing so!
But the big question is how the relationship between Seven of Nine and Raffi Musiker will grow.
The Beginning of Seven of Nine and Raffi's relationship
The final episode of "Star Trek: Picard" season 1 entitled 'Et in Arcadia Ego Part 2' saw the beginning of a relationship between two queer women, Seven Of Nine (Jeri Ryan) and Raffi Musiker (Michelle Hurd).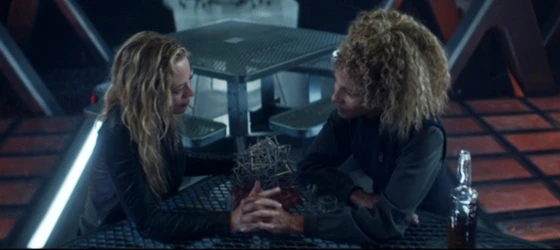 The scene was very short. The two women sat face to face and put their hands together in a sensual gesture, thus closing the episode and the season.
Seven of Nine and Raffi's relationship in season 2
The co-creator of the series, Kirsten Beyer, has confirmed in an interview with ComicBook that fans can expect their relationships to be an element of season 2, giving no details.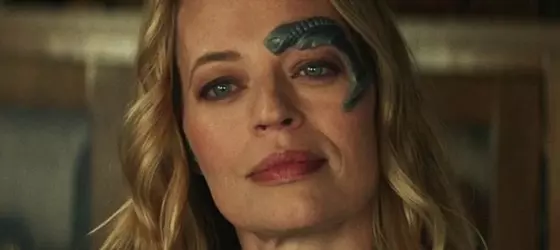 But Jeri Ryan, who plays Seven of Nine, revealed to SFX Magazine that there will be a small-time jump between the end of season 1 and the beginning of season 2, so, in this gap period, Seven and Raffi's relationship has grown a little.
"It's an unusual thing, in Star Trek, to pick up in the middle of a relationship, she said. "This is not the beginnings and the flirtation and all of that–you see that just for a glimmer in the finale of season one. Then there's a time-cut, and we're dropped into the middle of this relationship. We skip the whole honeymoon phase, and we are into the complexities of an adult relationship. In the trenches, you're in the middle of it. How do you navigate a whirlwind romance that's born from primary adrenaline, and now you have to navigate the day-to-day while you're also saving the world? It's fun, and we're able to tell more inclusive stories that really reflect society."
"Star Trek: Picard: No Man's Land"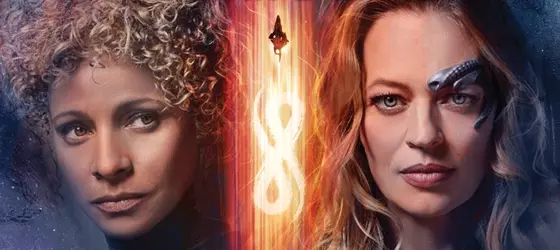 However, you should know that a special audio episode entitled "Star Trek: Picard - No Man's Land" was recently released, which explores the relationship between Raffi Musiker and Seven of Nine in more detail.
The story told in this audio episode takes place just after the end of season 1 of "Star Trek: Picard", so where we left off for now. While Raffi and Seven of Nine are enjoying some much-needed R&R in Raffi's remote hideaway, their downtime is interrupted by an urgent cry for help: a distant, beleaguered planet has enlisted the Fenris Rangers to save an embattled evacuation effort. As Raffi and Seven team up to rescue a mysteriously ageless professor whose infinity-shaped talisman has placed him in the deadly sights of a vicious Romulan warlord, they take tentative steps to explore the attraction depicted in the final moments of "Star Trek: Picard" season 1.
The episode was written by Kirsten Beyer, the co-creator of "Star Trek: Picard", and Mike Johnson, a veteran writer for Star Trek comics and video games. It features actresses Michelle Hurd and Jeri Ryan, who respectively reprise their roles as Raffi Musiker and Seven Of Nine.
Where to listen to "Star Trek: Picard: No Man's Land"?
The audio episode "Star Trek: Picard - No Man's Land" is available since February 22, 2022, on various platforms such as Amazon Audible, Google Play, or Apple Books. The complete list can be found on Simon & Schuster's website, the publishing company of "Star Trek: Picard - No Man's Land".
As for "Star Trek: Picard" season 2, you can watch it now
The new season of "Star Trek: Picard" is available on the Paramount+ streaming platform starting on March 3, 2022, with a fresh episode every Thursday.
The show will also be available to stream on Amazon Prime Video in over 200 countries. Here's the link: amazon.com/gp/video/detail/B091N2QK8Y/season2
The trailer for the new season
Here is the trailer for "Star Trek: Picard" season 2:
Season 3 to be the final season of the show
Finally, know that "Star Trek: Picard" will continue with a season 3 that has been confirmed, but it will be the final one of the show.