House Of Representatives Approves The Respect For Marriage Act
On July 19, the House of Representatives passed legislation that would codify marriage equality nationwide by a vote of 267-157.
The bill was expected to easily pass the House of Representatives, given the Democratic majority. However, it received more Republican support than expected, with 47 Republicans voting in favor.
This direct response to the recent Supreme Court ruling striking down longstanding federal abortion rights is a major victory for marriage equality advocates.
What Is The Respect For Marriage Act?
To Protect Marriage Equality
The Respect for Marriage Act would protect married same-sex couples in the event of a reversal of the 2015 Supreme Court decision that legalized marriage equality across the United States. It will also protect their marital status if a marriage ban is reinstated in the state where the couple lives.
The federal law would recognize all same-sex marriages as long as the marriage was performed in a state where it is legal, and would prohibit anyone from denying the "full faith and credit" of that marriage based on sex, race, ethnicity, or national origin.
Note that the new measure would give the Attorney General full responsibility for enforcing this rule in the event of a lawsuit.
To Make Sure Same-Sex Married Couples Keep Their Protection And Benefits
The Respect for Marriage Act would also ensure that the protections and benefits available to any married couple, such as spousal social security benefits, health insurance coverage, immigration status, and tax benefits, remain available to same-sex couples.
It would officially recognize their marriage throughout the 50 states, preventing discrimination against married same-sex couples.
Finally, the act would repeal the 1996 Defense of Marriage Act (DOMA) signed into law by then-President Bill Clinton, which defined marriage as the union of one man and one woman.
The Supreme Court gutted DOMA with its 2013 decision in United States v. Windsor, and again in Obergefell v. Hodges two years later, which ruled that the Constitution guarantees the right to same-sex marriage.
Although DOMA has been defeated, it is still technically a law as it is still on the books as long as the Supreme Court's decision is valid. So, if it was overturned, DOMA would immediately be back in effect, making it necessary to strike it down entirely.
The U.S. Senate To Vote
The Respect for Marriage Act has been making its way through Congress, and it now awaits a vote in the Senate. Senators are currently preparing to take a break, but negotiations on the bill continue.
Vote Delayed, What Does This Mean?
Democrats first wanted to focus on passing a major climate change bill and another one on health. As a result, they will probably postpone the vote on the Respect for Marriage Act until later in the year. The vote will likely take place in September after lawmakers return from their August recess.
Some people are worried that the longer it takes to come to a vote, the less support it will have. And it's true that the longer it takes, the more time opponents have to pressure Republican lawmakers to vote against it. But maybe that's not such a bad thing. According to a source familiar with the negotiations, the bill's supporters also plan to use the break to adjust some languages to attract more Republican support. It remains to be seen what changes, if any, will be made to the bill before it comes to a vote.
What Are The Chances To See The Act Approved?
The Senate is currently divided evenly between Republicans and Democrats, with each party holding 50 seats, with Vice President Kamala Harris having the deciding vote. But, this means that for the bill to pass, at least 10 Republicans must vote for it.
For years, marriage equality has been one of the most contentious issues in American politics. Republicans vehemently opposed it, while Democrats tended to support it. This led to a culture war in which each side accused the other of being intolerant and out of touch with reality.
However, times have changed. In 2015, the Supreme Court legalized marriage equality nationwide, and since then, public opinion has continued to shift decisively in its favor. In fact, a poll revealed that 70% of Americans supported marriage equality and it rises to 71% this year.
But as of today, it is still unclear whether Republicans will hear the voice of the people or continue to dig their heels in on this issue.
Where Do Republicans Stand?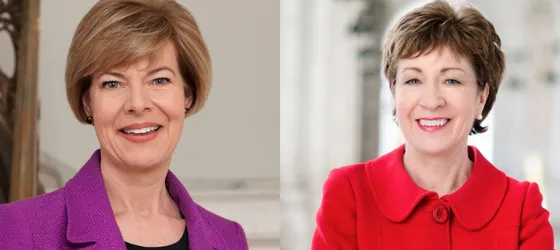 Senators Tammy Baldwin (Credit: U.S. Senate Photographic Studio-Rebecca Hammel) and Susan Collins
The Respect for Marriage Act was championed by Democratic Senator Tammy Baldwin, who became the first openly lesbian senator when she was elected in 2012. She and Republican Senator Susan Collins are working hard to get more Republican votes for the bill. So far, five Republicans have announced their support for the Respect for Marriage Act. And in a recent interview with PBS Wisconsin, Senator Baldwin announced that five more Republicans have indicated their willingness to support the bill.
The Respect for Marriage Act is still pending in the Senate. A vote on the bill is expected after the August recess, and supporters of the measure are hopeful that it will pass. However, there is no guarantee that the bill will receive enough Republican votes to be approved. Against this backdrop, negotiations are still underway to try to build more support for the measure. While attitudes toward marriage equality have shifted in recent years, there is still significant opposition within the Republican Party. However, some Republicans support same-sex marriage and have expressed support for the Respect for Marriage Act. Whether this will be enough to pass the bill remains to be seen.