Is Denmark LGBTQ Friendly?
Denmark is one of the most LGBTQ-friendly countries in Europe. In fact, it ranked second out of 49 countries in ILGA-Europe's Rainbow Europe 2021 report. This high ranking is due to its progressive LGBTQ rights laws and policies. Denmark has been a leader in this area for many years.
For instance, Denmark became the first country in the world to decriminalize same-sex relationships in 1933; the United States only did so in 2003.
In 1989, the country allowed same-sex couples to officially register their partnerships. And in 2012, Denmark became the first European country to allow same-sex couples to marry.
Since 1996, it has been illegal in Denmark to discriminate against someone based on their sexual orientation. And in 2015, this protection was extended to include gender identity or expression following a lawsuit.
The country also allows transgender people to legally change their gender and permits reassignment surgery.
In addition, Denmark offers non-binary and intersex people the option to have an "X" marked on their passport instead of "M" or "F".
Now you know why Denmark is widely considered to be one of the most welcoming countries for the LGBTQ community! And that are just a few examples of pro-LGBTQ policies!
And recently, Denmark joined the UN LGBTI Core Group, further cementing its commitment to promoting equality for all.
What's The United Nations LGBTI Core Group?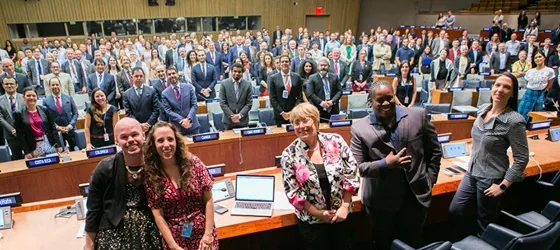 The LGBTI Core Group is an informal cross regional group that was established in 2006 and has over 30 member states. It is dedicated to combating discrimination based on sexual orientation and gender identity; and violence against LGBTQ+ people. It also promotes equality and inclusion for all.
Who's Part Of It?
The LGBTI Core Group is a global organization that brings together member states and representatives from U.N. agencies, non-governmental organizations, and civil society groups from all corners of the world.
Its members now include Albania, Australia, Belgium, Bolivia, Brazil, Cabo Verde, Canada, Chile, Colombia, Costa Rica, Croatia, Ecuador, France, Germany, Iceland, Ireland, Israel, Italy, Japan, Luxembourg, Malta, Mexico, Montenegro, Nepal, New Zealand, Northern Ireland, North Macedonia, Norway, Peru, South Africa, Spain, Sweden, Switzerland, United Kingdom, United States, El Salvador, and Uruguay.
As you can see, it is a very diverse group of countries, with members from all over the world.
The European Union, the Office of the High Commissioner for Human Rights, Human Rights Watch, and OutRight Action International are also part of the group.
"Denmark is deeply honored to officially enter into the LGBTI Core Group," tweeted Denmark's Permanent Mission to the U.N.
Honduras May Join The UN LGBTI Core Group
Recently, the Honduran government has "expressed interest" in joining the United Nations LGBTI Core Group, according to Reportar sin Miedo.
LGBTQ+ people in Honduras have long been subjected to discrimination and violence. In recent years, the situation has become increasingly dire, with reports of beatings, rapes, and even killings. Estimates suggest that over 370 LGBTQ+ people have died in Honduras over the past decade. And the previous government did nothing to address this problem.
But January marked a historic moment for the country when Xiomara Castro took office as the new president because she is the first president of Honduras to publicly support marriage equality.
In an interview shortly after her election, openly gay member of Congress Víctor Grajeda said that President Castro also supports legal recognition of transgender Hondurans and "safe spaces" for LGBTQ+ people.
This is a welcome change from the previous administration. As a result, President Castro's election resonates somewhat as a sign of hope for many in the community.
A Step In The Right Direction
Discrimination and violence against LGBTQ+ people is a global problem that requires the attention of all countries. Denmark's membership in the UN LGBTI Core Group is a step in the right direction, and I hope other countries will follow suit, starting with Honduras.