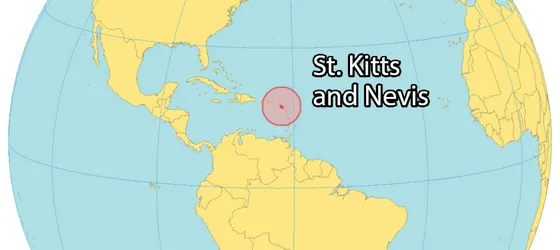 Source: GISGeography.com
St. Kitts and Nevis is a beautiful country located in the eastern Caribbean Sea. It comprises two main islands, Saint Kitts and Nevis, and is the smallest country in the Americas. For a long time, it was part of the United Kingdom before gaining independence in 1983. Now it is part of the Commonwealth Kingdom, which you may have heard about recently with the death of Queen Elizabeth II.
The Eastern Carribean Supreme Court Rules In Favor Of Same-Sex Relationships
In many former colonies, the colonial-era Penal Code criminalized same-sex relationships, even consensual same-sex intercourses, and therefore criminalized LGBT people.
St. Kitts and Nevis was no exception.
And in 2012, the penalty for "buggery" or "unnatural offenses" was increased from four to ten years in prison by sections 56 and 57 of the Offences Against the Person Act.
Fortunately, ten years later, in a landmark decision, the Eastern Caribbean Supreme Court of St. Kitts and Nevis decriminalized same-sex relations.
A Decision Based On A Complaint Filed
As is often the case, the decision of the Constitutional Court of St. Kitts and Nevis to decriminalize same-sex relationships is the result of a complaint by Jamal Jeffers, who is a gay man.
Jeffers had argued that the constitutional right to liberty allows individuals to freely choose their intimate partners and that, therefore, the prohibition of same-sex relationships was unconstitutional.
Jeffers was supported by St. Kitts and Nevis Alliance for Equality and the Eastern Caribbean Alliance for Diversity and Equality.
The Court's Decision On LGBTQ+ Rights In Saint Kitts and Nevis
In a unanimous decision, the court upheld the plaintiff's claim that sections 56 and 57 of the Offences Against the Person Act violated the right of same-sex couples to privacy and freedom of expression.
In so doing, it paved the way for the legal recognition of same-sex relations that had previously been criminalized.
In his decision, Justice Trevor Ward found these sections were "not reasonably justified in a democratic society in circumstances where they proscribe sexual acts between consenting adults in private, which involve no element of public conduct or harm to, or sexual acts, with minors."
"To the extent that it criminalizes the private lives of gay persons in this year, the law is excessive and arbitrary," explained Ward.
The judge ruled that section 56 of the act should be amended to add the phrase 'This section shall not apply to consensual sexual acts between adults in private' at the end.
Government Opposes Change
As for the government of St. Kitts and Nevis, it has come out against same-sex relationships, saying that it violates moral norms and could open "the floodgates to practices that could alter and compromise the survival of the culture and personality of the Federation," which was "established on the belief in Almighty God and the inherent dignity in each individual."
Historic Day For Equality In St. Kitts And Nevis
Today is a historic day for equality in St. Kitts and Nevis. For the first time in the island's history, same-sex relationships are recognized and protected by law.
"This is a transformative journey and a step to full recognition of LGBTQ persons across the Organisation of Eastern Caribbean States," said Kenita Placide, executive director of the Eastern Caribbean Alliance for Diversity and Equality. "An affirmative decision means a yes to privacy and a yes to freedom of expression."
The Regional Director of the United Nations Programme on HIV/AIDS for Latin America and the Caribbean, Luisa Cabal, praised the court for its decision.
"This landmark ruling is an important step forward in ensuring equality and dignity for the lesbian, gay, bisexual, and transgender community in St. Kitts and Nevis and the whole Caribbean," she said. "Today, St. Kitts and Nevis joins a growing list of Caribbean nations that have overturned these colonial-era laws that deny people's human rights and hold back the response to the HIV pandemic. Everyone benefits from decriminalization."
Cabal also issued a strong call for all countries that have not yet decriminalized same-sex relations to do so urgently.
"Caribbean civil society is determined, and Caribbean courts are clear. The clock is ticking on these damaging colonial laws," she added. "Countries that have still not taken these laws off the books need to do so as a matter of urgency, for the health and human rights of all their people."
7 Caribbean Countries Still Criminalize Same-Sex Relationships
Photo from Vector Map
St. Kitts and Nevis court decision is the latest in a series of rulings in Caribbean countries such as Belize, Trinidad and Tobago, and Antigua and Barbuda, which have ruled that the ban on same-sex relations is unconstitutional.
This means that currently seven - Barbados, Dominica, Grenada, Guyana, Jamaica, St. Lucia, St. Vincent, and the Grenadines - still criminalize consensual same-sex activity.
68 Left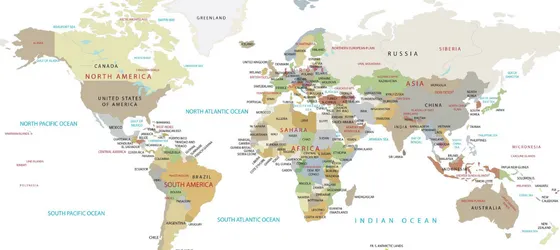 Source: GISGeography.com
This ruling means that there are now 68 countries in the world where same-sex relationships are still a crime.
This news comes on the heels of a similar announcement from Singapore, which has repealed a law that punished same-sex relations with up to two years in prison.
This is a significant decrease from just a few years ago when over 80 countries had laws criminalizing same-sex relationships.
St. Kitts and Nevis's decision is also notable because it shows that change is possible, even in countries where LGBTQ rights are not yet fully recognized. This gives hope to LGBTQ people around the world who are still fighting for equality.
We would like to congratulate Jamal Jeffers and the people of Saint Kitts and Nevis for this important step forward in recognizing the human rights of all its citizens. This is a significant victory for the LGBTQ community in the Caribbean. We call on the governments of Barbados, Dominica, Grenada, Guyana, Jamaica, St. Lucia, St. Vincent, and the Grenadines to decriminalize same-sex relationships. It is time for these countries to recognize that everyone deserves to be treated with dignity and respect.