Cynthia Nixon Is Adapting The Iconic Lesbian Play "Last Summer At Bluefish Cove"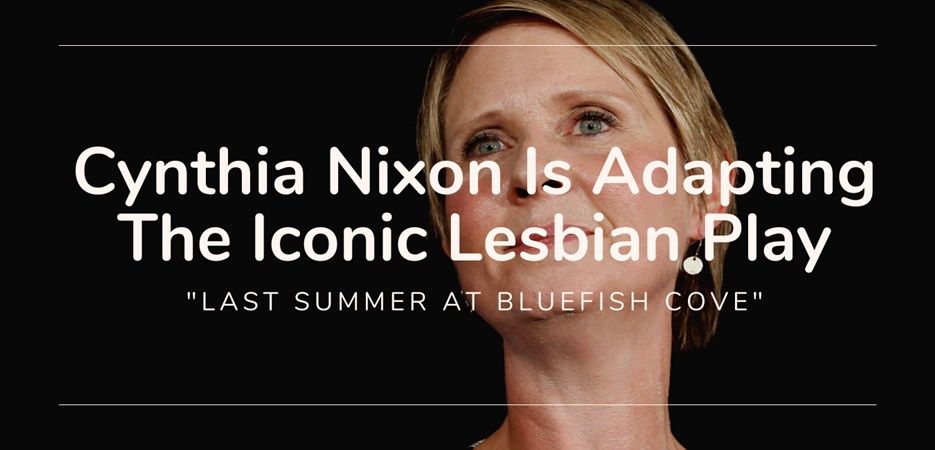 The last time I told you about Cynthia Nixon, the lesbian actress well known for her role in 'Sex And The City' was running for governor in New York. In the end, she failed to convince the Democratic camp and was not chosen in the primary.
After this failure in politics, Cynthia Nixon is now back to her first passion. She will soon direct a new adaptation of "Last Summer at Bluefish Cove" by Jane Chambers.
Released in 1980, this groundbreaking play was acclaimed for its well-rounded representation of lesbians.
"None of the women in this play apologize for being lesbians," Chambers said in an interview with The Times in 1981. "They accept it and go on to lead productive lives. I don't know why that should be a threat to people."
"Last Summer at Bluefish Cove" was replayed last summer, perhaps this is what inspired Cynthia Nixon to revamp the play that will celebrate its 40th anniversary this year.
The story follows Lil Zalinski and her friends, all lesbians, who spend their usual summer vacation in the seaside town of Bluefish Cove. One day, a straight woman named Eva wanders unexpectedly joins them after leaving her husband. Little did she see what she has stepped into.
I can't wait to see the result of this adaptation of "Last Summer at Bluefish Cove" by Cynthia Nixon. I'm also curious to find out about the cast which has not been announced yet.
The production is exceptional. Ellen DeGeneres, Lily Tomlin, Harriet Newman Leve, Portia de Rossi, and Jane Wagner will all be the producers of this lesbian-themed play, which will be the first Broadway production with an all-female creative team and cast. Just for that alone, it makes you want to see the play!
I will talk about this play again soon when the cast and the premiere date are announced.
Comments
No comments made yet. Be the first to submit a comment