After years of campaigning, the General Assembly of the Church of Scotland voted to allow its ministers and deacons to choose to perform same-sex marriages by a vote of 274 to 136.
"There has been a lengthy, prayerful, and in-depth discussion and debate about this topic for many years at all levels of the Church to find a solution that respects diversity and values the beliefs of all," Right Reverend Dr. Iain Greenshields, moderator of the General Assembly.
The Church of Scotland has announced that it will update its legislation regarding the celebration of marriages. Under the new law, marriage will be defined as a union between "parties," regardless of gender.
Note that ministers and deacons will be able to perform marriages for same-sex couples, but they are not required to do so.
Reverend Scott Rennie Celebrates Victory
The decision by the Church to welcome same-sex couples was met with widespread approval.
Reverend Scott Rennie, who in 2009 became the first openly gay clergyman in the Church of Scotland and who could not have a Christian ceremony when he married his husband, hailed the victory.
"Marriage is a wonderful thing," he said. "My marriage to my husband, Dave, nurtures my life and my ministry, and frankly, I do not think I could be a minister of this Church without his love and support. It is always there in the background. Same-sex marriage is like opposite-sex marriage. And it has its joys and sorrows, its glories, and its tensions. It's pretty normal, really."
Ministers Wasted No Time In Announcing Their Intention To Conduct Same-Sex Weddings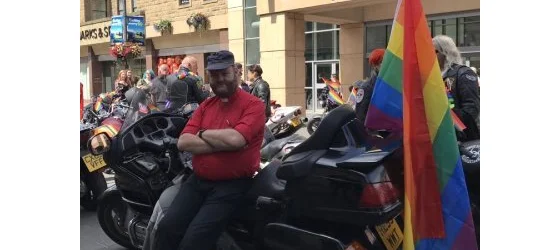 Immediately after the vote, many ministers announced they had applied to be registered to conduct same-sex marriages. Among them was the Rev. James Bissett, chaplain of the Royal Air Force air cadets. In a tweet, Bissett said he had just "emailed the @churchscotland Principal Clerk's office to ask that I be registered as a celebrant of same-sex marriages."
Church Of Scotland Becomes Largest UK Church To Allow Same-Sex Marriage
After years of debate and discussion, this vote represents a significant change in the Church's position on this issue.
In recent years, there has been a groundswell of support for same-sex marriage within the Church of Scotland. This shift in public opinion has been mirrored by a number of other churches that have changed their stance on the issue. The Church of Scotland has come under increasing pressure to follow suit, and several high-profile members have spoken out in favor of the change.
The vote to allow same-sex marriage is a recognition of this changing landscape and a positive step forward for the Church. For too long, members of the LGBTQ community have been excluded from the full experience of marriage. The Church's affirmation of its commitment to equality and inclusion is an important statement that love is love, regardless of sexual orientation.
Now the Church of Scotland is the largest church in the United Kingdom to allow same-sex marriages.
In Recent Years, Other Churches Have Changed Their Position
In 2009, the Quakers approved same-sex marriage, becoming one of the first Christian denominations to do so.
In 2016, the United Reformed Church in the United Kingdom allowed its ministers to marry same-sex couples in its churches.
The Episcopal Church in Scotland made history in 2017 when it voted to approve same-sex marriage, becoming the first church in Scotland to do so.
In 2021, the Methodist Church in the United Kingdom followed suit, voting to allow same-sex marriages to be performed in its churches.
And the Church of Wales has indicated that it may follow suit in several years. In 2021, they agreed to bless same-sex marriages.
But Not The Church Of England And The Roman Catholic Church
While several churches have welcomed equal marriage, it is still not allowed in the Church of England or the Roman Catholic Church.
In recent years, the Church of England has been under pressure to change its stance on ordaining openly gay clergy and performing same-sex marriages. But the Church of England remains firmly opposed to equal marriage. The Church argues that marriage should be between a man and a woman and that same-sex unions violate the traditional definition of marriage.
This position has put the Church at odds with many of its members, as well as with the Anglican Communion as a whole. But despite this opposition, the Church of England shows no sign of changing its position shortly.
The Church of Scotland's recent vote in favor of same-sex marriage is a significant step forward for equality and inclusion. This vote sends a powerful message that love is love. By affirming its commitment to these values, the Church can move forward as an open and inclusive institution for all.