Before looking at the results, please know that things have not progressed as they should have.
And the worst thing is that in the first half of 2020, some governments are using the coronavirus pandemic to pass laws against gay, lesbian, bisexual, transgender, and queer individuals.
The ILGA-Europe Rainbow Map and Index 2020
To classify the 49 countries, the International Lesbian & Gay Association (ILGA) looks at the laws and policies of the States and uses 69 criteria divided into 6 categories:
equality and non-discrimination
family
hate crime and hate speech
legal gender recognition and bodily integrity
civil society space
asylum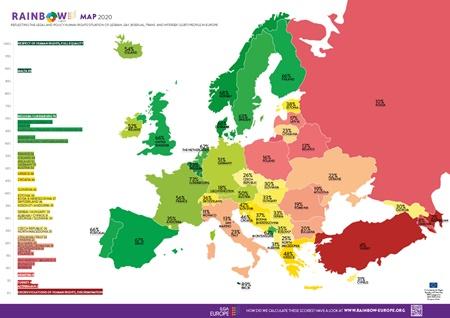 The 10 Most LGBTQ-Friendly Countries in Europe
Here is the list of the ten most LGBTQ-friendly:
1. Malta
2. Belgium
3. Luxembourg
4. Denmark
5. Norway
6. Spain
7. Portugal
8. Finland
9. United Kingdom
10. Sweden
The 10 Least LGBTQ-Friendly Countries in Europe
And here is the list of the ten least LGBTQ-friendly:
49. Azerbaijan
48. Turkey
47. Armenia
46. Russia
45. Monaco
44. Belarus
43. San Marino
42. Poland
41. Latvia
40. Liechtenstein
Overall, LGBTQ rights have made little progress in 2019 in 49% of European countries.
The Disappointments
What's worrying is that countries are moving backward on the Rainbow Map and Index for the second year in a row.
"Countries like Hungary, Poland, Turkey have been in the spotlight because of their policies targeting LGBTI communities prior to the pandemic," said Darienne Flemington, Co-chair of the ILGA-Europe Executive Board.

"The proposed ban of legal gender recognition in Hungary, proposed laws to ban abortion and sex education in Poland, scapegoating of LGBTI people as the source of the coronavirus by Turkey's political leaders—these are all alarming signals of how governments with strong authoritarian tendencies are emboldened by the crisis to further limit the rights of vulnerable groups and minorities.

"If there was ever a time for European governments and institutions to stand firm on the rule of law and human rights, it is now."
Other countries that have moved backward include Azerbaijan, Serbia, and also the United Kingdom, where vehement opposition against transgender people has developed.
"The news that more governments are adopting laws that protect trans, intersex and non-binary people must be read with extreme caution," explained Viima Lampinen, Co-chair of the ILGA-Europe Executive Board.

"Targeted attacks on trans rights by opposition groups have been observed in an increasing number of countries across the region, especially transphobic speech fuelled online.

"The safety and wellbeing of trans communities in Europe remains precarious and only made more fragile by governments' responses to the current pandemic, which is affecting these communities particularly hard.

"Trans, intersex and non-binary people need governments to stand strong as vocal allies, taking all necessary steps to secure their rights in law and in practice, and taking their needs into consideration in their COVID-19 responses."
Major Victories
I remember some good wins, though:
Conclusion
"This is a critical time for LGBTI equality in Europe," said Executive Director of ILGA-Europe, Evelyne Paradis.

"With each year passing, more and more countries, including champions of LGBTI equality, continue to fall behind in their commitments to equality for LGBTI people, while more governments take active measures to target LGBTI communities.

"History shows that those who are vulnerable before a crisis only become more vulnerable after a crisis, so we have every reason to worry that political complacency, increased repression, and socio-economic hardship will create a perfect storm for many LGBTI people in Europe in the next few years."
She continues:
"Our call to put a high political priority on LGBTI equality has never been more pressing.

"The results of this year's Rainbow Map show that equality measures are falling through the cracks in several countries, not because of lack of political and public support but because of widespread complacency about the need for LGBTI equality measures.

"Fewer and fewer decision-makers are picking up the mantle to see important pieces of legislation through and keep political momentum, so processes are stalling or not being followed up. "There are reasons to be extremely worried that this situation will spread as political attention is immersed in the economic fall-out of COVID-19."
See the results in detail at rainbow-europe.org.