Lesbian Couple Becomes First LGBTQ Married Couple In Costa Rica
In Costa Rica, Daritza Araya Arguedas, 24, a judicial technician, and Alexandra Quirós Castillo, 29, a university student, dreamed of getting married but couldn't do so until now, not that they didn't want to, but the equal marriage was illegal.
Fortunately, all changed two years ago. In January 2018, the Inter-American Court of Human Rights asked South American countries to extend marriage rights to same-sex couples if they hadn't already done so.
A few months later, in April, Carlos Alvarado Quesada became the new president of Costa Rica and the first one to officially support LGBTQ rights.
And then in August, the Supreme Court made a historic decision by ruling the equal marriage ban unconstitutional and giving legislators two years to pass a law that would open marriage to LGBTQ people.
Legislators had until May 28, 2020, to implement this measure. Without a legislation, equal marriage would automatically be legalized.
The legislators did nothing. As a result of the Supreme Court decision, marriage equality was legalized a few days ago. Costa Rica became the first Central American country and the sixth in Latin America to legalize marriage for same-sex couples.
"Costa Rica officially recognizes same-sex marriage," Quesada wrote on Twitter a few days ago.

"Today we celebrate liberty, equality, and our democratic institutions. May empathy and love be the compass that guide us forward and allow us to move forward and build a country that has room for everyone."
International Lesbian, Gay, Bisexual, Trans and Intersex Association (ILGA World) welcomed the news:
"Costa Rica is celebrating today: marriage equality has become a reality in the country - the first one in Central America! We rejoice with you: congratulations to all those who worked so hard to make it happen!"
In a statement, HRC President Alphonso David also applauded the victory of the LGBTQ community. He said:
"Today, Costa Rica has made history, bringing marriage equality to Central America for the first time. Costa Rica's LGBTQ community has worked tirelessly for years to make today a reality. This victory is theirs, and it inspires the entire global LGBTQ community to continue fighting to move equality forward."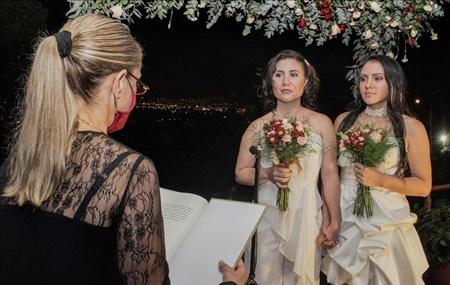 It's been a long wait, but Daritza and Alexandra could finally get married in the town of San Isidro de Heredia, outside the capital, San Jose, becoming the country's first LGBTQ couple to get married.
Eight minutes after the official legalization of the law, they signed their marriage license, exchanged vows, rings, and their first kiss as married women!
Their wedding was even broadcast live on national television to celebrate the event.
"You have begun in law what has existed in love," said Ana Cecilia Castro Calzada, who officiated the ceremony. "We celebrate and honor this journey that you have made together as life companions in hope of a day like today: historic for you two and for Costa Rica."
Stay Informed
When you subscribe to the blog, we will send you an e-mail when there are new updates on the site so you wouldn't miss them.
Comments
No comments made yet. Be the first to submit a comment