A same-sex couple had already been received well in the series Star Trek: Discovery. As CBS All Access wanted to better reflect the world, they came up with the idea to develop LGBTQ characters and feature a romance between two queer women, Seven of Nine (Jeri Ryan), and Picard's old First Officer Raffi Musiker (Michelle Hurd).
Until now, the LGBTQ characters in the Star Trek sci-fi TV and movie franchise have not been well developed. The series has always lagged behind when compared to others. The LGBTQ portrayal has been rather shy as, for example, with the series Star Trek: Deep Space Nine in 1995 that had staged a kiss between two women, Jadzia Dax (Terry Farrell) and Lenara Kahn (Susanna Thompson). Today, things seem encouraging.
But for the audience to accept the relationship, one of the two women had to be established in the show.
So Seven of Nine, one of the main characters of the series and also one of the fans' favorites, falls in love with a person of the same sex. She and Raffi are officially established as bisexual women as they begin a relationship in episode 10 of season 1 entitled "Et in Arcadia Ego, Part 2".
In the scene, the two characters sitting next to each other at a table, slowly interlock their hands in an intimate gesture.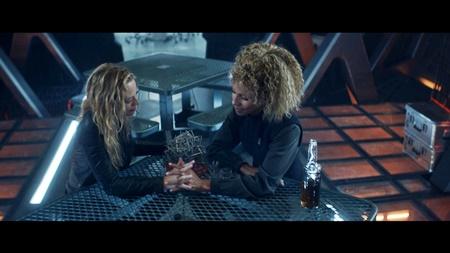 The relationship has been subtly portrayed and perfectly ends this first season of Star Trek: Picard. Let's hope the relationship will continue to grow in season 2, so Seven of Nine and Raffi will become the first queer female couple in the Star Trek universe.