Here We Go Again!
The crew of "Gentleman Jack" has been waiting to film the sequel to the Anne Lister story.
The BBC One had announced the renewal of the show for a second season in May 2020.
The production was postponed because of the coronavirus pandemic without knowing when it could resume, but, with special measures in place, here comes the casting and the series crew ready to tell another chapter of "Gentleman Jack"!
Series creator and executive producer Sally Wainwright said she's "more thrilled than ever" about returning with a new season of "Gentleman Jack":
"We've had such an extraordinary response from so many viewers all over the world about the first season, and I can't wait to show them what we've come up with this time," she said. "Their excitement for the show has been a joy and an inspiration."
She continued: "I've been in a little bit of heaven once again spending so much time deep in Anne's diaries as I've written the scripts, and can't wait to see the fabulous, joyous magic and detail that Suranne and Sophie will bring to it all. As ever, it's been a real pleasure working with Faith and the super cool team at Lookout Point, and our wonderful supportive teams at the BBC and HBO. I'm so excited and happy for this season; I hope people love it as much as they did the first."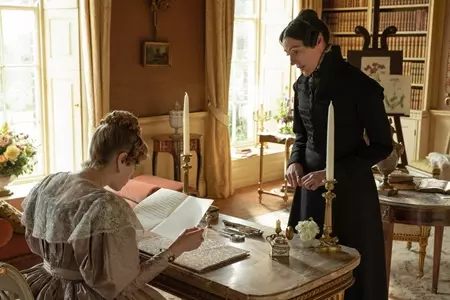 Suranne Jones, who plays the lead role in the series, Anne Lister, is also thrilled to be back on the set.
"I'm so happy to be back in beautiful Yorkshire, back with my favourite team, back with Sophie and this amazing cast, and of course, I'm so honoured to be returning as Anne Lister. Sally's scripts are detailed and wonderfully human as ever," she said.
And Sophie Rundle (Ann Walker) added:
"I feel very lucky to be heading back to Halifax to tell more of this extraordinary story that has meant so much to so many people all over the world. It is a privilege to be able to make more of this brilliant, brave show with such a talented cast and crew."
"Gentleman Jack" Season 2 Release Date
Of course, we don't know when we will all be able to enjoy this second season yet.
It takes a few months of filming and then a few months of post-production, so Gentleman Jack season 2 could premiere around in summer 2021.
I'm delighted to know that we can now hope to follow the new adventures of Anne Lister and her wife Ann Walker soon.
The Story Of "Gentleman Jack" Season 2
Season 2 will take place in 1834 and will focus on Anne and Ann setting up home together at Shibden Hall as wife and wife after their wedding in York at the end of season 1.
They also combine their respective fortunes, becoming a powerful couple, but, according to the BBC's synopsis, "Anne Lister's entrepreneurial spirit frightens the locals as much as her unconventional love life and, with Halifax on the brink of revolution, her refusal to keep a low profile becomes provocative and dangerous."
Season 2 Other Characters
As for the other characters of the series, Gemma Whelan (Games Of Thrones) will be back as Marian Lister, Anne Lister's sister, as well as Gemma Jones as her aunt and Timothy West as her father.
Also, note that Joanna Scanlan is joining the cast of season 2 as Anne Lister's outrageous former lover Isabella 'Tib' Norcliffe.
While waiting for the new episodes, know that "Gentleman Jack" season 1 is available in streaming on HBO Max.