Get ready for a thrilling ride into the world of murder, mystery, and suspense! "Glass Onion: A Knives Out Mystery" by writer-director Rian Johnson (Star Wars: Episode VIII - The Last Jedi) is the highly anticipated sequel to the 2019 smash hit, "Knives Out." Boasting an outstanding ensemble cast, this movie follows the steps of its predecessor with an engaging story that captures viewers from start to finish. With its immersive atmosphere and powerful performances, it offers a unique experience where nothing should be taken at face value.
Uncovering Hidden Truths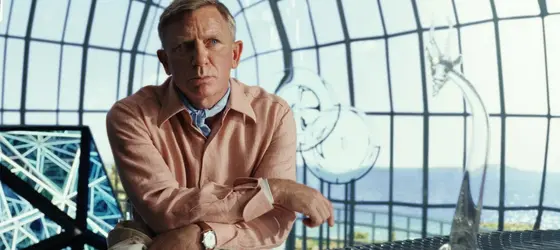 Detective Benedict Blanc faces his greatest challenge yet and a fresh adventure in "Glass Onion: A Knives Out Mystery." When a game between friends turns deadly, he is sent to a lavish private estate on Greek island to investigate the mysterious death of a billionaire tech genius.
With each character harboring their own secrets and puzzle introduced in the movie, excitement among viewers - as well as suspicion - starts to build. The film keeps you guessing who is friend or foe, as well as speculating about what lies ahead on the island. As the plot progresses, various plot lines and hints intertwine, making for a truly thrilling narrative full of secrets, risks, and hidden adventures. With so much anticipation boiling inside, viewers will be held in continuous suspense until all mysteries are unraveled by the end of the movie.
While most expect heroics and shocks from a well-written thriller, Johnson took an entirely different approach when creating his latest masterpiece. He decided to explore the depths of emotion within the genre by masterfully weaving suspenseful elements with raw human drama.
In a recent interview with Netflix's TUDUM, he explained he was looking for something that would engage viewers both intellectually and emotionally, and his mission had certainly been successful.
"The mystery is not going to be what keeps the audience in their seats," he said. "Remember first and foremost that you're making a movie and that it has to dramatically work before it intellectually works as a puzzle. That's actually still the hard part - creating a good story that feels unique and feels exciting and emotionally feels satisfying at the end."
By tightly constructing a captivating narrative instead of relying solely on puzzles and brain teasers, Johnson has crafted an intense but refreshingly original experience; one that keeps audiences transfixed until the very end.
An All-Star Cast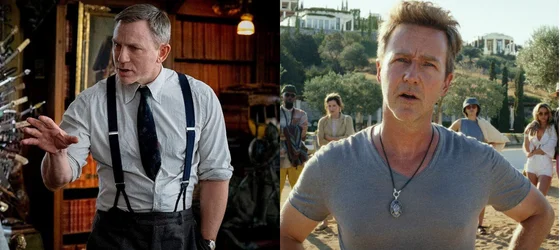 Daniel Craig (Skyfall) brings his signature secret agent flair to his role as the intrepid Detective Benoit Blanc. While Craig keeps audiences guessing and caught up in the mystery, he isn't alone. Edward Norton, known for his intense portrayal of Tyler Durden in "Fight Club," takes on a different kind of role as Miles Bron—a wealthy tech billionaire who rounds out the all-star cast. This dynamic duo is joined by an eccentric group of fellow talented actors, namely:
Kate Hudson (Bride Wars) as fashion designer and former model Birdie Jay
Dave Bautista (See) as influencer Duke Cody
Janelle Monáe (Hidden Figures) as Miles' former business partner Andi Brand
Kathryn Hahn (Bad Moms) as current Connecticut governor Claire Debella
Leslie Odom Jr (Hamilton) as cutting-edge scientist Lionel Toussaint
Jessica Henwick (Blade Runner: Black Lotus) as Birdie's assistant Peg
Madelyn Cline (Boy Erased, Stranger Things) as Duke's sidekick girlfriend Whiskey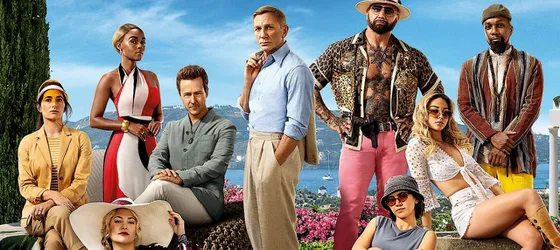 You will be pleased to know that a few celebrity guest stars will also appear in the movie, namely:
Ethan Hawke
Hugh Grant
Stephen Sondheim
Kareem Abdul-Jabbar
Serena Williams
And Natasha Lyonne (But I'm A Cheerleader, Orange Is The New Black)
Watch This December On Netflix
After its one-week limited release in theaters, Netflix will be streaming "Glass Onion: A Knives Out Mystery" starting December 23, 2022. Here's the link to Netflix: netflix.com/title/81458416.
Watch The Trailer
Are you ready for a wildly entertaining mystery?
A Fun, Fast-Paced Mystery With A Twist You Won't See Coming
"Glass Onion: A Knives Out Mystery" is the perfect spin on a classic whodunit novel, as it takes its witty satire of the rich and famous and blends it with a piquant plot.
At first glance, the movie seems to just be another addition to the seemingly endless line of crime thrillers set in a world where money makes everything possible. Sunlight and glistening skin, luxury boats, and jets. It's been done time and time again.
Yet, it has been showered with near-universal praise since its premiere at the Toronto International Film Festival earlier this year, cementing its status as one of Netflix's biggest films.
It has succeeded, in part due to the writer-director's creative reinvention of the mystery genre and the star appeal of its all-star cast. Moreover, it builds on the success of its predecessor by continuing to toy with our expectations and offering a twist ending that takes us all by surprise - which might just be one of the greatest tricks up its sleeve!
Top photo by Jon Kopaloff/Getty Images