It's Here, And It's Queer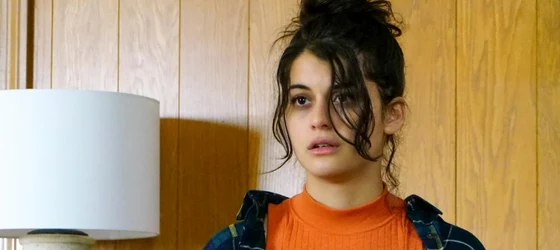 Samantha "Sam" Fink (Creator: Elizabeth Sisson | Credit: Freeform | Copyright: ©2020 Disney Enterprises, Inc. All rights reserved.)
"Single Drunk Female" is one of those shows that's not afraid to tackle some serious topics. Created by Simone Finch, the show follows the life of Samantha Fink, a bisexual woman who's trying to sober up and get her life back on track. While it might not be the laugh-a-minute comedy that some people are looking for, it's definitely an interesting show that's worth checking out. Sam (played by Sofia Black-D'Elia) is a complex character, and the show does a great job of exploring her struggles and growth over the course of its runtime.
Sam's mom Carol
After being fired from her job, Sam is forced to move back home with her overbearing mother, Carol (Ally Sheedy). But it isn't long before her friend, Felicia O'Brien (Lily Mae Harrington), showed up and kept inviting her to drink. Felicia doesn't understand the pressures that come with being sober. She doesn't know how hard it is for Sam to resist the temptation to drink, especially when she's feeling low. But despite the temptation, Sam is determined to figure out her best self and stay sober. She knows that if she drinks, she'll only end up making things worse for herself.
Sam's love life is no better. It's even rather depressing! When Sam is back in her hometown, she bumps into her former best friend, Brit Monclair (Sasha Compère), who is about to marry Sam's ex-boyfriend. Ouch. While it is understandable that Sam would be bitter about the turn of events, she does not handle it well. She lashes out at Brit and makes a scene. Later in the show though, she meets James (Garrick Bernard). James is attracted to Sam, but he doesn't want to date her until she's one year sober. He knows that she's been through a lot and he wants to be sure that she's ready for a relationship. Sam and James's relationship is one of the most compelling parts of the show. They have fantastic chemistry and a natural connection.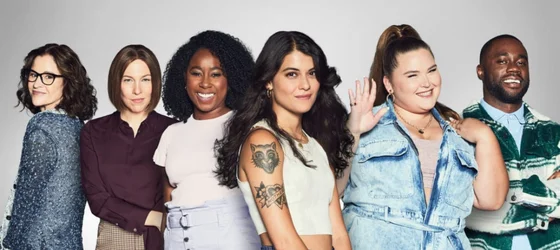 If we leave out the first scene of episode 1, "Single Drunk Female" has everything that'll please any fan, from drama to romance, and everything in between with a little touch of spiky satire! The show is carried by its strong female lead, who is flawed but ultimately relatable. We see her journey as she navigates her personal and professional life, making mistakes but also growing as a person. After each episode, we end up wanting to know what happens next for Sam.
The show's writers have also done an excellent job in developing the supporting cast. Every character has their own quirks and dynamics that add to the story. The actors also have great chemistry with each other, making the scenes more believable and heartwarming. We become invested in the characters not just because they're funny. They're deep, complex people who are constantly surprising us.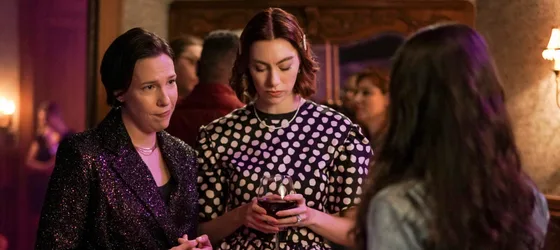 Olivia Elliot and her wife Stephanie (Creator: Danny Delgado | Credit: Freeform | Copyright: ©2021 Disney Enterprises, Inc. All rights reserved.)
Throughout the series, Sam is surrounded by strong female characters who help her navigate her way through sobriety. One of these women is Olivia Elliot (Rebecca Henderson), Sam's AA sponsor. Olivia is a lesbian who's married to Stephanie (Madeline Wise), a woman who's quite selfish and doesn't seem to care much for Olivia's sponsees. Olivia does her best to help Sam. It's clear that she cares deeply for Sam and wants nothing more than for her to succeed in sobriety.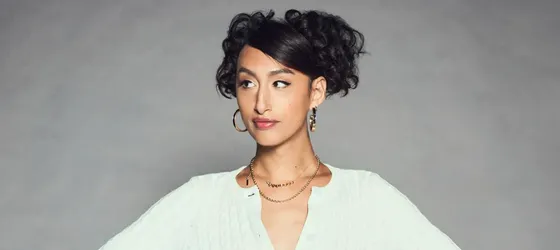 Jojo Brown as Mindy
In addition, Single Drunk Female also features a trans character, Mindy, played by trans actress Jojo Brown. Mindy is not only one of Sam's co-workers at her new job at a grocery store but also sober. Her character provides an important voice in the overall conversation about avoiding alcohol. Brown's performance is groundbreaking in its own right, as she brings authenticity and realism to the role.
Watch The Trailer For "Single Drunk Female" Season 1
Here's the trailer for "Single Drunk Female." It offers a tantalizing glimpse of the new series, which seems to be a funny, relatable, and ultimately touching series.
Watch "Single Drunk Female" On Freeform Or Hulu
The first season of "Single Drunk Female" is now available to watch on Freeform and Hulu. You can find all ten episodes at freeform.com/shows/single-drunkfemale or at hulu.com/series/single-drunk-female.
Will There Be A Season 2 Of "Single Drunk Female"?
Yes, "Single Drunk Female" will return for a second season. The announcement was made on April 26, 2022, much to the delight of fans who have been eagerly awaiting news about the show's future.