Introducing the Rebelde reboot: A cross between Elite, Gossip Girl, and Glee
"Rebelde" is a Mexican series created by Santiago Limon and Yibran Asaud. It is a remake of the popular TV show of the same name that was broadcast in Argentina and Mexico from 2004 to 2006. This new version is a kind of mix between popular teen drama "Elite", or "Gossip Girl", with some elements from "Glee".
Synopsis
The series follows a new generation of students as they navigate through their days at the Elite Way School, a prestigious boarding school in Mexico City. They all hope to get into an eminent music program and win the Battle Of The Bands.
Yet as new loves and friendships form, a secret society called 'La Logia' will step in to ruin the picture, threatening to shatter all dreams for the glory that these students have worked so hard on achieving!
The subplot also involves the school's teachers and students.
The cast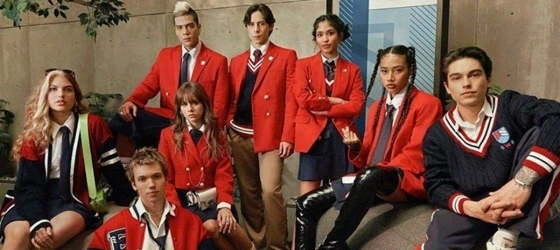 The main cast of this reboot is unknown, at least for many of us. It consists of Azul Guaita Bracamontes (Jana), Franco Masini (Luka), Sergio Mayer Mori (Esteban), Andrea Chaparro (M.J), Jeronimo Cantillo (Dixon), Giovanna Grigio (Emilia), Alejandro Puente (Sebastian), and Lizeth Selene (Andrea "Andi").
The actress Estefania Villarreal, who played in the original Rebelde, returns to her role as Celina Ferrer.
The cast of this show also includes a transgender actress, Karla Sofia Gascon, who plays Lourdes.
Who are the queer characters?
In season 1 of Rebelde, three LGBTQ characters are present.
Luka, Emilia, and Andi
In addition to the gay character Luka, we will focus on the couple formed by Emilia, who identifies as bisexual, and Andi, her lesbian girlfriend!
How many episodes are in season 1 of Rebelde?
This series has eight episodes that are all just around 32-48 minutes long.
Watch the trailer of the Rebelde reboot
Rebelde is a critically acclaimed hit series that has captivated audiences around the world. Watch the trailer below to get your first sight of what's in store!
Watch Rebelde season 1 now on Netflix
The reboot of Rebelde is available on Netflix since January 5, 2022. Here's the link: netflix.com/title/81033243
Will there be a Rebelde season 2?
After watching season 1, you will probably wonder if there will be a season 2 of Rebelde.
Well, with the success of season 1 and with the finale that was clearly planned as if they were going to make another installment in this series, it won't be surprising to see Rebelde renewed for a second season, even if Netflix has not yet announced any renewal for the moment.
To be continued...