A Beautifully Crafted Story
"My Policeman" is a beautiful story about forbidden love and changing social conventions.
The story follows three young people - policeman Tom (Harry Styles), teacher Marion (Emma Corrin), and museum curator Patrick (David Dawson) - as they embark on an emotional journey through 1950s Britain.
The cast is superb, and the film is exquisitely shot, making for a truly captivating experience.
Marion and Tom are a young couple in love, and they seem to have it all. However, their idyllic relationship is thrown into turmoil when they meet Patrick. Before long, Tom harbors romantic feelings for Patrick as well, leading to a secret love affair. Though they try to keep it hidden, the affair threatens to tear the three friends apart. This is especially difficult at a time when homosexuality is still considered a crime.
Forty years later, in the 1990s, we find Tom (Linus Roache), Marion (Gina McKee), and Patrick (Rupert Everett) still reeling with longing and regret, but now they have one last chance to repair the damage of the past.
The Cast Of "My Policeman"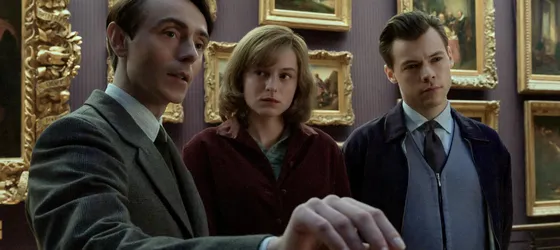 The upcoming film adaptation of "My Policeman" by director Michael Grandage (Red, Genius) from a screenplay by Ron Nyswaner (Philadelphia) has an impressive cast, including several well-known actors and actresses.
Non-binary actress Emma Corrin is playing the young Marion Taylor.
Harry Styles, who rose to fame as a member of the boy band One Direction, is playing the young Tom Burgess.
Out actor David Dawson, best known for his role in "The Last Kingdom," is playing the young Patrick Hazlewood.
The older versions of the three main characters are played by Gina McKee (Notting Hill) as older Marion, Linus Roache (Vikings) as older Tom, and Rupert Everett (The Happy Prince) as older Patrick.
Each of these actors has a wealth of experience and they bring the characters to life in a way that is both believable and interesting.
Where To Whatch "My Policeman"
"My Policeman" is a beautiful gay love story that has been attracting attention since its world premiere on September 11, 2022, at the Toronto International Film Festival.
The film will be released in limited theaters on October 21, primarily in Ireland and the United States. Then, it will be available worldwide on Amazon Prime Video starting November 4, 2022. Here's the link: amazon.com/gp/product/B09Y8SHDPD.
Watch The Trailer Now!
Watch the trailer for the movie "My Policeman" below:
Emma Corrin is a non-binary actress who is quickly making a name for themselves. It is fantastic that they are helping break down barriers for non-binary and transgender people in the entertainment industry. Recently, Corrin has been cast in the upcoming gay film "My Policeman" alongside Harry Styles. It looks like it will be a fascinating movie, and I am looking forward to watching it. Are you planning to watch "My Policeman"? Tell me what you think in the comments below.