Virginia's same-sex marriage ban is still on the books
Like in many states, Virginia's same-sex marriage ban is still on the books.
Though the ban, called the Marshall-Newman Amendment, which was passed by voters in 2006 and which defines marriage as only a union between a man and a woman, has not been enforced since the U.S. Supreme Court legalized same-sex marriage in 2015, it still exists. So it is time to get rid of that pesky ban once and for all!
The initiative to remove the constitutional amendment
Last year, an initiative to remove the ban was launched in Virginia. We knew the process would be long because of the November elections - especially since it could shuffle things up within the Virginia General Assembly.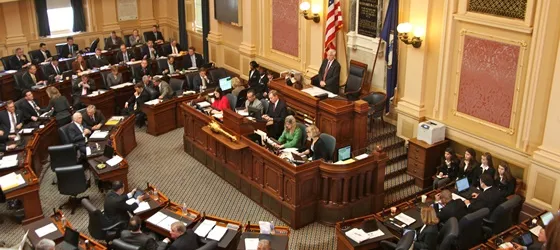 The General Assembly approved the initiative in a first vote
In 2021, the Virginia House and Senate have given their approval for the measure.
With a majority of Democrats, the House voted in favor of the initiative by a 60-33 vote.
Thanks to the support of some Republicans, the initiative was also approved by the Senate with a 22-12 vote.
But to repeal a constitutional provision, a proposed amendment must pass through both houses of the General Assembly twice before being put to a public vote in a general election.
The last elections have reshuffled the deck
Those last elections were a shake-up. The majority in the Virginia House and Senate is now different from what it was before.
The House is now controlled by the Republicans, and the Democrats have taken control of the Senate.
The problem is that currently, the Republican party in general doesn't support pro-LGBT laws. They are too busy attacking transgender youth!
While many Democrats and some Republicans want to get rid of the same-sex marriage ban in the Virginia constitution, more conservative lawmakers disagree.
But the Senate passed the initiative again!
Though the Senate approved the initiative again a few days ago by a 21-13 vote, it is not clear whether the House will do the same.
A recent vote by House Privileges and Elections Subcommittee cast doubt
The rejection of an identical measure last week by the Virginia House Privileges and Elections Subcommittee cast doubt on whether or not there is enough support among Republicans to get a majority of the vote in favor of this proposal.
With 48 Democratic opposed to 52 Republican delegates, we know that once again, the initiative will need those few Republican supporters to get a majority and be sent to the November ballot.