"The most moving part for me of taking this role, so far, has been the number of people who have randomly stopped me on the street and told me that they can see themselves there now," she said. "They see somebody who's historically been an outsider. Now, that makes people feel like they can be there, like that's their place, too, and that's …" Jinkins paused, searching for the word. "There's a part of me that feels like if that's all I ever do, that would have been enough."
A lawyer by profession, Laurie Jinkins began her career with the Washington attorney general.
She also worked at the State Health Department and continues to serve as a part-time senior advisor for the Tacoma-Pierce County Health Department.
But all these years, Laurie Jinkins has been a tireless activist for LGBTQ rights.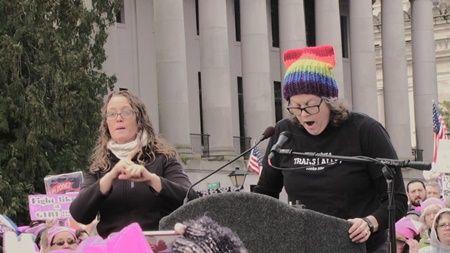 Representative Laurie Jinkins on the right
In 1990, Laurie Jinkins headed Hands Off Washington, the state's first LGBTQ rights organization, with which she led an initiative to ban discrimination based on sexual orientation in employment at the state level.
Jinkins resigned from the organization after the initiative was rejected in 1997.
She then went into politics. Perhaps she thought she would have a better chance of pushing the bills she cared about by being at the heart of the legislative process. It worked. In 2011, she was able to help recognize the rights of LGBTQ couples married in other states, a bill for which she was one of the main sponsors.
One year later Laurie Jinkins campaigned for the legalization of marriage equality, approved in November 2012 by Washington voters.
"Marriage equality teaches us everything we need to know about politics," she said. "About incrementalism, and about the way the legislative process works and us taking small steps that then build into big, transformational things."
Jinkins had earned the respect of her colleagues during her years as a state representative. Thus she was elected president of the Democratic House in July 2019 and is now the speaker of the Washington House.