Japanese Companies Approve Same-Sex Partnership Certificate Campaign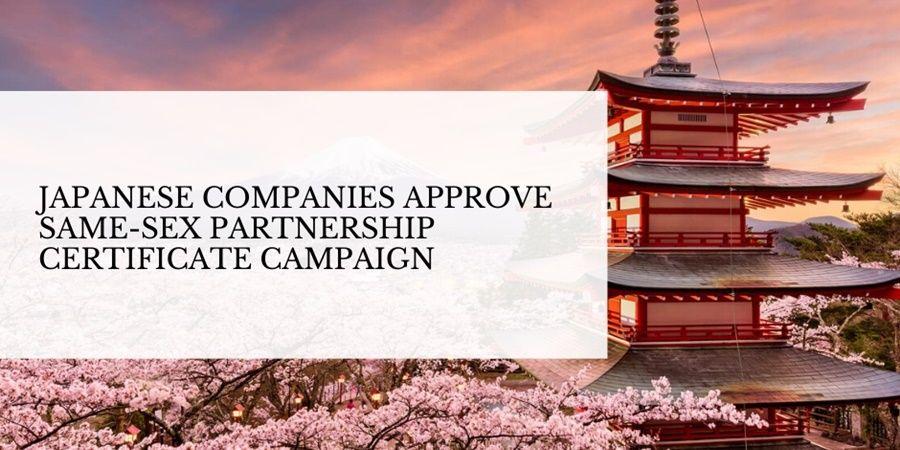 A charity has launched a program called the Famiee Project to bring more LGBTQ rights in Japan.
Japan is still a very conservative country. Even though Japanese laws decriminalized same-sex relationships since 1880, it remains a taboo.
While a growing number of cities, towns, and wards are now issuing same-sex partnership certificates to couples seeking recognition in their locality, equal marriage is still not legal in the country.
There is therefore at present no official recognition of same-sex couples, no legal status, and still too many prejudices against them.
Over the last years, however, things have been developing well.
Besides the current support of about twenty cities, towns, and wards, there are also more and more businesses that are contributing.
A third of Japanese firms already support their LGBTQ+ employees. That's not bad, although there is still too much discrimination in most companies.
Maki Muraki, the founder of the Nijiiro Diversity, which campaigns for LGBTQ+ rights in the workplace, calls on the government "to give more support to companies working towards measures on LGBT+ rights."
Finally, know polls show that a growing population wants rights to be improved for lesbian, gay, bisexual, transgender, and queer people.
So why not get together to weigh in? The goals of the Famiee Project are simple:
to develop a partnership between LGBTQ+ people and businesses
to persuade the government to change the country's current laws and legalize same-sex marriage
Goal #1 - A Partnership Between Same-Sex Couples And Businesses
The organization that launched this has created digital partnership certificates for LGBTQ+ couples that are recognized by businesses registered in the program.
In this way, the organization hopes that businesses will offer opportunities for same-sex partners such as:
to open a joint bank account
to name insurance beneficiaries
In addition to Hotto Link, a public-listed data firm owned by the founder of the Famiee Project, 16 other companies have joined the program, including banking firm Mizuho Financial Group and insurer Sompo Japan.
The aim is to get at least 100 companies by July when the scheme is launched.
Goal #2 - To Persuade The Government To Amend The Current Laws
By convincing more and more companies to care about their LGBTQ+ employees, this can only show that Japan is ready to legalize equal marriage, parental leave, and is ready to bring greater equality between same-sex and straight couples.
"If we have a big network of corporations that support us, we can persuade the government to change the law," said Famiee Project founder Koki Uchiyama during a phone call with the Thomson Reuters Foundation. "That kind of movement is already happening in Japan."
Unfortunately, the current Japanese administration is strongly opposed to the legalization of marriage equality, which it considers "incompatible" with the constitution.
But this is a great initiative to move things forward. It has been noted that there is a path to achieving equal rights that involves increasing support from both the public and businesses and local initiatives before legislators take up the issue and raise pressure.
I'm not sure that this government will do anything for the LGBTQ+ community, but this growing pressure can only be good for the future.
Stay Informed
When you subscribe to the blog, we will send you an e-mail when there are new updates on the site so you wouldn't miss them.
Comments
No comments made yet. Be the first to submit a comment