Northern Ireland is part of the United Kingdom but has its own laws like Wales, England, and Scotland. However, the British Parliament may interfere in some cases.
This summer, they were forced to intervene since there is no government or Assembly in Northern Ireland. The two ruling parties, the Democratic Unionist Party (DUP) and Sinn Féin, have split. As a result, members of the British Parliament had to consider whether they would maintain Northern Ireland's public services.
Labor MPs Conor McGinn and Stella Creasy, took the opportunity to table two amendments: one to legalize equal marriage and the other to decriminalize abortion, which is illegal in Northern Ireland. And the British Parliament adopted both bills!
Amnesty International Northern Ireland director Patrick Corrigan said this is a historic day for human rights:
"Nowhere else in these islands have people had to fight longer and harder for their human rights than in Northern Ireland.

"Future generations in Northern Ireland will no longer have to endure the inequalities that so many others have had to endure in the past.

"Now Amnesty's attention will focus on the rapid implementation of access to health care and marriage for the people of Northern Ireland."
The joy spread throughout the LGBTQ community in the country that had been waiting for this for years.
There had been attempts to legalize marriage for LGBT couples, ten, but without success. Even in November 2015, when the majority of the Assembly voted in favor of the bill, the DUP vetoed it. No court challenge had led to victory.
After this summer's success, however, there was still one more step to take.
If no government was restored in Northern Ireland, the current laws could be amended from October 21, 2019 for equal marriage and October 22, 2019 for abortion.
But if there was a functional government, everything could change.
So it was necessary to wait...
And the Democratic Unionist Party tried to prevent the legalization of marriage equality by trying to reform the government, but fortunately, they failed.
So this is it! Both laws will come into force in January 2020 for equal marriage and March 2020 for the right to abortion. What a relief!
Northern Ireland's entire LGBTQ community has exploded with joy as you can imagine. Unfortunately, it was just a short-lived joy for many of them. Indeed, the Northern Ireland law provides that civil unions can be legally converted into a marriage, but not before two years.
As The Guardian reports, "civil partnerships cannot be dissolved within their first two years in Northern Ireland and can only subsequently end on the grounds of separation, unreasonable behavior or desertion.
When same-sex marriages were introduced in England and Wales in 2014, the legislation provided an automatic route for those already in civil partnerships to convert their union into a marriage. A similar procedure has not yet been organized by the government's Northern Ireland Office."
All those civil union couples who were happy to get married were devastated, like Amanda McGurk who was happy to marry her partner Cara McCann.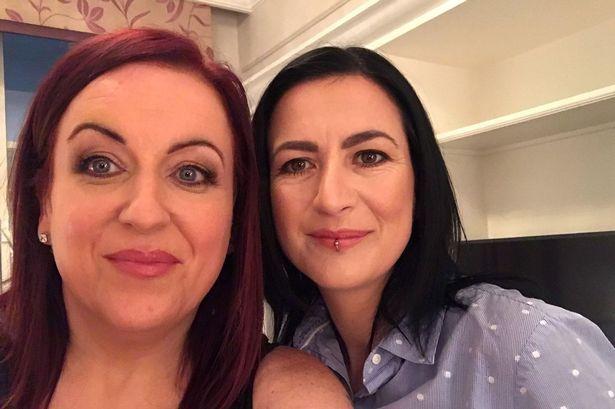 Amanda McGurk and Cara McCann
"My heart broke again," Amanda said, "and I can assure you that I was not the only person in that room whose heart broke and I could feel other hearts breaking right beside me.
"It was absolutely horrific to realize that we had now gotten so close again, to have it ripped away from us and the realization that, again, some of us were going to be treated as second-class citizens within our own community."
Cara added: "Just a few weeks ago, I sat in a room in Stormont House with government ministers and officials and was told that I could become a married woman in the new year. Now the government has changed its mind.
"Our campaign for equal marriage has always been about rejecting second-class citizenship. We have already won our campaign in parliament. Now we will go to court to ensure the government does not escape its legal obligation.
"We all want to get married when we grow up, we don't want to be civilly partnered and I don't want to have a civil partner, I want to have a wife."
Barely enough time to enjoy one of the biggest battles for LGBTQ rights in the United Kingdom, we must set out in a new challenge again so that everyone can finally have access to marriage. Because a new challenge will be launched, you can be sure of that.
Photo 1 by Liam McBurney/PAWire