Music: Rina Sawayama - "Hold The Girl" Is A Must-Listen

If you're a fan of LGBTQ+ pop stars like Lady Gaga, Hayley Kiyoko, and FLETCHER, you'll love Rina Sawayama. The Japanese artist just released her debut album, "Hold The Girl," and it's already receiving tons of critical acclaim. This 13-song collection is filled with upbeat tracks that will make you want to get up and dance. From the anthemic "This Hell" to the catchy "Catch Me In The Air," Sawayama's songs will get stuck in your head for days to come. Take a listen to her latest album today!
"Hold The Girl" Is Rina Sawayama's Most Personal Album Yet
Rina Sawayama's debut studio album, "SAWAYAMA," was a veritable rollercoaster of emotions and sounds, with the singer fearlessly diving into a variety of genres and styles. However, while the album was undeniably ambitious, it lacked subtlety and felt overwhelming.
Sawayama's new album is a marked improvement in this regard. Titled "Hold The Girl," her second album is a much more serious and emotionally resonant follow-up. The whole album is bold and ambitious. Each song strives to become an iconic hit and finds the singer exploring her own identity and heritage with newfound depth and introspection. It is a deeply personal and uplifting collection of songs that reflect the artist's experiences as a young Asian woman who immigrated to the UK as a child.
"Hold The Girl": You're Going To Love This Record!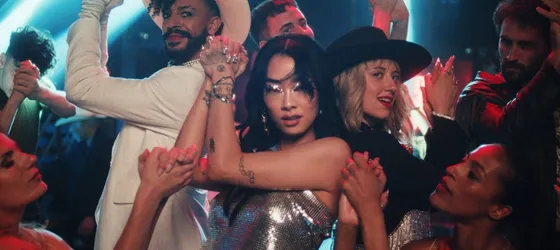 "Hold The Girl" is a masterclass in genre-bending, with influences ranging from Taylor Swift to Lady Gaga to other 2000s pop/R&B artists, that allows Sawayama's powerful vocals to take center stage.
But Rina Sawayama isn't just a talented musician and pop singer - she's also a powerful voice for social change.
In her new album, she tackles racism and sings about her sexuality - she is pansexual - with searing honesty, offering an inclusive and uplifting message to her listeners.
In a time when the world can seem dark and divided, Sawayama's music is a much-needed ray of hope. The record is full of joy and sorrow, hope and pain, but ultimately it delivers a message of love and unity.
Here's a sneak peek at Rina Sawayama's new record, "Hold The Girl."
The Album's Best Moments
Minor Feelings
"Minor Feelings" is the first track on Sawayama's album, and it was inspired by the poet Cathy Park Hong's book of the same name. The book describes the everyday experiences of young Asian women in America who often feel ignored or rejected by society. Sawayama addresses this feeling head-on in the song, offering listeners a cathartic release. The track takes us back to the 70s and 80s, with a sound that reminds us of Queen's songs.
Catch Me In The Air
"Catch Me In The Air" is a touching tribute to her single mom, who made the brave decision to move from Japan to the UK with her then-baby daughter. The song has the classic sound of The Corrs but with a modern twist that references Gwen Stefani. The lyrics are full of love and respect for her mother, who is praised for her strength and resilience. Sawayama would not be the person she is today without her mother's sacrifices, and this song is a beautiful way to express her gratitude.
"Catch me in the air (Mama look at me now) / Catch me in the air (Mama look at me now, I'm flying) / So catch me in the air," she sings. "And they will never know / The fear of making a mistake / The risk you take, the pain you create / But mama look at us now / High above the clouds / Yeah I hope that you're, hope that you're proud."
Here's the muic video for "Catch Me In The Air":
Send My Love To John
"Send my love to John" is the only acoustic track on the album, but it is one of the most powerful songs on the record. The song addresses the reluctance of immigrant parents to understand their children's sexuality - a rare topic in pop songs. The story is told from the perspective of the mother of a gay child who belatedly accepts her son's same-sex partner.
To Be Alive
Rina's voice is powerful and affirming in the chorus of "To Be Alive." The lyrics are a beautiful affirmation of life, and the music beats out the beat at full speed. This is the perfect song to end a record on a high note. It's an uplifting and positive message that will leave listeners feeling inspired and hopeful.
My Favorite Songs
Hold The Girl
The album's title track is the perfect example of Sawayama's unique style. The intro covers Madonna's iconic song "Like A Prayer," but instead of being a straightforward cover, Sawayama gives it an electro-pop twist. The music is made up of a lot of different elements that shouldn't make sense together, yet Sawayama makes them work perfectly together. The verses are done in a galloping country style, and the chorus ends with a thunderous choral finale. It's an infectiously joyful piece. Just listen:
This Hell
In the album's lead single, "This Hell," Sawayama pokes fun at religious people who condemn LGBTQ+ people all day long. It's an ode to pansexuality and the LGBTQ+ community, both celebratory and provocative, that is sure to get you dancing. The message is clear: this hell is for everyone, and we're going to have a blast in it!
"Saw a poster on the corner opposite the motel / Turns out I'm going to Hell if I keep on being myself / Don't know what I did, but they seem pretty mad about it / God hates us? Alright, then / Buckle up, at dawn, we're riding / [...] This Hell is better with you / We're burning up together / Baby, that makes two," she proudly sings.
If you're looking for a fun and empowering LGBTQ+ album to dance to, I highly recommend "Hold the Girl" by Rina Sawayama that is one of the best British pop album of the year. The record is now available for streaming, download, or physical release. For more information, visit rinasawayama.ffm.to/holdthegirl.
Comments
No comments made yet. Be the first to submit a comment