Studies on audience showed a significant increase in series viewing during 2020.
This is, of course, explained by the coronavirus pandemic and the period of lockdown.
Per Nielsen's Total Audience study showed that of the total audience, adults 18 and over spent just over 37 hours per week in front of their television during the first quarter of 2020.
This is also explained by the lack of entertainment and social interaction.
Fandom's State of Fandom 2020 study reveals an 80% increase in the number of people reporting using entertainment "to connect with someone else".
"In the midst of a destructive pandemic, a long-overdue cultural reckoning with racial injustice, and a transition into a new political era for this country, representation matters more than ever as people turn to entertainment storytelling for connection and escape," said Sarah Kate Ellis, GLAAD's President, and CEO. "This time of unprecedented change matched with increased demand represents an opportunity to break new ground with stories we have not seen before and create LGBTQ characters that do not reinforce harmful stereotypes."
But what programs have we had access to? And did they reflect who we are?
GLAAD's Where Are We On TV report for the 2020-2021 season will help us determine whether the representation of our community has continued to increase over the past year.
The report analyzes the diversity of regular and recurring characters on broadcast networks, primetime scripted cable programming, and original scripted streaming series on the Amazon, Hulu, and Netflix streaming platforms.
Let's look at the results:
1- LGBTQ Representation On Primetime ScriptedBroadcast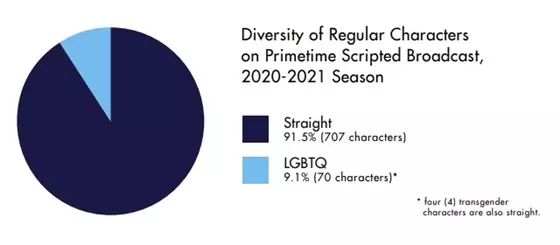 Overall, the portrayal of the LGBTQ community on broadcast scripted primetime television decreased slightly from 10.2% of LGBTQ characters in 2019 to 9.1% in 2020.
This represents 70 LGBTQ characters out of the 773 regular characters in TV series this season.
This is the first time since the 2013-2014 season that GLAAD has seen a decrease in LGBTQ representation.
However, the organization states in its report that it "expected to drop due to the COVID-19 pandemic halting production on several shows and impacting the development of new series."
It is true that although most of the series were shot in 2019, i.e. before the pandemic, some filmings had to be postponed and will count for 2021.
Recurring LGBTQ Characters
During the 2020-2021 season, 31 new recurring LGBTQ characters appeared, representing 101 recurring LGBTQ characters.
What a drop from 2019, which had no less than 120 characters!
GLAAD explains this by a decrease in the number of series broadcast during prime time - 96 instead of 111 for the previous year.
2 - LGBTQ Representation On Primetime Scripted Cable Programming
Here, too, we are seeing a significant decline. While in 2019, there were 215 LGBTQ characters in cable series, only 118 roles were lesbian, gay, bisexual, transgender, or queer in 2020.
The number of regular LGBTQ characters decreased from 121 for the 2019 season to 81 for 2020. But this is nothing compared to the recurring LGBTQ characters.
Recurring LGBTQ Characters
Indeed, the recurring LGBTQ characters were only 37 in 2020 against 94 in 2019.
This decline is still explained by a delay in filming and broadcasting that kept series like "The L Word: Generation Q", "Euphoria", "Killing Eve" from being confirmed to air within this report's research period.
But there's still good news for LGBTQ representation on cable since almost half of the 118 LGBTQ characters in the series last year are people of color. So we can already be satisfied at least with this progress.
3- LGBTQ Representation On Streaming Platforms
On streaming platforms, it's not much better as the total number of LGBTQ characters was 141 compared to 153 in the previous year.
Also, the good news is an increase of six points in one year in racial diversity with 46% of LGBTQ characters of color.
However, lesbian characters decreased to represent 28% while bisexual characters increased slightly, by 2%, to represent 31% of LGBTQ characters in series streamed on Amazon, Hulu, or Netflix.
Nevertheless, LGBTQ women are still the principal characters on these platforms, representing 65% of LGBTQ characters compared to 33% of men and 1 non-binary character.
Then there were 29 transgender characters with 15 women, 12 men, and 2 non-binary trans characters.
There were 95 regular LGBTQ characters on the streaming platforms.
Recurring LGBTQ Characters
There were 46 recurring LGBTQ characters in 2020.
4- Greg Berlanti, Lena Waithe, Ryan Murphy, And Shonda Rhimes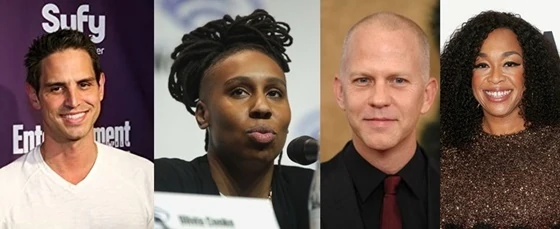 Greg Berlanti, Lena Waithe, Ryan Murphy, and Shonda Rhimes
As incredible as it may seem, characters in the series from only four people, namely Greg Berlanti, Lena Waithe, Ryan Murphy, and Shonda Rhimes, alone account for 17% of LGBTQ visibility. They have thus created 16 series with 62 LGBTQ characters. They had already delighted us in 2019 with 14% visibility.
"LGBTQ-inclusive shows dominated the conversation in 2020, with series like Schitt's Creek, Batwoman, The Haunting of Bly Manor, Veneno, She-Ra and the Princesses of Power, and others celebrating high viewership, critical acclaim, and passionate fanbase," said Megan Townsend, GLAAD's Director of Entertainment Research & Analysis during a virtual conference.

"However, with LGBTQ inclusion in the industry still being led by a concentrated number of creatives and several inclusive series ending in this year's study, networks and streaming services need to be taking note of the value of this dedicated audience. It must be a priority to introduce nuanced and diverse LGBTQ characters in 2021 and beyond, ensuring that this year's decreases do not become reverse progress as the industry continues to evolve and adjust to this unique era's challenges."
As you have seen, the coronavirus pandemic is also having an effect on LGBTQ visibility in series for the 2020-2021 season and could also impact the 2021-2022 season.
But let's try to stay positive. LGBTQ representation holds steady and, who knows, the increase could have continued without this pandemic.