Jean Smart and Hannah Einbinder team up for comedy
"Hacks" is a comedy series that is sure to delight viewers of all ages. Jean Smart stars Deborah Vance, a pioneering comedienne living in Las Vegas. And Hannah Einbinder plays Ava Daniels, a 25-year-old bisexual writer from Los Angeles.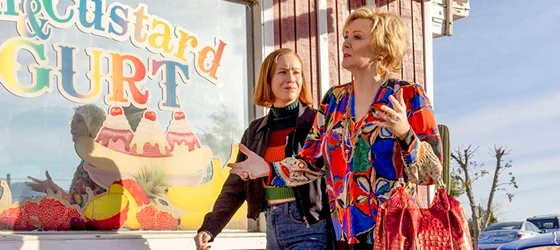 Deborah Vance is a legendary stand-up comedian who has been performing in Las Vegas for decades. However, her relevance is fading, and the head of the casino where she performs wants to reduce her performance dates. Deborah reluctantly teams up with Ava, a young comedy writer who is struggling to find work because of an insensitive tweet. Together, they freshen up Deborah's material and learn to respect each other's differences.
In getting to know each other, both women discovered that the generation gap between them was not nearly as wide as they had thought. They also realized that they had more in common than they ever could have imagined.
"Hacks" season 2
In season 2 of "Hacks," the mentorship between the veteran Las Vegas comedian and her young writer is still going strong. The second season of "Hacks" once again focuses on the interaction between the two women. The essence remains the same even though some aspects of their relationship have been toned down.
And so, at the beginning of the season, the two women reconciled, at least on the surface.
"We start the season with [Deborah] really needing to get another residency, but in order to do that, she has to get this new act in shape. She has to create a new hour, and she has to make it so undeniable that she'll be able to cement a new place for herself in Las Vegas ... Everybody's coming together to figure out how to make that possible in a short amount of time," told Paul W. Downs, one of the showrunners, to EW.
So then Deborah is finally ready to take her new stand-up comedy act on the road and is forced to leave her lavish "Vegas castle" and hit the road in a tight, confined tour bus.
The show's creator and executive producer Jen Statsky said that the move will provide a "fun new dynamic", as Deborah and her crew will travel to the East Coast and back.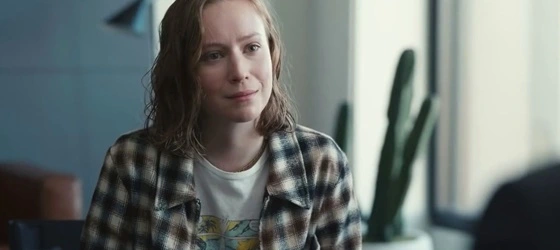 But, during the tour, you can feel the tension between Deborah and Ava. There are moments when they seem to be getting along fine, but then something will happen to remind us that there's still a lot of baggage between them. Remember that in season 1, Ava sent an email to the show producers in which she listed all of Deborah's major flaws.
Ava is "trapped in her own world," Einbinder, who plays Ava, told EW. "The first three episodes are really Ava having a private experience. She's so worried about this email — and wherever she is, she is kind of somewhere else. She's trapped in her head and in her fear. [The UFC fight] becomes a beautiful metaphor for something that will become very apparent."

Einbinder continued: "Guilt certainly is eating away at Ava the first few episodes, and I think after a while that becomes very apparent to Deborah."
She added that the "slaps are emotional this season."
So at the beginning of season 2, Ava is still struggling with guilt from the previous season. She tries to make up for it by being extra nice to Deborah and doing everything she can to gain her trust. However, no matter how hard she tries, Ava can't seem to shake her guilty conscience.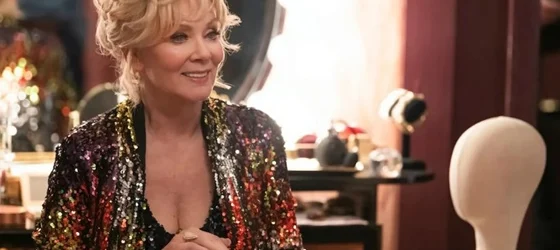 On her side, Deborah grows a lot during this new season.
Deborah is a stand-up comedian who uses her comedy to deal with her past trauma. For years, she has been using humor to empower herself and others. However, lately, she feels like she is stuck in a rut. Her jokes are no longer landing with the same impact, and she is feeling like she is losing her edge. Deborah knows she needs to step up her game. It's a daunting challenge, but one she is determined to face head-on.
Also, the sexual harassment scandal between Jimmy and his assistant Kayla is still having repercussions in this new season.
In a recent interview, Downs, who plays Jimmy, discussed the impact the scandal has had on his character and the show. He said the two will have to see "Barbara from HR."
"The 'will-they-won't-they have her continue to work on Jimmy's desk' [answer] hangs in the balance," explained Downs.
Watch the trailer for "Hacks" season 2
You can watch the trailer of this new season below:
I don't know about you, but I am so excited about this season!
Check out the cast of season 2
The entire cast from the first season is back! That includes Christopher McDonald as Marty, Kaitlin Olson as DJ, Paul W. Downs as Jimmy, Poppy Liu as Kiki, Rose Abdoo as Josefina, Mark Indelicato as Damien, Meg Stalter as Kayla, and many others alongside Jean Smart and Hannah Einbinder.
Besides the series' regular characters, several new guest stars will appear throughout the season. Laurie Metcalf, Martha Kelly, and Ming-Na Wen will appear in multiple episodes.
Margaret Cho and Devon Sawa will also make occasional appearances throughout the season.
"Hacks" season 2 premiering on HBO Max on May 12!
"Hacks" returns for its second season on May 12 on HBO Max. With eight episodes, the season will air at a rate of two new episodes per week and will conclude on June 2.
Here's the link to watch the show: hbomax.com/series/hacks