Hellraiser: The Horror Franchise That Has Terrified Audiences For Over 30 Years
Hellraiser is one of the most popular horror franchises of all time. It has been entertaining horror fans for over 30 years since the original film was released in 1987.
The franchise revolves around the Lament Configuration, a mysterious ancient puzzle box that is said to open a portal to a hellish dimension where there is no difference between pleasure and pain.
Some people willingly open the box, eager to experience the Cenobites' unique brand of torture. Others are trapped by mistake, and their eternal suffering leads them to view the Cenobites as demons.
In both cases, the end result is always the same: the Cenobites are unique creatures that can only be summoned by their victims, making each tortured soul partially responsible for the horrible fate they face.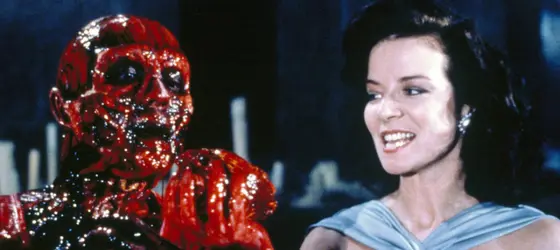 When the original Hellraiser was released in 1987, it was a game-changer for the horror genre. However, in the years since, the franchise has been through some ups and downs. Some sequels, like 1988's "Hellbound: Hellraiser II," have captured the magic of the original. Others, like 2011's "Hellraiser: Revelations," have strayed so far from what made the franchise successful that they barely feel like Hellraiser films at all.
With such a long and uneven history, it's not surprising that many fans were concerned when it was announced that director Clive Barker would be passing the baton to David Bruckner for a "reboot" of sorts. But thankfully, Bruckner's "Hellraiser" is a return to form for the franchise and a welcome breath of fresh air for horror fans.
Early reviews of the rebooted film have been full of praise for its gory approach and stylish direction, even suggesting that this reboot would be better than the original.
This article provides you with an overview of one of this year's honorary films, "Hellraiser."
Bruckner's "Hellraiser": The Return To Basics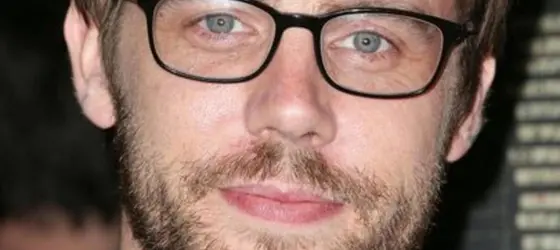 The latest installment of "Hellraiser" is a modern reimagining of Clive Barker's classic story of a group of people who inadvertently open a door to another dimension and are then tortured by demonic creatures called Cenobites.
The film directed by David Bruckner (pictured above) takes the basic premise of the original and applies it to the letter, delivering a film full of gore and breathtaking suspense. The visuals are first-rate, and the kills are creative and brutal.
However, one of the most interesting aspects of this brand-new film is its cast.
A New Twist On An Old Horror Classic
When it was first announced that Pinhead would be played by a woman in the newest Hellraiser movie, some fans were skeptical. After all, the role had always been played by a man in previous incarnations of the franchise. Would a woman be able to do the role justice?
According to Bruckner, this revised version of the character is more sensual, graceful, and beautiful than ever before.
"This film's version of the Priest is now a woman, which takes the burden off the audience of trying to compare the performance to Doug Bradley's iconic portrayal of this character, lovingly known by the fans as Pinhead. There's a sensuality to her. There's a grace. There's a beauty. And a hunger and a desire."
As it turns out, transgender actress Jamie Clayton (Sense8, The L Word: Generation Q) was more than up to the task. Clayton brought a new level of depth to the character. Her performance helped to further break down barriers in the horror genre and showed that women can, indeed, excel in traditionally male roles.
Since the release, fan reaction to Clayton's portrayal of Pinhead has been overwhelmingly positive. It's clear that she was the right choice for the role and that she was more than capable of living up to the legacy set by previous actors.
A Long And Intense Make-up Process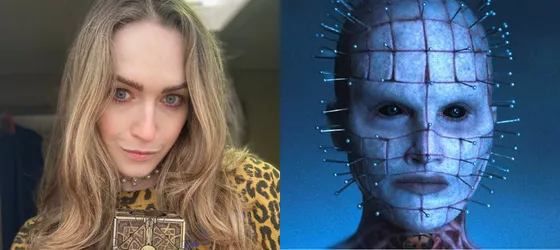 Jamie Clayton had to undergo a major transformation to play the role of Hell Priest in "Hellraiser." Besides spending hours in the makeup chair, she had to wear an extremely uncomfortable costume that made moving around the set difficult.
The makeup process could take anywhere from four and a half to six hours. Then it would take another 30 minutes to an hour to get it all off.
Clayton said she had to be incredibly patient during the shoot, and taking off the costume at the end of each day was always an immense relief.
"The makeup process was intense. I've never done prosthetics before, but I was in such good hands with the Russells and their entire team. Sierra Russell was my key. She would [transform] me every single day, and Josh was always there… you know, gluing all the pins on individually to the face piece while the head was coming on. But the process, depending on the day—depending on how many other Cenobites were working that day, or how many practical effects were happening—the makeup could take anywhere from four and a half to six hours."
Clayton continues, "I had to be incredibly patient. I had to find a thing in myself that I didn't know existed. I had to just learn to sort of meditate and relax and let this incredible team of people practice their craft on me every day. Once I was in it, once the neckpiece went on, I was in it for the duration of that filming day.
"And then, to take it all off, was another 30 minutes to an hour. Taking off the hands, the face, the whole thing. Stripping that suit off at the end of the day was always a huge relief."
Watch Jamie Clayton's interview in full in the video below:
Meet The Cast Of The New Hellraiser Movie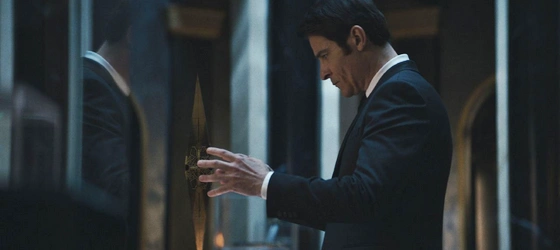 In addition to Clayton, the cast of the Hellraiser reboot includes some well-known names such as:
Goran Visnjic (ER, The Boys) as Voight
Odessa A'zion (Am I OK?) as Riley
Adam Faison (Everything's Gonna Be Okay) as Colin
Drew Starkey (Love, Simon) as Trevor
Brandon Flynn (13 Reasons Why) as Matt
Aoife Hinds (Normal People, Derry Girls) as Nora
Kit Clarke (Get Even) as Joey
Jason Liles (Stereoscope, Star Trek: Picard) as The Chatterer
Yinka Olorunnife (The Transporter) as The Weeper
Selina Lo (Boss Level, Q8 Unleashed) as The Gasp
Zachary Hing (Halo) as The Asphyx
Hiam Abbass (The OA, Succession) as Menaker
Predrag Bjelac (Ubice Mog Oca, Killing Eve) as Lorenz
Watch "Hellraiser" On Hulu
This year, be sure to check out "Hellraiser" on Hulu. If you're looking for a good scare, this is the movie for you. Here's the link to Hulu: hulu.com/movie/hellraiser.
Enter The Nightmare
"Hellraiser" is a gore-filled delight that will leave horror fans thirsting for more. The trailer below teasingly teases the mayhem to come, so be sure to check it out if you're looking for a bloody good time.
A Gory Pleasure For Horror Movie Fans
If you're a horror movie fan, then you'll want to see the new Hellraiser movie. Based on early reviews, it looks like this long-awaited reboot is a real treat, a return to form for the franchise, with plenty of gore and style. So set aside some time to see Jamie Clayton reprise the iconic role of Pinhead - you won't be disappointed.
Watch "Hellreiser," The Original
If you're interested in watching the original film, you can find it on Amazon Prime Video here: amazon.com/gp/product/B07PPB2VMF or on AppleTV+ here: itunes.apple.com/us/movie/hellraiser/id475761318.