The horror genre has traditionally been dominated by straight white men and though that may have changed in recent years, it is still a male-dominated space where women are often objectified or relegated to the roles of victim.
While TV shows and films have seen lesbian characters in main roles, very few horror films have been made that featured a lesbian as their protagonist.
Earlier this year, a movie gave us a chance. The horror movie "The Retreat" features two women in love as its main characters.
Introducing The Fear Street Trilogy
Inspired by the author R. L. Stine's horror series, the Fear Street series is the newest addition to Netflix, which kicks off with "Fear Street: 1994", then "Fear Street: 1978", and "Fear Street: 1666".
Fear Street and queer representation
The Fear Street trilogy is groundbreaking in its approach to queer representation. It offers a refreshing take on the queer horror genre.
This sense of uniqueness and authenticity makes this series a real gem, both for us, LGBTQ+ fans, who have been waiting anxiously for our favorite genre to open itself up more than before as well as horror buffs looking for new twists.
Fear Street: 1994
The first film of the trilogy, "Fear Street: 1994," was an "opportunity to tell a story that hasn't been told within that genre very often, if at all," director Leigh Janiak said in an interview. "That involves creating this queer love story that drove everything."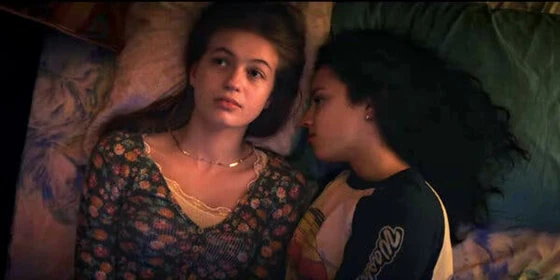 In the opening lines of "1994," Deena (Kiana Madeira), a black queer teenager, and Sam (Olivia Scott Welch) have broken up, but Deena is still in love with her girlfriend while Sam pretends to be straight by having an athletic boyfriend to appease her homophobic mother and society at large.
But no worries, Sam will finally admit to herself that she's in love with Deena.
Throughout the movie, Deena lets nothing get in the way of her romance with Sam, be it a witch who put a curse on her town back in the 17th century, a killer in a skull mask, or an ancient evil incarnate now taking form as man.
Deena is a strong and confident woman who is comfortable in her own skin and fearlessly pursues the love of a girl she feels deeply for.
"First of all, she's not white," Leigh Janiak said. "Second of all, she's butch. Even if she wanted to try to pass as a straight girl like Sam, she couldn't. Society looks at her right away and says, 'I know who you are. I know what you are.' So she's been forced to take ownership of that, but it doesn't mean it's easy for her. She's still a teenager in 1994."
With this story, Leigh Janiak said she wanted to shine "a light on a whole town of marginalized people that have been told that they're outside. And build that into the DNA. Not just have it be a gimmick of the movies."
Watch The Trailer For Fear Street: 1994
Here's the trailer for the Fear Street part one, the new queer-focused Netflix original trilogy:
Fear Street: 1978
The second installment opens in a continuation of the finale of the first part.
Deena, her brother Josh (Benjamin Flores Jr.), and Sam, who is obviously possessed, go to the home of Cindy Berman (Gillian Jacobs), who survived the 1978 Nightwing camp massacre, whom teens had contacted in the previous episode.
Cindy agrees to tell them about the massacre.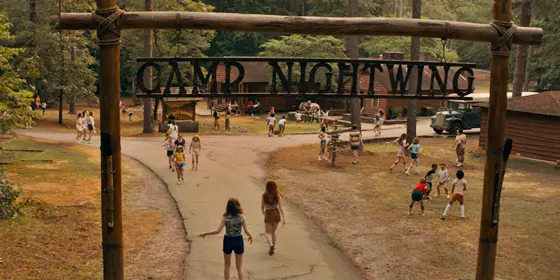 Most of what follows is a flashback where we find two opposing camps, Shadyside and Sunnyvale, at summer camp. The competition between both camps quickly turns short when Tommy, Cindy's boyfriend, turned into a ruthless killer. The two camps were reunited during this summer camp with their rivalry in mind, but the gruesome events that happen soon after will take all of them by surprise.
"Fear Street 1978" is not as exciting and entertaining as "Fear Street: 1994" is. You can't help but be disappointed. It's very gory for its own good, but the film offers a laborious start-up. And the movie has some major flaws, namely a lack of coherence seen between different parts of the storyline across various scenes.
Watch The Trailer For Fear Street: 1978
Here's a preview of Fear Street: 1978!
Fear Street: 1666
The final episode of the Fear Street trilogy, Fear Street: 1666, brings us back to the origins of the curse that has afflicted Shadyside since 1978 while sparing the inhabitants of Sunnyvale and explains how Deena and her friends are the only ones who can stop it from happening again.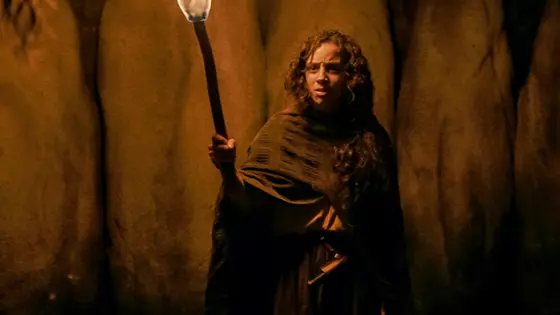 It's interesting to see the same cast again. Kiana Madeira, who is playing Deena, has conquered us once again with her ability to embody an emblematic character.
This final part is successful and will keep your attention. It still contains some mystery but has the same amount of action as the other parts.
The conclusion to this trilogy leaves us feeling satisfied and also leaves the door open for a sequel.
Watch The Trailer For Fear Street: 1666
Here's the trailer for the second film "Fear Street: 1666":
Watch the Fear Street trilogy on Netflix
You can watch all three movies on Netflix. Here are the links: