Critical Role: The Show That Started All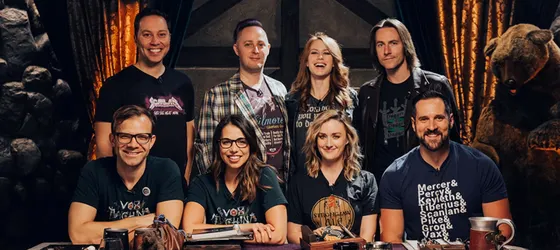 "The Legend of Vox Machina" is an animated series for adults based on the popular web series, "Critical Role".
As fans of Critical Role know, the show follows a group of nerdy-ass voice actors who play Dungeons and Dragons (D&D) while telling engaging stories on videos. This group pictures above consists of:
Sam Riegel

Taliesin Jaffe, who is the openly queer member of the original cast

Marisha Ray

Matthew Mercer

Liam O'Brien

Laura Bailey

Ashley Johnson (The Last Of Us)

Travis Willingham
Due to their immense success online, Critical Role has rapidly grown into a multimedia company, which produces original shows and more.
"The Legend of Vox Machina" all started with a simple dream: to create a 22-minute animated episode about one of the Critical Role's D&D adventures.
But to make that dream a reality, the creators knew they needed funding. They turned to Kickstarter, and much to their surprise, their campaign went viral, raising over $10 million from donors around the world.
That caught the attention of Amazon, which decided to order a full season of the show.
But What Does 'Vox Machina' Means?
Ever wondered what 'Vox Machina' means? It turns out the Latin translation is 'voice machine,' which might not make sense with regards to its characters. However, for the actors bringing these characters to life, it serves as a salute to their identity as voice actors.
What The Series Is All About?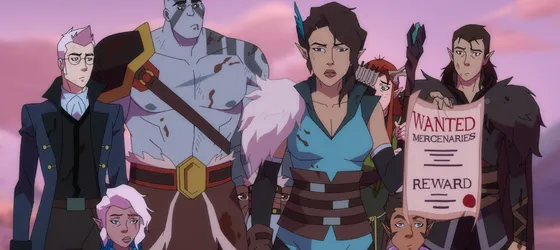 "The Legend of Vox Machina" follows a group of unlikely heroes who find themselves on a quest to save the kingdom of Exandria from dark magical forces. The group is a diverse bunch, and each member brings their own unique skills and personality to the table. Along the way, they make new friends and discover magical creatures, while also fighting fierce enemies. Throughout their journey, they learn that working together is the key to success, and that even the most unlikely heroes can make a difference.
The first two episodes of the show quickly establish who they are, their skillsets, and how they work off each other so even if you're not familiar with Critical Role or D&D, you'll be able to follow along and enjoy the adventure. The characters are easy to like and root for, and the world of Exandria is fascinating and full of possibilities.
Meet The Main Characters
The members of Vox Machina are a diverse and interesting group. They each have their own unique skills and abilities that they bring to the table, and they all work together to accomplish their goals. Throughout the season, we get to see each member of the team shine in their own way.
Grog Strongjaw (Travis Willingham) is the perfect example of a barbarian and a goliath. He's large and muscular, with a tendancy for violence. This comes from his background with the Herd of Storms, where he learned to fight and kill. However, Grog doesn't kill for fun. He only fights those who are strong enough to pose a challenge. This is what makes him a great warrior. He's always looking for a difficult opponent to test his skills against. When he finally defeats someone, it's a very satisfying feeling for him. Grog loves nothing more than a good fight. It's in his blood.
Pike Trickfoot (Ashley Johnson) is a cleric gone who used to belong to a family of thieves. However, his great grandfather decided to pursue another path in life, which led the family to worship the goddess Everlight instead. As a result, Pike grew up in a religious household and became friends with Grog when the goliath saved her from an attack. In turn, Pike sought out Grog to heal his wounds, and the two became best friends and drinking buddies. Together, they formed the foundations of Vox Machina and went on many adventures together.
Keyleth (Marisha Ray) is also a half-elf. She was born and raised in the Ashari tribe, a community known for its guardianship of the elemental plane. Her father was the headmaster of the Air Ashari, and he chose Keyleth to be his successor, making her an integral part of her village's continued survival. Determined to prove herself worthy of this calling, Keyleth embarks on a quest. Along the way, she meets Vax and Vex, who join her on her journey. Though they start off as strangers, Keyleth finds herself growing closer to one of the twins over time. This creates some tension between them as Vex vehemently opposes any romantic relationship between her brother and Keyleth.
Percival De Rolo (Taliesin Jaffe), or simply Percy, is a proud and noble warrior who hails from the once-great family that ruled the mystical land of Whitestone. This powerful dynasty welcomed the Briarwoods as guests in their kingdom, but they were cruelly betrayed by these evil usurpers through their own deceptive schemes. All of the members of the De Rolo family, except for Percy and his sister, were killed during this treacherous takeover. The two siblings were both imprisoned and brutally tortured for years. But eventually, through sheer determination and strength of will, Percy managed to escape his captors and join up with the rest of the group.
Meet The Main LGBTQ+ Characters
One of the things that make "The Legend of Vox Machina" so special is its LGBT representation.
The series' diverse cast of lovable queer characters offers a refreshing change of pace in a genre that is typically very straight. The series also offers a nuanced and realistic take on LGBTQ+ relationships, with all the ups and downs that come with them.
This willingness to challenge norms and push boundaries is what makes the series so compelling and groundbreaking.
The main cast includes the following LGBTQ+ characters:
When it comes to

Scanlan Shorthalt

(Sam Riegel), he is definitely one of a kind. Not only is he the team's second gone, but he is also incredibly talkative and always seems to be in a good mood. With an infectious laugh and fast wit, Scanlan doubles as the team's resident clown while managing to stay focused on their mission. In addition, Scanlan is also their resident playboy - there's rarely a night where he doesn't end up having sex with someone. Scanlan Shorthalt was born into a poor family, and his mother was the only one supporting him. When Scanlan's mom was killed by goblins, he was devastated. He didn't know what to do or where to go. That's when he met Grog. Grog was a member of a mercenary group that laid the foundations for Vox Machina. As for his sexuality, Scanlan has been confirmed to be "partially heterosexual." It seems that he's pansexual.
Vax'ildan (Liam O'Brien), or Vax for short, is one of the twin members of the group. He's bisexual and love to spend time with people of the same gender when not with Keyleth. Despite his seemingly perfect appearance, Vax is actually quite complex underneath all that perfection. Growing up, Vax had always felt like an outcast. His mother was a human, while his father was an elf – a combination that wasn't exactly common in the elven capital where he lived. But no matter how hard they tried, he and his sister never quite seemed like true members of the elven society. As such, they went back home only to find out that their mother had been killed by a dragon. Not willing to go back to elven society, Vax decided to become a mercenary instead. Quick and stealthy, Vax is often the party's go-to guy for opening locked doors or spying on people.
Vex'ahlia (Laura Bailey), or Vex for short, is one of the leading members and a highly skilled ranger. As the twin sister of Vax and queer half-elf, she shares a close bond with her brother and has been by his side through thick and thin. Motivated by her mom's death, Vex dedicated herself to mastering the art of dragon lore, eventually taking up arms against the very creature that ended her mother's life.
Guest Voice Actors Playing LGBTQ+ Characters
The first season of "The Legend of Vox Machina" features several guest stars playing LGBTQ+ characters, including openly bisexual actress Stephanie Beatriz (Queer Force, In The Heights), Indira Varma (Game of Thrones, Obi-Wan Kenobi), and Sunil Malhotra (Halo: Reach, Grey's Anatomy).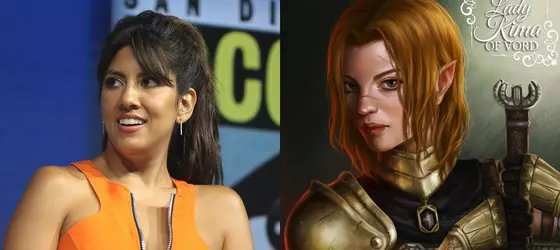 Stephanie Beatriz is the voice actress that plays Lady Kima of Vord, a lesbian halfling paladin described as one of the most powerful forces of divine good. She is married to Allura Vysoren (played by Indira Varma), a bisexual human woman.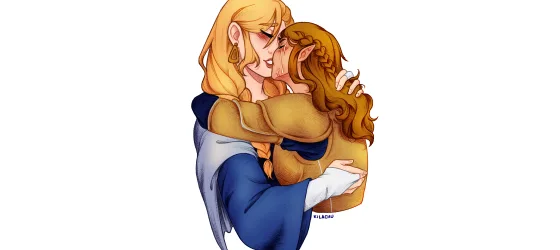 Sunil Malhotra brings to life the character of Gilmore, who is gay and has been flirting with Vax'ildan for quite some time.
In total, each of the four characters will appear in three to four episodes over the course of the first season.
Watch The Making Of
In designing animated characters, there are many factors to consider. Stephanie Beatriz (at 8'17 in the video below) and the rest of the team tell us more about these cartoon characters.
Can't Wait For Season 1? Watch The Trailer Now!
If you're anything like me, you're eagerly anticipating the release of the first season. But why wait until the season premiere to get a taste of what's to come? The trailer is available now, and it looks fantastic. So go ahead and watch the trailer now - it's sure to get you even more excited for season 1!
Where And When To Watch Vox Machina?
This Friday, January 28th, 2022, the highly-anticipated first season will be released on Amazon Prime Video with a age rating of 18+.
Throughout twelve episodes, viewers will get a chance to follow our intrepid heroes as they embark on a series of incredible adventures.
So mark your calendars and tune in on January 28 to catch the first three episodes of the series. And be sure to check back every week for more action-packed adventures!
Here's the link: primevideo.com/detail/The-Legend-of-Vox-Machina
Season 2 And Season 3 Are Coming!
Amazon has announced that two seasons are already in the works. You can read more about season 2 and its release date on our blog "LGBTQ+ Characters Shine Again In Vox Machina Season 2."