Upcoming feature film from writer/producer/director Suzanne Guacci entitled "T11 Incomplete" tells the love story between a home care worker, Kate Murphy, and her patient Laura, a young and beautiful paraplegic.
Filmmaker Suzanne Guacci
The title of the movie here is based on Laura's spinal injury. "T11" refers to the 11th thoracic vertebra of the spine. "Incomplete" means the patient can't walk but still has sensation.
The Synopsis
Kate Murphy (Karen Sillas) lost everything when she hit rock bottom a few years ago. Now, ten years sober, middle-aged, and living alone with her elderly cat, she strives to rebuild her broken life and repair her damaged relationship with her son Jack (Zachary Booth).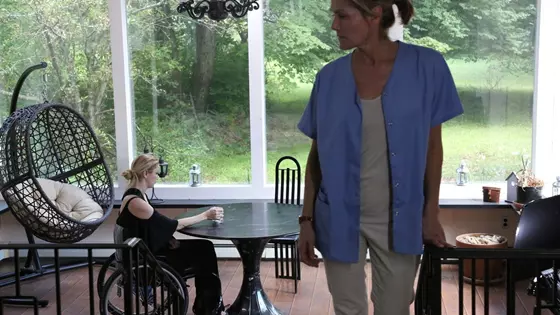 Barely making ends meet as a visiting home health aide, she marches quietly through her uneventful days, until she is assigned a 35-year-old beautiful patient named Laura (Kristen Renton).
Bonded by their mutual suffering, the two women share an undeniable connection and it isn't long before they fall deeply in love. But when Kate betrays Laura's trust by stealing money to save her dying cat, her fragile world is shattered once again.
Watch The Trailer Below:
The feature film made its world premiere in Sydney at Queer Screen's Mardi Gras Film Festival on February 20, 2020. It will continue to tour festivals around the world wherever possible.
We should all be able to enjoy it soon. I'll let you know when I get more details about the release date.
In the meantime, you can follow the latest news on "T11 Incomplete" on Facebook.