The Fallout movie: Can you tell us more about it?
Written and directed by Megan Park, "The Fallout" is a stunning and intimate look after a mass school shooting in America.
It is rare to see a film that deals with the trauma of terrorism from such an original perspective.
"The Fallout" provides audiences with not only intimate moments between the characters but also deep insights into their thoughts and feelings during this period when many lives were changed forever.
According to the official synopsis, "The Fallout" is a film about the unseen faces of a tragedy, those who can't turn their pain into effecting positive change in the world because they are too afraid to leave their bedrooms. Three teenagers form a unique and dynamic bond as they navigate the never linear, often confusing journey to heal in a world that feels forever changed."
High schooler Vada Cavell (Jenna Ortega) is dealing with many traumatic events following the recent mass shooting at her high school. Her relationships with her family, with her younger sister, and with her best friend Nick (Will Ropp), and how she views the world are forever altered.
In a few months, Vada slowly redefines herself by sharing her experience with her new friend Mia (Maddie Ziegler).
The LGBTQ+ side of this movie
One of the most interesting aspects of "The Fallout" is its LGBTQ+ characters.
In the film, Vada is just beginning to grow and understand her sexuality when the tragedy takes place. And we understand she's bisexual, or pansexual, as she progresses through her relationship with Mia and with Quinton. And just as I had suspected, Mia is a lesbian.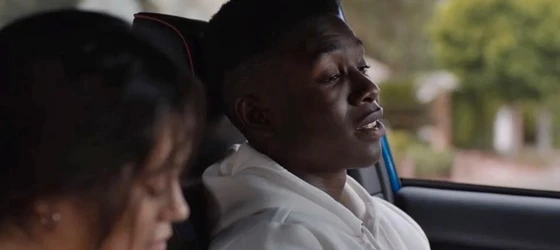 The LGBTQ inclusion in "The Fallout" is not just symbolic; the story revolves around new relationships that develop between its main characters. They share a trauma no one else can understand, and new friendships are forged between them following these sudden and tragic circumstances.
"The Fallout" is as upsetting...
"The Fallout" is a film that will make you feel all the emotions. It's well made and has an amazing cast. We feel the terror and trauma that they're going through.
The camera is focused on how the tragedy affects our main character's life and relationships with others around her as she tries to move forward after what happened at school.
Jenna Ortega, who is playing Vada, is a discovery. The talented young actress delivers an impressive performance in this film. She's joined by a talented cast, including Maddie Ziegler as Mia and Niles Fitch as Quinton Hasland.
... as it is frustrating
The film is also very frustrating because it is so good that it makes you want more. The characters are so well-written that watching their story continue would be amazing! They each have such distinct personalities we can't help but become attached to them all in different ways. You end up wanting to know how the characters will grow and how their relationships will evolve.
In clear, you end up wanting the movie to become a series.
Time to watch the official trailer
"The Fallout" is an emotional and powerful film that reminds us of what really matters in life. I highly recommend it! Check out the trailer below and tell me what you think.
"The Fallout" release date
"The Fallout" premiered at SXSW in March 2021 before being released online on January 27, 2022.
Where to watch "The Fallout"?
"The Fallout" is now available to stream on HBO Max. Here's the link: hbomax.com/the-fallout
The film is also available for purchase or rental on YouTube from the Warner Bros Pictures' film page: youtube.com/watch?v=docDEPufIxk