Many of you are probably familiar with the Toy Story films, in which a group of toys come to life and have all sorts of adventures. One of the main characters is Buzz Lightyear, an astronaut figurine.
"Lightyear" is not a prequel to "Toy Story," it is a spin-off of the famous Pixar and Disney franchise that focuses on the character of Buzz Lightyear.
The first spin-off of that franchise focusing on Buzz Lightyear was released in 2000. Titled "Buzz Lightyear of Star Command: The Adventure Begins," the story followed Buzz Lightyear (played by Tim Allen) and his team of three space rangers fighting the evil Emperor Zurg (played by Wayne Knight). The movie was well-received by fans and critics. However, it has since been largely forgotten about. Nevertheless, it remains an interesting footnote in the history of the "Toy Story" franchise.
In the new spin-off simply titled "Lightyear," the human Buzz Lightyear takes us on an epic journey as he tries to find his way home.
The Story Told In "Lightyear"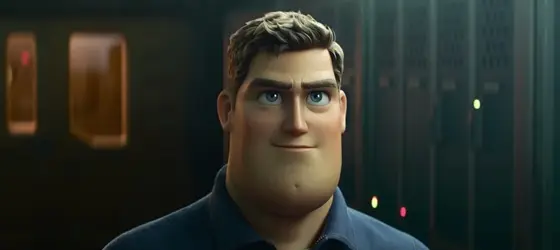 According to the synopsis, this film is "the definitive origin story of Buzz Lightyear, the hero who inspired the toy."
Thus, "Lightyear" follows the legendary Space Ranger after he's marooned on a hostile planet 4.2 million light-years from Earth alongside his commander and their crew. As Buzz tries to find a way back home through space and time, he's joined by a group of ambitious recruits and his charming robot companion cat, Sox. Complicating matters and threatening the mission is the arrival of Zurg, an imposing presence with an army of ruthless robots and a mysterious agenda."
Chris Evans Plays The Lead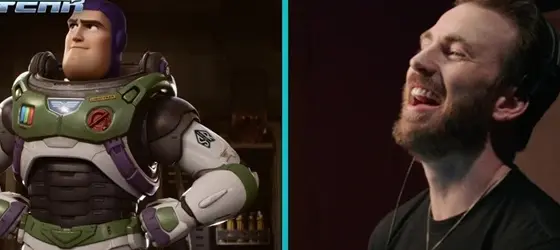 Chris Evans is playing the voice of Buzz Lightyear. This marks a change from the previous films in the franchise, in which Tim Allen played the space ranger.
"I wanted the film to have like a gravitas to it, and a seriousness to it, but also have an actor who could bring comedy with that seriousness," explained the film's director Angus McLane in an interview with Collider. "He was really the first and only choice. I didn't have a number two. It was very clear from the get-go. It was like, 'If you were gonna make a legitimate sci-fi film about Buzz Lightyear, who would you get? Well, Chris Evans.' You need someone that has that star power. If it had to be live-action, who would do it? He can do both. Although that chin would be so weird in live-action. You could never get around that. But he was the first choice, and he's been such an amazing partner. He totally got the material right away and felt the sense of responsibility to figure out the translation to the character for this larger context of this sci-fi movie and really deliver on it. He's just been a wonderful creative partner in the whole process."
The film will also feature the voice of Uzo Aduba as Alisha Hawthorne.
The rest of the cast includes Keke Palmer (Izzy Hawthorne), Dale Soules (Darby Steel), Taika Waititi (Mo Morrison), James Brolin (Zurg), Mary McDonald-Lewis (I.V.A.N.), Efren Ramirez (Airman Diaz), Peter Sohn (SOX), Isiah Whitlock Jr. (Commander Burnside), Bill Hader (Featheringhamstan), Keira Hairston (Young Izzy), and Angus MacLane (Eric).
Watch The Trailer For "Lightyear"
If you're looking for a visual feast and a funny animated film to watch, you'll want to check out "Lightyear". The trailer looks absolutely stunning, and the photorealistic animation will impress, as you can see below:
"Lightyear" Is Coming To Theaters On June 17, 2022
"Lightyear" is set to be released on June 17, 2022. The movie could then end up on Disney+, but this has not yet been confirmed.
Lesbian Kiss Causes A Ripple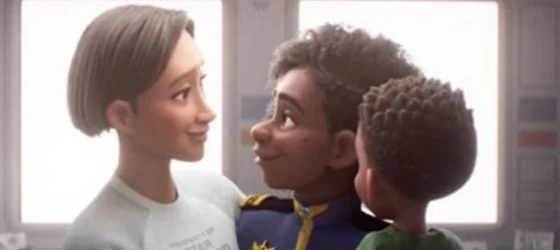 Before its release, the animated film was the subject of quite a controversy because of the lesbian kiss between Alisha Hawthorne (Uzo Aduba) and her wife Kiko.
In the past, studios have often allowed censors to cut films for content reasons to get a rating that would allow the film to be shown in more theaters or to avoid offending audiences in the Middle Eastern and Asian markets. But there has been a lot of debate in recent years about the practice. Critics argue that this amounts to censorship and results in an inferior product. Studios have begun to object to these requests, and several high-profile cases have seen directors refuse to make cuts.
When Pixar and Disney announced they would release a new animated feature film called "Lightyear" featuring a lesbian kiss, there was an immediate outpouring of excitement from our community. Sadly, when the initial release of "Lightyear" came out, the lesbian kiss scene had been cut. This caused an uproar online, with many people accusing Disney of bowing to pressure from homophobes. However, they finally restored the scene in the final version of the film.
"We're not going to cut out anything, especially something as important as the loving and inspirational relationship that shows Buzz what he's missing by the choices that he's making, so that's not getting cut," the film's producer Galyn Susman told Reuters.

"It's great that we are a part of something that's making steps forward in the social inclusion capacity, but it's frustrating that there are still places that aren't where they should be."
Disney has a long history of excluding queer representation from its films. That is slowly changing, however.
So just know that "Lightyear" has been banned in 14 countries in the Middle East and Asia because of the lesbian kiss scene.
On June 13, the United Arab Emirates, which is one of the countries that still criminalize same-sex relationships, announced via a tweet from the Ministry of Youth and Culture's Media Regulatory Office that the movie is "not licensed for public screening" because of its "violation of the country's media content standards".
Saudi Arabia, Egypt, Indonesia, Malaysia, and Lebanon have also indicated they will not be screening the film. And there is also a possibility that China will follow suit.
Earlier this year, the Marvel-Disney movie "Doctor Strange in the Multiverse of Madness" was banned in several countries because it included not only a lesbian character but also her lesbian moms.
While the banning of these films is disappointing to many, it did shine a light on the importance of LGBTQ+ representation in media.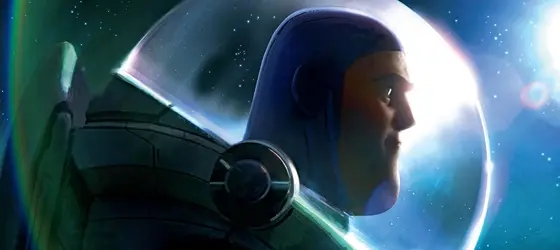 Despite all this, "Lightyear" is already shaping up to be an action-packed space adventure and will certainly be a hit with fans of all ages.