Since its first airing, TV series Wynonna Earp has gained a loyal fan base, which is partly why the showrunner wanted to share what she had planned to tell in season 5 in an interview with Deadline.
So What Could Happen In Season 5 Of Wynonna Earp?
Here are some possible storylines that Emily Andras was willing to share, even if it remains very vague.
First, it's not clear that "Wynonna completely resolved her relationship with being a demon hunter and the gun?"
Then there's also the fact that Doc Holliday is not a vampire, but it's not clear that he did that on the up and up.
"Vampires are a very famously vengeful bunch," Andras explains. "I'm not sure they're going to love the way he went about this."
So they may have a revenge story underneath.
On the other hand, Wynonna has expressed her love to Doc in the Season 4 finale and they head to see their baby Alice in Miracles, Montana, so we could expect them to encounter some new demons along the way. And then we could also follow them, exploring their parenting struggle.
As for Nicole Haugh, now she's the Angel's Shield, and she's not permitted to leave the Ghost River Triangle.
"What does that look like? Are there supernatural abilities affiliated with that, or is she just a mortal who literally can't leave this prison?" wonders Andras.
Finally, Kate and Eve might be back and might want to go after Waverly.
In short, that's quite a lot of questions and quite a lot of things to tell, but even if the series was to end once and for all, the story could go on in a movie.
Wynonna Earp, The Movie
Indeed, Emily Andras could see herself making a Wynonna Earp movie in 5 or 10 years.
"There's always more story, especially in a show like Wynonna Earp. There's always another demon hiding under the bed, and I'm confident there's a million different ways to continue telling those stories," she said.
"If we do a movie 5 or 10 years from now, see where people are at, I would love to do something like that."
Wynonna Earp, The Spin-Off Series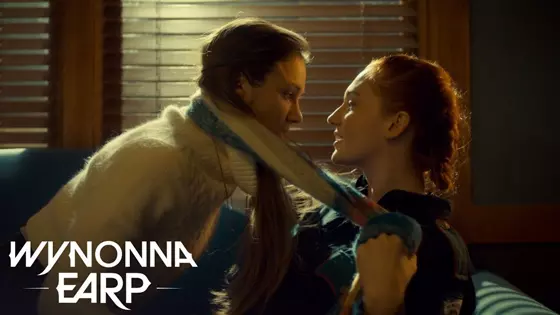 There's also the possibility of spin-off series, including one that could center on Waverly Earp and Nicole Haught in their new phase of life.