Senate confirms Beth Robinson
President Joe Biden has nominated Beth Robinson to fill a vacancy on the 2nd U.S. Circuit Court of Appeals that covers New York, Vermont, and Connecticut.
When the President made this nomination, the White House said in a news release that it was part of a larger effort to "fulfill the President's promise to ensure that the nation's courts reflect the diversity that is one of our greatest assets as a country — both in terms of personal and professional backgrounds."
Beth Robinson has been confirmed by the Senate by a 51-45 vote, making her the first lesbian judge ever to serve in a federal court of appeals.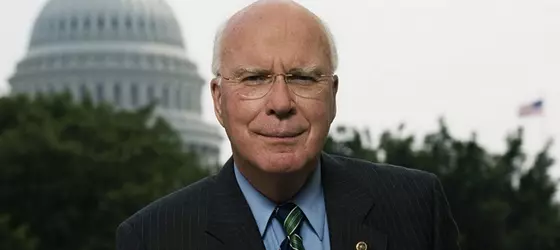 Democratic Senator Patrick Leahy
"As an advocate, Beth Robinson has been rightfully hailed as a tireless champion for equal rights and equal justice. But more importantly, her record as a Vermont Supreme Court Justice clearly demonstrates her fairness, impartiality, and loyalty to rule of law, above all else," Democratic Senator Patrick Leahy wrote in a tweet.
Fighting for a better world for LGBTQ people
Beth Robinson is a well-known advocate for LGBTQ rights who has been on the front lines of many important issues over time.
As a litigator, she defended countless LGBTQ plaintiffs and fought discrimination with Langrock Sperry & Wool from 1993 to 2010.
In 1999, she became involved in an important fight for equal rights. She co-counseled the case of Baker v. State of Vermont before the Vermont Supreme Court, which found that the state's ban on equal marriage was unconstitutional. When the supreme court ruled in favor of legalizing same-sex marriage, it didn't take long for legislators to respond. The following year saw a law opening civil unions to same-sex couples being passed. Vermont became the first state to pass a civil union law in the country.
From that moment on, Beth Robinson will not stop fighting to legalize marriage equality in Vermont.
As the chair of the Vermont Freedom to Marry Task Force, her work will bear fruit in 2009 when Vermont will become the first state to legalize marriage equality through legislation.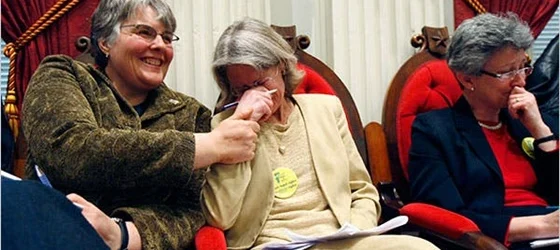 Sherry Corbin, Beth Robinson, and Susan Murray, after the Vermont legislature approved marriage equality. (Photo by Toby Talbot/Associated Press)
After a year serving Vermont Governor Peter Shumlin from 2010 to 2011 as a counsel, in 2011, she joined the Vermont Supreme Court as associate justice.
At 56 years old, she is now making history by becoming the first-ever lesbian judge in a federal circuit court of appeals.
"LGBT representation in the courts is critical because judges that more accurately reflect the diversity of our nation give legitimacy to these important institutions, which have such a profound impact on the lives of so many," Sharon McGowan, Lambda Legal's chief strategy officer and legal director, said in a statement. "Judge Robinson's lived and professional experiences will be assets in her work to fulfill our nation's promise of justice."
Note that we are still awaiting the Senate's decision on the nomination of Charlotte Sweeney. She was also nominated for a federal court judgeship on the U.S. District Court for the District of Colorado by President Joe Biden last year.
If confirmed, she would become both Colorado's first LGBTQ judge and the first ones in any state west of the Mississippi River!
Top Photo: Glenn Russell