Arlene's Flowers v. Washington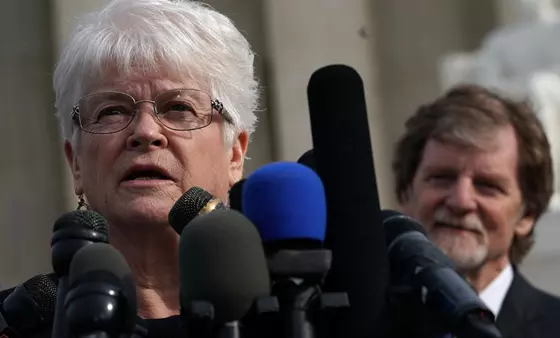 Barronelle Stutzman (GettyImages)
Barronelle Stutzman, owner of Arlene's Flowers in Richland, Washington, was found guilty of violating the state's law barring discrimination against LGBTQ people in 2013 after she refused to provide wedding flowers to a gay couple. She said doing so was going against her faith.
A trial judge originally ruled in favor of the gay couple and urged Stutzman to serve same-sex couples if she continued to serve straight couples. The court also fined her $1,000.
Appeal To The Washington State Supreme Court
Stutzman appealed to a higher court but was denied twice by Washington's Supreme Court, which upheld the fine.
Appeal To The U.S. Supreme Court
She was trying for more than four years to get the Supreme Court to take up her case.
Sure, Justices Clarence Thomas, Neil Gorsuch, and Samuel Alito have said they would have heard her appeal, but Stutzman needed four justices to agree with her to make it happens.
Too bad...
The Supreme Court Said No
The Supreme Court declined to take up Arlene's Flowers v. Washington, meaning that Barronelle Stutzman will be fined $1,000. And she will not be able to challenge state anti-discrimination law that prohibits businesses from refusing service based on sexual orientation or gender identity.
Conclusion
I'm happy to see that the Supreme Court declined to hear an appeal from Barronelle Stutzman. I hope this sets a precedent for other small business owners, who are ready to discriminate against customers based on sexual orientation or gender identity.